Paan juice | Betel leaf juice (Vethalai in tamil )is an interesting one which i recently tasted in Punjabi Grill restaurant here in Singapore. When he served this on table after we finished our lunch. He told it as a mouth freshener and i was so curious and called the waiter again and asked him what all the ingredients included in this paan juice.He explained the recipe of the paan juice and was quite interesting. Immediately i cam home and tried it on the next day itself. I got the gulkand from my north indian friend. It turned out exactly the same. Yesterday i again made this paan juice to post here. Also i have tried Home made beeda too for a potluck party 2 weeks back, as most of my friends are a huge fan of beeda ( sweet paan). (UPDATE: Posted the
paan|beeda recipe with video
)It was a super hit in the party.Will post that recipe also soon here. This juice should be served in very small quantities as it is a mouth freshener.
Preparation Time : 5 mins | Cooking Time : Nil |Serves: 4-5
Betel leaf |Paan leaf 4
Gulkand 1 tsp
Vanilla Ice cream 2 tblsp
Milk 1/4 cup
Sweetened Saunf 1/2 tsp (optional)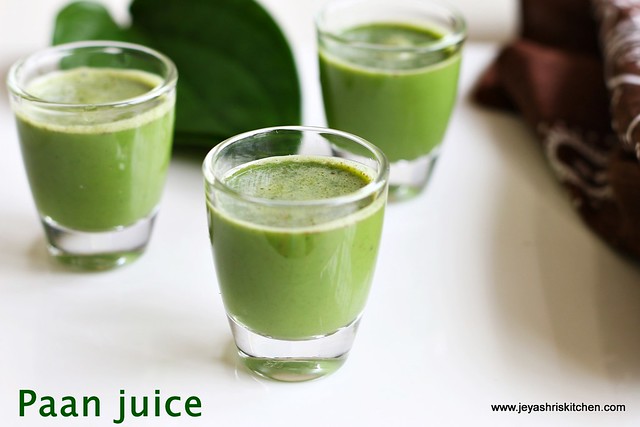 Method:
Wash the betel leaves and take out the top portion of the leaf.
Grind all the ingredients into a smooth paste.
Ensure that the mixture is smooth without any traces of the leaf in it.
Serve chilled. It stayed for an hour in the refrigerator.
A different kind of mouth freshener we can give for Guests when we host some party at home.
Always serve this in very small quantity.