Pottukadalai Vella urundai is made for Karthigai Deepam in my mil's place. Many other Brahmin families don't have the tradition of making this pootukadalai urudai for Festivals as they don't consider it as auspicious. Being the native of North Arcot District in Tamilnadu, in my inlaws house for every function it is a must. Even for weddings, seemandams, ayushomam, Grahapravesahams, one among the Paruppu thengai they make should be Pottukadalai paruppu thengai. But being a native of Tanjore brahmins, initially my mom felt so odd to make this pottukadalai urundai and give it for festivals as Seer. Later she got used to it. Even for Karthigai Deepam too we make small Paruppu thengai, but since my mould which i keep here is bit big, i just made urundais. I just finished making pori urundai and pottukadalai urundai this morning for  evening neivedhyam. Wishing all my readers a very Happy Karthigai Deepam. Let the festival brings abundance of joy and wealth in your homes.
Pottu kadalai Urundai
  Preparation Time : 5 mins | Cooking Time : 15 Mins |Yields: 14
     Pottukadalai|Roasted Gram    1 and 1/2 cup
     Jaggery       1/2 cup
     Coconut bits   2 tblsp (optional)
     Cardamom powder     a pinch
     Ghee   1/2 tsp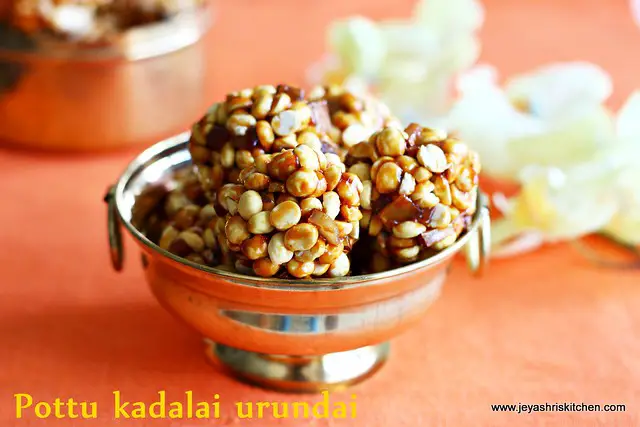 Method:
In a pan roast the coconut bits by adding little ghee. Add jaggery to this and add little water and allow this to boil.
Check the consistency of vellam by dissolving few drops of vellam  in water. When you could able to make a hard ball with that switch off the flame. The hard ball is when the gathered mass if you put on a plate it should give a sound. Add cardamom powder to the jaggery .
Keep the pottukadalai in a wide bowl and add this jaggery syrup to the pottukadalai.
Mix this quickly and evenly and when it is warm, grease your hands with ghee and make balls of your desired size.
Pottukadalai urundai is ready.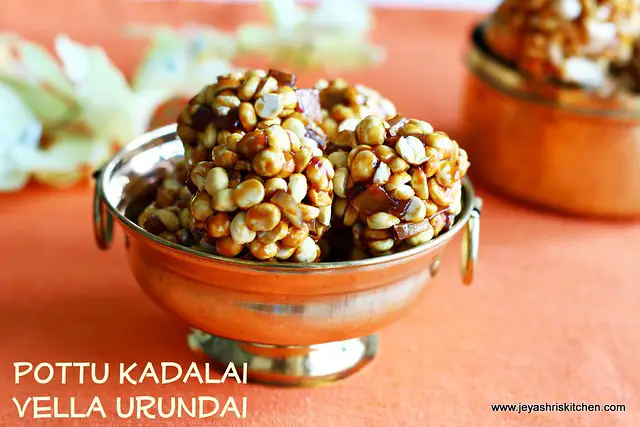 Notes:
Adding coconut is optional. But it will be nice if you add it.
Always ensure that the hard ball consistency is formed, else you should not able to form a ball.
You can add roasted peanuts.