No onion no garlic recipe
Paneer pakora | paneer pakoda is a tea time snack made with paneer. Paneer is dipped in gram flour batter and deep fried in oil. I wanted to try out paneer pakora for a very long time, but finally made it yesterday. Also this the first time i tasted the pakora too. Actually i wanted to make a kachori chaat today but was running out of few ingredients for that and made this pakora. I will post the kachori chaat recipe soon. Check out my
collection of holi sweet recipes.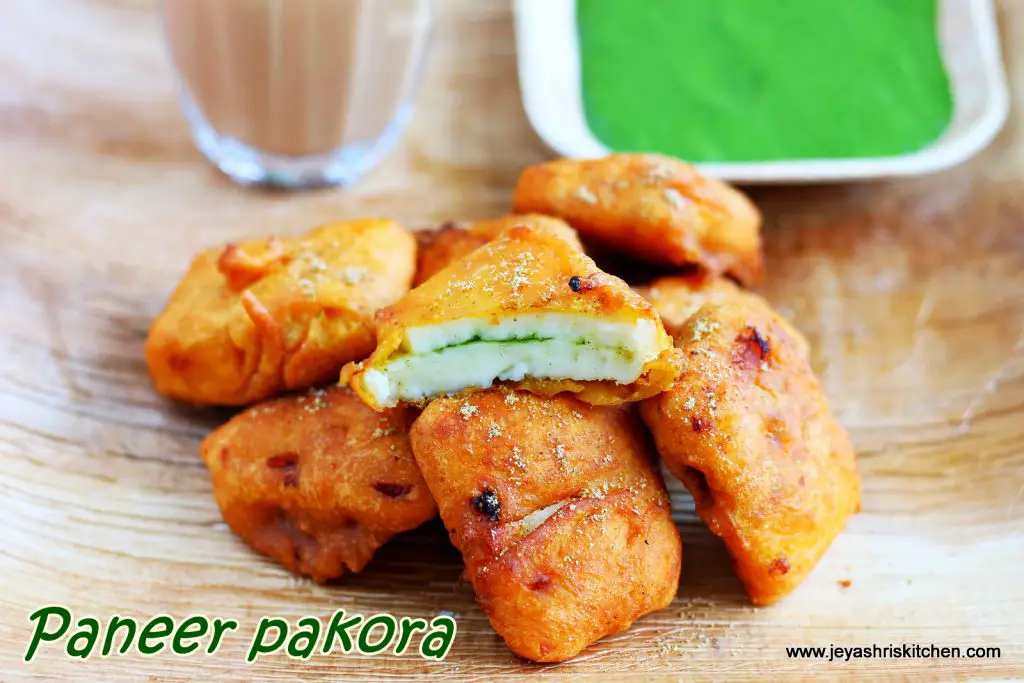 Paneer pakora recipe
  Preparation Time : 10 mins | Cooking Time : 25 Mins |Serves: 3-4
     Paneer cubes (big)   14 pieces
    Green chutney   as needed
    Besan | kadalaimaavu| Gram flour  1 cup
    Rice flour   2 tblsp
    Ajwain | omam  1/2 tsp
    Red chili powder   1 tsp
    Oil   for deep frying
    Baking soda  a pinch
    Salt   as needed
                                              Video of how to make paneer pakora
Method:
Sieve the gram flour, this is to avoid any lumps.

In a bowl add the gram flour, rice flour, red chili powder, ajwain, salt and a pinch of baking soda.
Add water and mix well to bring it to a medium thick batter consistency.

Keep it aside.
Bring the paneer to room temperature.
Slit the paneer and apply green chutney on both sides. Repeat this for the rest of the paneer cubes.

Alternatively you can skip this step and just dip this in batter and make pakora.
Since paneer will be bit bland i want to add some chutney.
Heat oil and add 1 tblsp of hot oil to the batter and mix well.
Dip the sandwiched paneer in the batter and place it into the hot oil.
Do not overcrowd the pan.

Keep the flame medium.
Cook on both sides till they become golden brown.

Take out from oil.
Drain in a kitchen towel.
Repeat the same for the rest of the paneer pieces.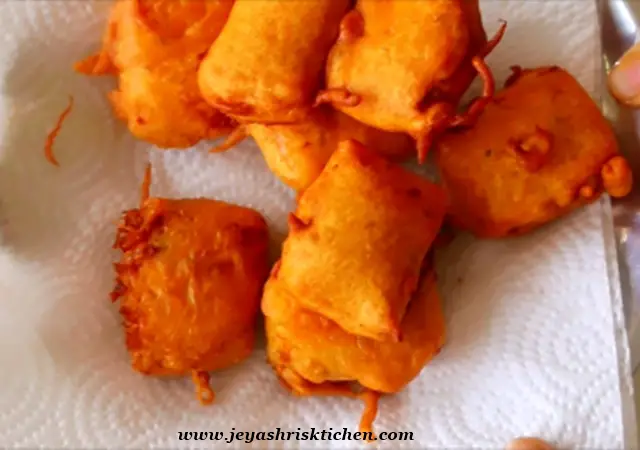 Sprinkle some chaat masala on the top while serving.
Serve hot with ginger tea.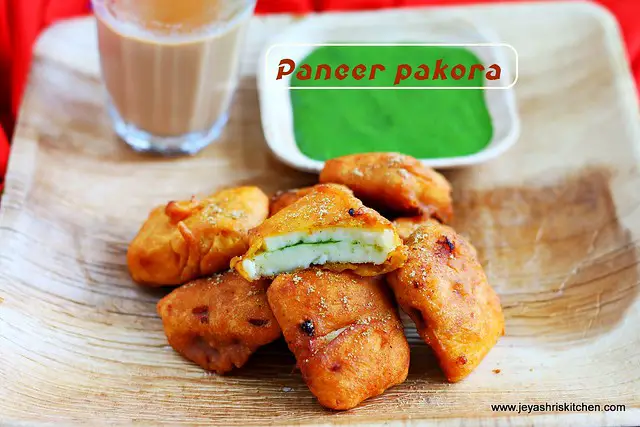 Notes:
Do not make the batter too thin, else it will not get coated to the paneer.
Adding hot oil to the batter gives crispiness to the outer cover, so do not skip it.
Also it helps in reducing the pakoras absorb more oil while frying.