South Indian gravy recipes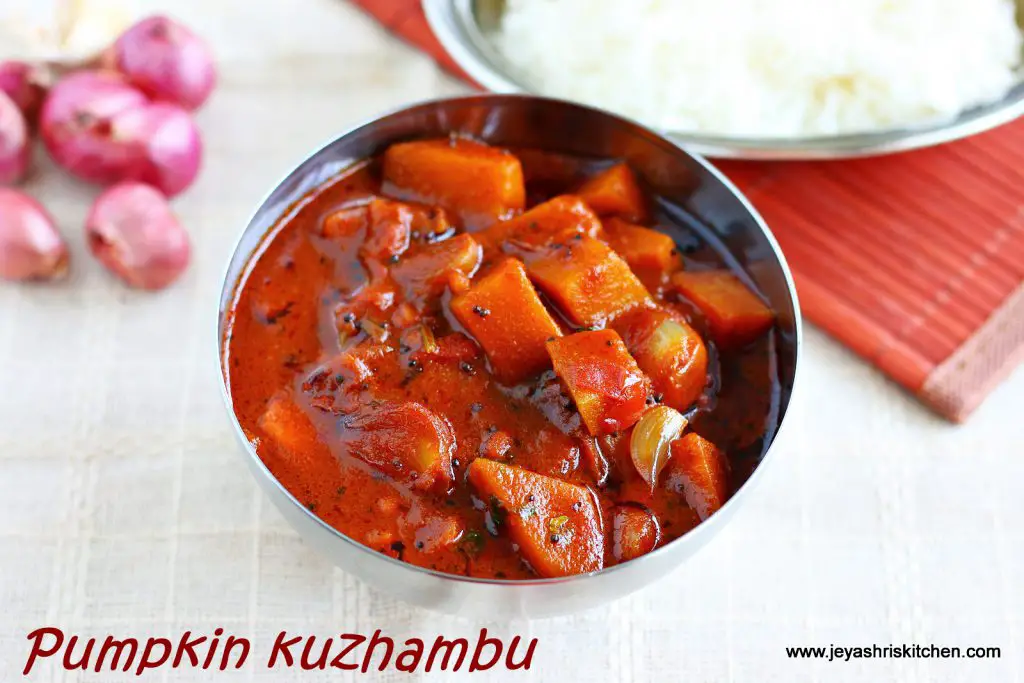 Parangikaai | pumpkin we used to put in sambar or vatha kuzhambu and personally i love parangikaai vatha kuzhambu very much. The natural sweetness of the parangikaai gives a delicious taste to the spicy south indian gravy. Recently when i was chatting with my friends, one of them shared the recipe of parangikai getti kuzhambu (thick gravy). The recipe sounded so easy and i have all the ingredients in hand and tried it on the same day. It was a super hit at home. I have shared this in
jeyashris kitchen instagram
too. Follow me on instagram and get daily updates on what's happening in my kitchen.
Parangikaai Kuzhambu
Preparation Time : 10 mins | Cooking Time : 25 Mins |Serves: 3-4
Pumpkin | parangikaai 1 cup (cubes)
Shallots | small onion | chinna vengayam 7-8
Tomato 1/2
Garlic | poondu 5-6 cloves
Red chili powder 3 tsp
Coriander powder 2 tsp
Fennel powder (sombu) 1/2 tsp (optional)
Sesame oil 2 tblsp
Mustard seeds 1/4 tsp
Venthayam | methi seeds 1/4 tsp
Tamarind gooseberry size
Salt as needed
Curry leaves + coriander leaves few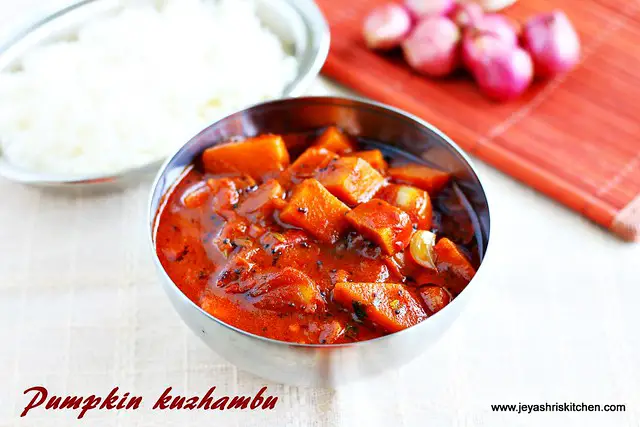 Method:
Take the skin out from the onion and garlic.
Chop the tomato into small pieces.
In a pan add sesame oil and add in the mustard seeds and venthayam.
Sesame oil brings out the best taste and also do not compromise on the quantity mentioned.
Once it starts splutters, add in the onions and garlic.
Add little salt to enable the onions cook fast.
Cook till the onions shrunk and add the red chili powder, coriander powder and fennel powder.

Cook this in a low flame for 3-4 minutes.
Add the pumpkin cubes and tomato. Mix well.
Add 1/2 cup of water to this.

Add 1/2 cup water to this.
Take extract from tamarind using 1 and 1/2 cup water.
Add this to the pan. Let this boil for 10 to 15 minutes in a low flame.
Let the pumpkin becomes soft.
Once the gravy becomes thick and the pumpkin becomes soft, switch off the flame.
Add the curry leaves and coriander leaves.

Serve with hot rice and any curry of your choice.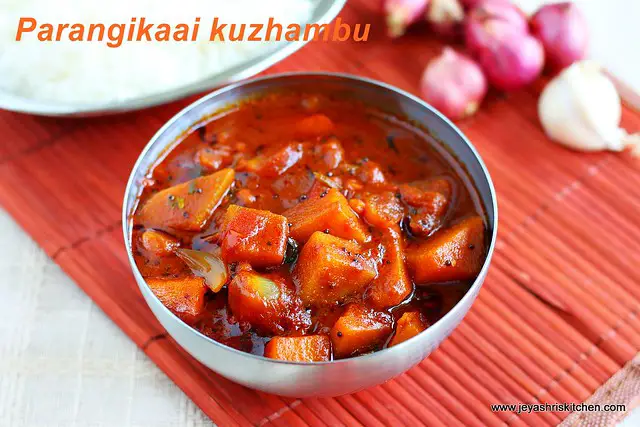 Notes:
Sesame oil brings out the best taste to the gravy, so do not miss out that.
This gravy tastes even more better and flavourful the next day.
If you do not have fennel powder, you can temper fennel seeds in the oil while adding mustard seeds.