SIDE DISH FOR ROTI- Updated with video
Peas masala recipe is a new recipe which i recently tried in my kitchen and it turned out very well and very different from the usual onion tomato based gravy i make. It came out very similar to the restaurant style peas masala.Try out this easy peas masala recipe , an easy and rich peas gravy , and enjoy with Jeera rice or Phulkas| Rotis.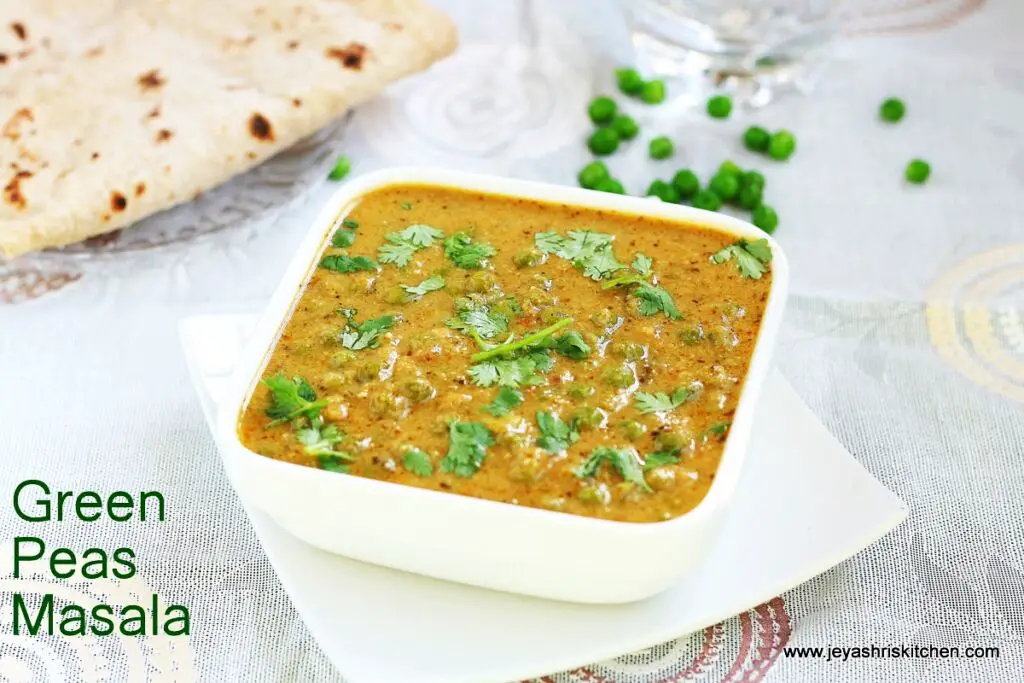 Peas masala recipe
  Preparation Time : 10 mins | Cooking Time : 20 Mins |Serves: 4
     Green peas*  1 cup
     Onion   1
     Tomato  1
     Coriander leaves  a handful
     Garlic  4 cloves
     Green chili  3-4
     Cashew nuts  5-6
     Yogurt  1 tblsp
     Kasoori methi  2 pinches
     Garam masala  1/2 tsp
     Milk   1/2 cup
     Salt  as needed
     Oil   2 tblsp
*I used frozen green peas. You can use fresh green peas by cooking it in the pressure cooker.
                                          Video of how to make green peas masala
Method:
Soak the cashew in warm water for 10 minutes and grind this along with yogurt into a smooth paste.

Chop the onions and tomato roughly. In a pan, add 1 tbsp of oil and add the onions, tomatoes , coriander leaves, green chilli and garlic and saute for a few minutes till it shrinks.

Grind the onion tomato mixture into a fine paste.

In a pan add oil and add the onion paste and add the cashew yogurt paste. Mix well and saute for few minutes in a low flame.

Add the frozen peas, garam masala and kasoori methi.
If adding fresh peas, cook this separately and add. I used frozen peas.

Add the1/2 cup water to this to get a gravy consistency. Add salt. Let this boil for 5-7 minutes,till the peas gets cooked(if using frozen peas) and to get the masala blended with the gravy.
Add the milk to the gravy.

Let this come to one boil.
Switch off the flame.

Green peas masala is ready to serve.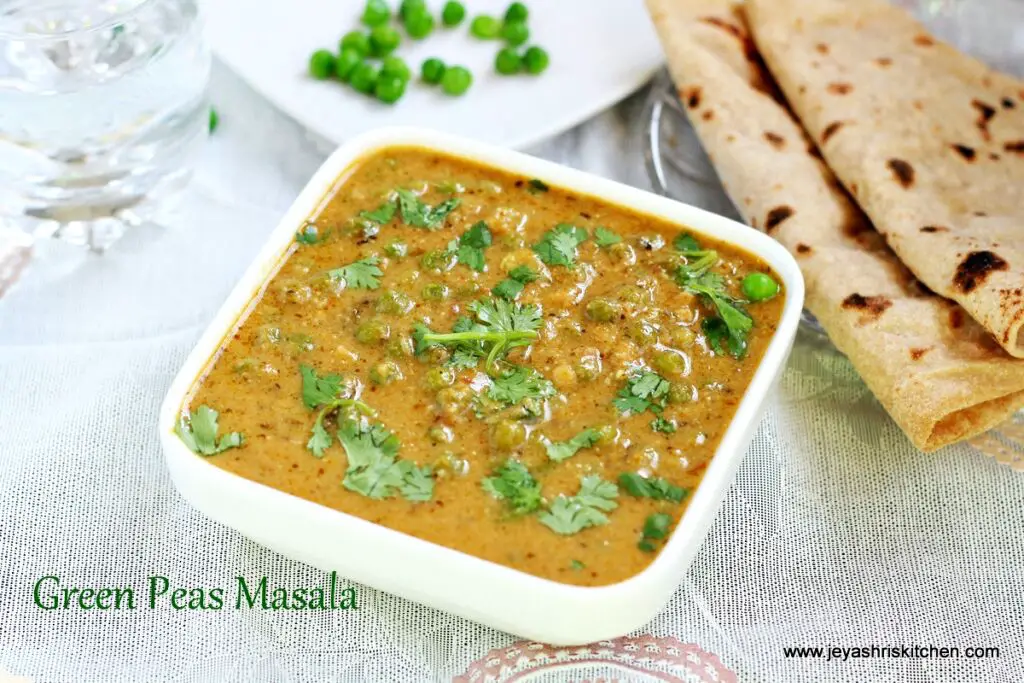 Notes:
You can add a handful of paneer to this gravy while adding the green peas.
Always use full cream milk to get a thick gravy consistency.