Generally i never write reviews about any product in Jeyashri's kitchen but since i am very fond of aprons i accepted to do this review for Perfico.
I was approached by
Perfico.com
, last February  to write a review about personalised cooking aprons. I immediately replied to them saying that I live in Singapore and will mail back when I visit India in June. Promptly on the 1st of June I got another mail from Perfico about my travel plans and I finally ordered my apron from them. They have a huge collection of unique, funny aprons and we can customise it as per our taste and preferences. They deliver to all places within India.
I got my aprons delivered promptly on the date mentioned by them. Apart from aprons,their online shop has a huge variety of personalised gifts. You can make your loved ones very happy by giving customised gifts for them on their birthdays and wedding anniversaries. They even have customised aprons for men.
My apron was personalised with the name "Jeyashri's kitchen"embroidered in it. It was made of white poly cotton material. I would have loved it if it was made of 100% cotton though. I would have loved to have the apron in some other colour as well, but since I was running out of time, I couldn't get the colour I wanted.They also have only a few colour options. The apron was neatly packed and delivered to me. My mom was the first one to wear that ?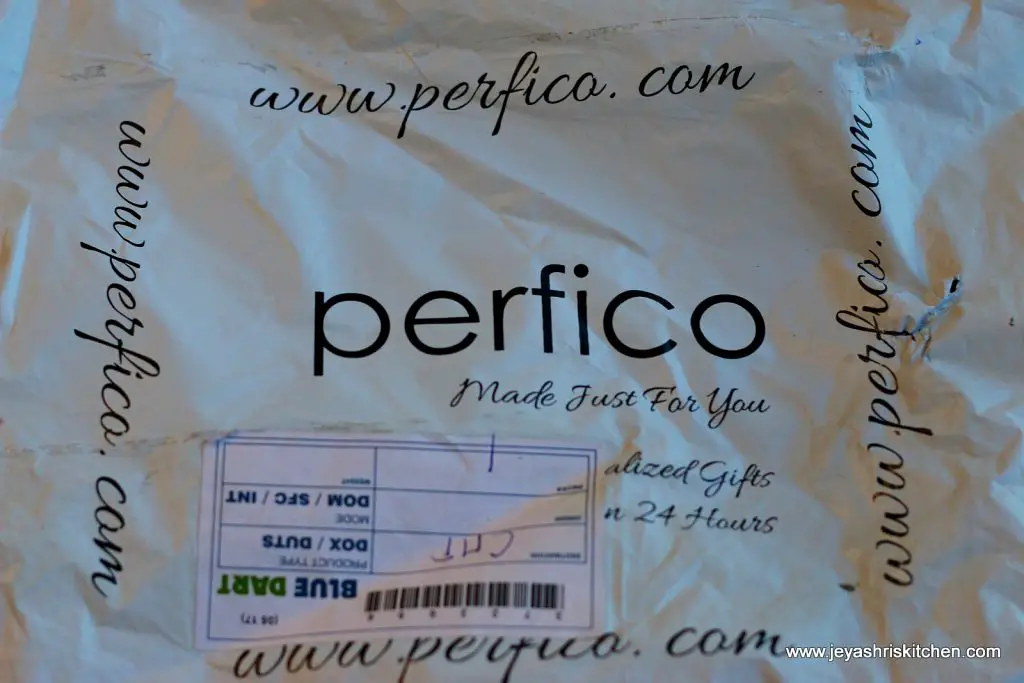 Perfico has a wide collection of Bathroom accessories, baby towels, clocks, wallets,flip flops, coffee mugs, glasses, umbrellas, kitchen towels, Passport holder, piggy banks etc. Do visit their site – www.perfico.com and i am sure you will surely get addicted to this online shop. The prices are reasonable and the service is great. If you are looking for gift for all occasions, perfico is the right place for that. Thank you perfico for the Apron.