Onion raita is an accompaniment of biryani. As we all know onion raita  is choped onions mixed with creamy yogurt. But whoever comes to my house, never fail to appreciate the onion raita which i make for Biryani or pulao. It is a misnomer if i call this as a recipe. But just want to share with you  all the way i make the onion raita. I learnt this from my friend's mom during my college days, and since i saw her making this raita, i can never forget this recipe. Try this onion raita recipe at home and let me know how it turned out.

Onion raita recipe
  Preparation Time : 15 mins | Cooking Time : Nil |Serves: 3-4
     Onion big   1
     Thick yogurt   1 cup
     Salt  as needed
     Sugar   1/2 tsp
     Green chili  1/2 (optional)
     Coriander leaves   few
     
Method:
Chop the onions thinly ,lengthwise.  Put this in a wide bowl and and sprinkle little salt and a pinch of sugar.
Nicely mix this well with your hands. Cover it and leave it aside  for 5 minutes.

Now wash the onions in water and drain the water completely.
Add finely chopped green chili and coriander leaves. Add thick yogurt to this. If your yogurt is not thick enough put this in a strainer for 10 minutes and keep it inside the fridge . Place a bowl below that for the water to drain.

Add the remaining sugar and salt as needed. Mix well .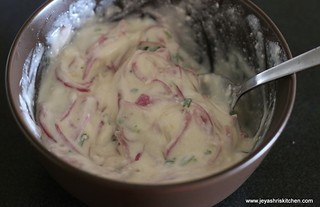 Serve with Biryani or pulao.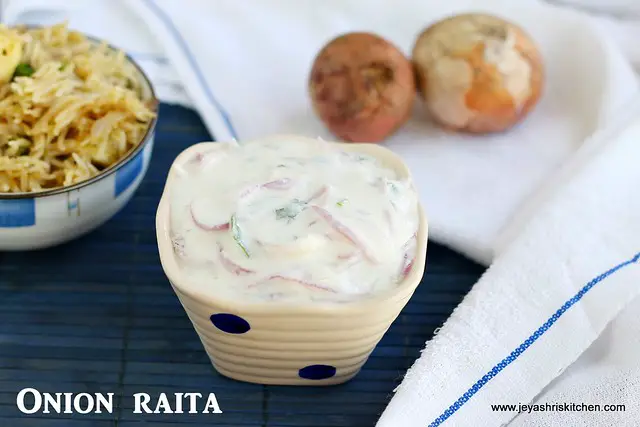 Notes:
Ensure that the yogurt is not sour.
Adding sugar and salt and keeping it aside for 10 minutes and washing it, gets rid of the smell of raw onion.
Adding chili is optional but recommended.