Pineapple kesari recipe with video
After tasting a wonderful pineapple kesari in saravana bhavan ,i wanted to attempt this at home. This recipe i have tried so many times,but every time i make this , it gets over within 5 minutes. This time i pleaded them to wait  till i click the pictures. Thanks to them,so finally i am here with the recipe of pineapple kesari.  .
Check out my Rava kesari recipe.

Pineapple kesari recipe
  Preparation Time : 10 mins | Cooking Time : 25 Mins |Serves: 3-4
   Rava | sooji   1/2 cup
   Pineapple chunks  1/2 cup
   Water  1 and 1/2 cup
    Sugar   3/4 cup 
    Ghee  3 -4 tblsp 
    Cashew nuts  few
    Cardamom powder   a pinch (optional)
    Milk  1 tsp
    Turmeric powder  2 pinches   
                                                     Video on How to make pineapple kesari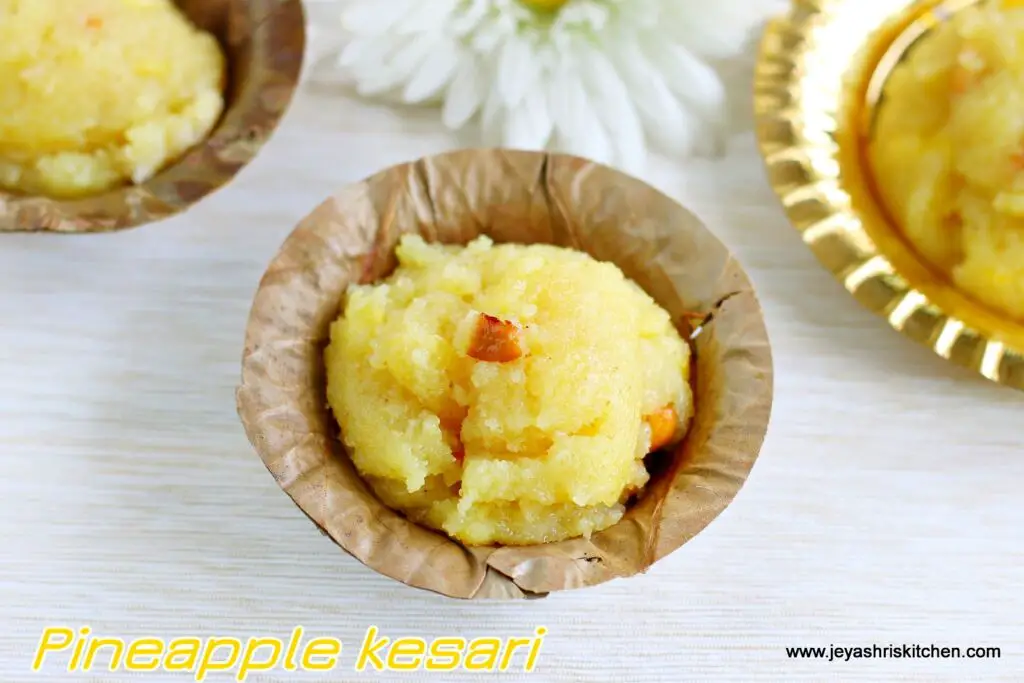 Method:
In a kadai, add a tsp of ghee and fry the cashews until they turn nice golden brown colour .
Keep it aside.

In the same pan, dry roast the rava for few minutes, till a nice aroma arises and the rava turns slightly brown.
Be careful not to make it burn.

Cut the pineapple into fine pieces.
In a sauce pan heat the water and add the pineapple chunks and bring it to a boil.
Slowly add the hot water with the pineapple chunks to the roasted rava.

Stir well till the rava gets nicely cooked.
To check whether the rava is cooked  or not, wet your hands and touch the mixture.  If rava  doesnt stick to your hands it means it is completely cooked.
Now slowly add the sugar to this cooked rava.
To avoid getting lumps add sugar slowly with one hand and stir the mixture continuously with other hand.

Do not panic if the mixture gets watery.
You will get the right consistency if you continuously stir this for few minutes.
Mix the turmeric powder with milk add to this. This is to bring slight yellow colour, you can add food colour too.

Add the ghee at regular intervals. Add cardamom powder and the roasted cashews.

Mix well. Cook for 3-4 minutes in a low flame and lastly add 1 tsp of ghee to give it a glaze.
Switch off the flame.
Serve warm.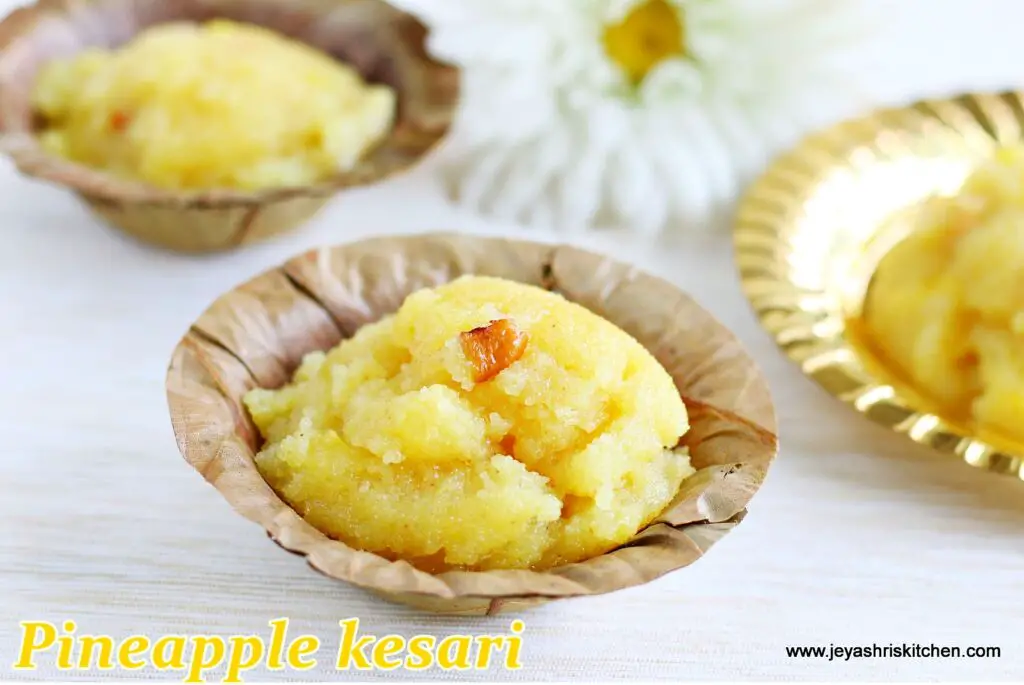 Note:
The rava has to be cooked properly, otherwise the kesari will become watery.
Be careful, while adding sugar,otherwise lumps will be formed.