POLI WITH CHANNA DAL POORNAM
Puran  Poli |Holige Obbattu is a traditional sweet generally we make during Aavani avittam, Bogi pandigai and some people make during Ganesha Chathurthi too. I have posted the recipe of THENGAI POLI already. During my mom's visit here 2 weeks back i asked her to make puran poli for me and i wanted to learn the procedure of making kadala paruppu poornam which when i tried first time went wrong. My mom is a super expert in making polis and i still remember my childhood days, she and my grand mother used to make polis in bulk and they happily share with our neighbours too. Me and my sister with our friends used to sit outside the kitchen with plates in hand and hot polis smeared with ghee are served on our plates. Those days we never care about the weight and eat heartily.
But now a days we are so diet conscious and nobody want to stuff themselves  with sweets.  This recipe yields 11 puran polis and finally i learnt the recipe of making kadalai paruppu poornam from mom , which you have already seen in my MODAKAM -WITH CHANNA DAL POORNAM post. Check out my carrot poli recipe with full Video.
UPDATE: As many readers faced issue while kneading the dough and the amount of oil used. As such the recipe is tried and tested at my home by me and my mom and given with precise measurements. But since i got feedback from readers, i wanted to check it out. Me and my mom tried this few times with the same measurements, and we had mixed results. Final inference is, the quantity of oil depends upon the texture of the flour. So first knead the dough with water and then add 3-4 tblsp of oil on the top of it and cover it and keep aside for 4-5 hours. We sincerely apologise for the inconvenience caused . For the first time in these 8 years of blogging, changing the measurement of the recipe (only the quantity of oil) in the ingredients list. Sorry again.
INGREDIENTS: MAKES 11 POLIS
FOR OUTER DOUGH
| | |
| --- | --- |
| MAIDA | ALL PURPOSE FLOUR | 3/4 CUP |
| SALT | A PINCH |
| TURMERIC POWDER | A PINCH |
| OIL | 3-4 TBLSP |
| WATER | As needed |
FOR STUFFING (POORNAM)
| | |
| --- | --- |
| CHANNA DAL |KADALAI PARUPPU | 1/2 CUP |
| JAGGERY | 1/3 CUP |
| COCONUT ( SCRAPPED) | 1/2 CUP |
| CARDAMOM POWDER | A PINCH |
| GHEE | 1/2 TSP ( OPTIONAL) |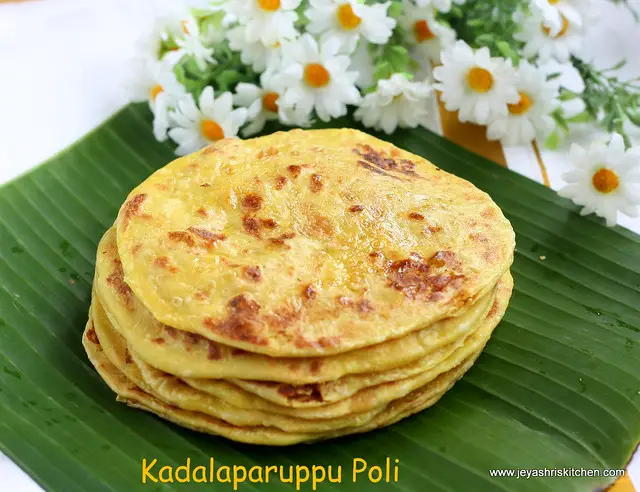 METHOD FOR MAKING OUTER DOUGH
Combine the maida, salt and turmeric powder. Add water and start  kneading the dough.
Make it into a slightly loose dough.
The dough should be soft not too tight.
Now add 3-4 tblsp of oil on the top and cover the dough..
Keep it covered for 4-5 hours. The more the time it is kept aside the polis will be softer.
METHOD TO MAKE POORNAM:
Dry roast the channa dal for 5 minutes. Take care not to get it burnt.
Soak it in water for 1/2 an hour.
Pressure cook till 2-3 whistles. Completely drain the water.
Let this cool. Once cool, grind this in mixer along with coconut and cardamom powder.
Grind this smoothly. Add jaggery in the last and pulse once or twice.
Poornam is done. If you feel the mixture is bit watery, don't worry. Add ghee in a pan and saute for 5 minutes in a low flame. The poornam will come to the right consistency.
When it is cool, divide it into 11 equal parts.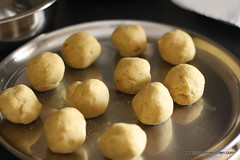 Method to make polis
Divide the dough into 11 equal parts.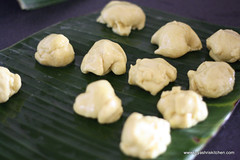 Take a banana leaf , yes banana leaf works out well for polis. If not available use a zip lock, but you have to be careful while transferring it to the tawa., grease the banana leaf and place a portion of the dough on it.
Spread it with your fingers into a small disc and place the poornam on it.
Close the edges.
With your fingers greased generously with sesame oil gently make polis and make it into a disc shaped one.
Heat a tawa and keep it in a very low flame.
Slowly transfer the banana leaf onto the tawa and take it out gently.
Cook on both sides and smear a tsp of ghee and repeat the same for rest of the dough and poornam.
I have taken video from a mobile as i am not satisfied with the quality of the video.
Handling phone in one hand while making poli was too tough for me. And amma was bit scared to take the video too.
Click here for – VIDEO FOR MAKING POLI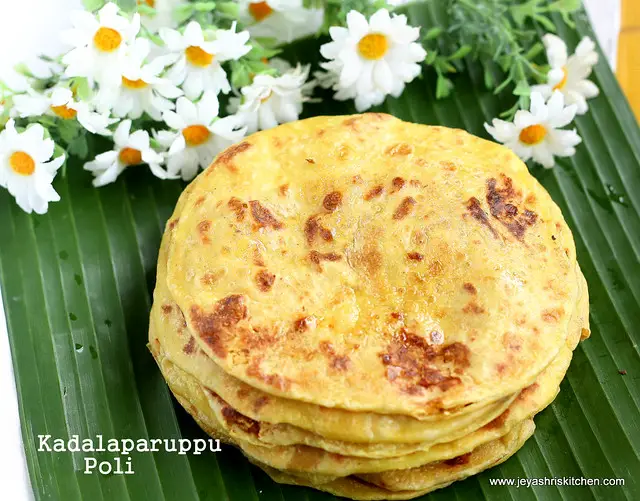 NOTES:
Adding oil after making the dough is compulsory.  Else polis will be hard and dry.
The dough should  be bit loose, else it will be difficult for you to make polis.
Let the poornam be stiff , if watery it will come out while making polis.