Bogi pandigai is celebrated in Tamilnadu on the last day of the tamil month Margazhi. Lohiri they call it in Maharastra. We South Indians, make poli | obbattu | boli for this festival. We also make poli for avani avittam too. I have already posted
puran poli
,
thengai poli,
paal poli
(with video)and
maharastrian style puran poli recipe
. I wanted to make carrot poli, last year itself but finally this year i am coming up with the recipe of carrot poli for bogi pandigai which falls on Jan 13 2017. I have made a video on how to make poli. Though i won't say the video is too perfect but for sure will benefit the beginners. Click here for the
collection of pongal festival recipes.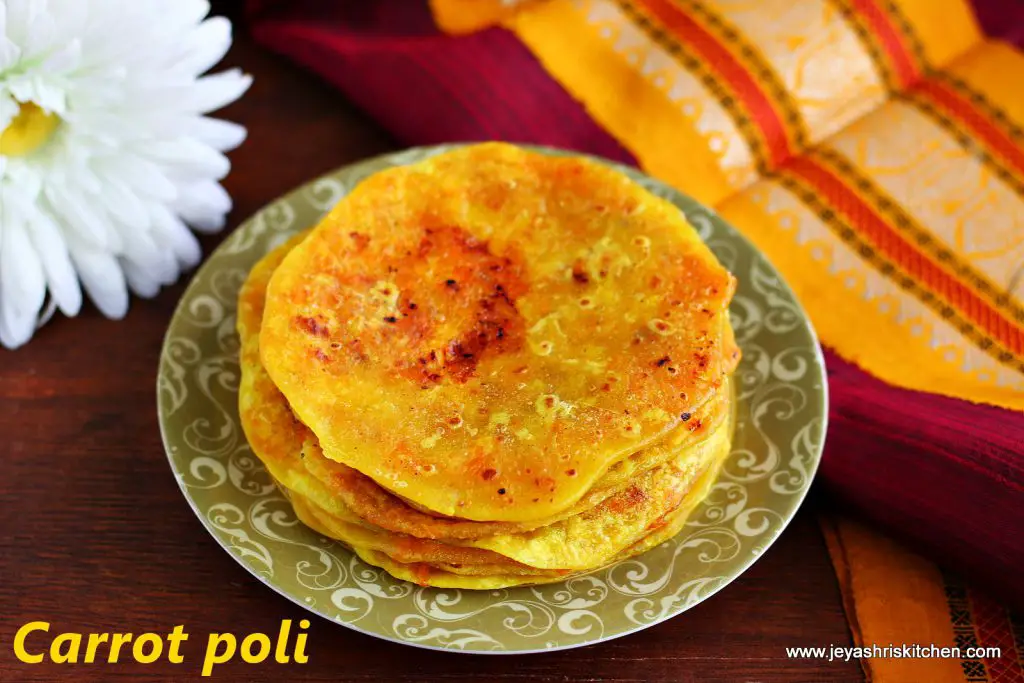 Carrot poli recipe
  Preparation Time : 15 mins + resting time 2 -6 hrs | Cooking Time : 40 Mins |Makes: 15 polis
     Carrot   1 cup (grated)
     Coconut   1/4 cup
     Jaggery    1/2 cup
    Cardamom powder   2 pinches
    Maida | all purpose flour   1 cup
    Sesame oil   3 tblsp
    Turmeric powder   1/4 tsp
    Salt   a pinch
    Ghee   1-2 tblsp
                                      Video on how to make poli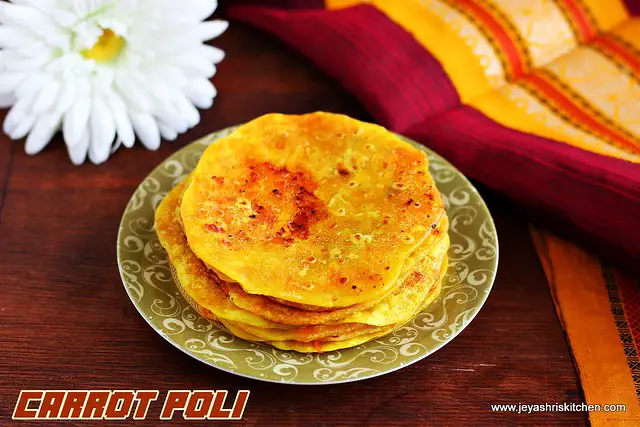 Method:
In a bowl add flour, turmeric powder and salt.
Add little water and knead it into a smooth dough.

Smear 2 tblsp of oil on this and cover it and keep it aside.
Let this sit for minimum 2 hours. But even it can be kept for 5 to 6 hours for super soft poli.

In a pan add 1 tsp of ghee and add the grated carrot, coconut and jaggery.
Cook this to make it into a dry stuffing, like how we make for modakam poornam.

Add cardamom powder and mix well.
Initially you may find the mixture gets loosened but cook it for a while and you will get a solid filling.

Transfer it to a plate and allow this to cool completely.
Make small lemon sized balls out of the poornam and the dough. Keep the dough covered all the time.

Let's make the make the poli either in a ziplock or a banana leaf or a butter paper | parchment paper.
I used parchment paper this time.
Add a drop of oil to the paper and spread it on the paper.
Place a dough ball in the center of the paper and pat it using your fingers to make a small circle.
Alternatively you can grease a rolling pin with oil and roll it also.
Place one carrot poornam ball, which me made, in the center and cover with the dough by bringing in the edges together.

Grease you hands with oil and pat the circle to form a thick circle. Alternatively you can use a greased rolling pin.
Even if you are using a zip lock or banana leaf grease it with oil before starting.
This helps in taking out the poli from the surface easily.

Heat a pan and transfer the rolled polis to the pan.

Cook on both sides and smear ghee on both sides while cooking.
Carrot poli is ready.

Repeat the same for the rest of the dough and poornam.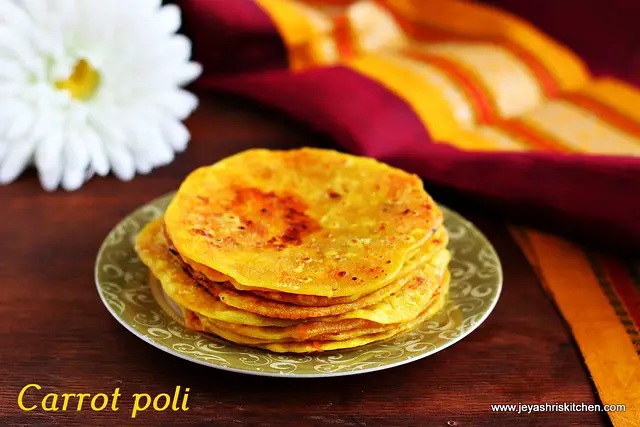 Notes:
You can replace sugar instead of jaggery.
Resting the dough for 5 to 6 hours will result in super soft polis.
You can make this poli in maharastrian style poli by using atta and making like stuffed chapathi.
Ensure that the stuffing is dry, else it will be sticky and come out while making the poli.
Adding oil to the dough makes the poli soft and moist. Do not skip that.
Ensure the size of the outer cover and the poornam are in similar size or even the poornam can be slightly big too.
But if the dough is more and the poornam is less it will end up in hard polis.