Be it for Diwali or Janmashtami, murukku we make it for both the occasions. I have heard about this rava murukku and read about this recently in a popular forum in facebook. But was still not confident to try it at home. Recently during my India trip when i was casually talking to one of my relative she told rava muruku will come out very crispy. With the confidence she gave, tried the recipe yesterday and to my great surprise it turned out very well. So if you don't have proper mixie to grind the urad dal for
Thenkuzhal
, can try this super crispy Rava murukku. My kids loved this Rava murukku | chakli.
Rava Murukku
  Preparation Time : 5 mins | Cooking Time : 25 Mins |Yields: 15 murukku
     Rava | sooji    1/4 cup
     Rice flour     1/2 cup
     Water    1 cup (to cook rava)
      Salt     as needed
      Sesame seeds   1/4 tsp
      Cumin seeds    2 pinches
      Asafoetida   2 pinches
      Oil     2 tsp + for deep fry
      Butter    1 tsp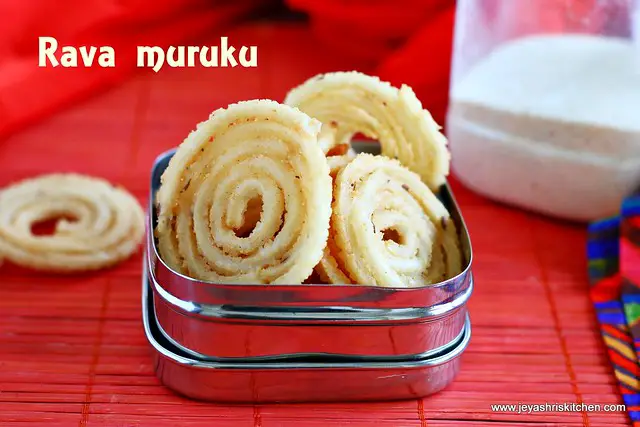 Method:
Pulse the rava in the mixer once. If using very fine rava just skip this step.
In a pan add 1 cup of water and when it boils add the rava.
Mix it well and keep in a low flame. The rava will get cooked fast.
Allow this to cool completely.

In a wide bowl add the rice flour, cooked rava, sesame seeds, butter, 2 tsp hot oil, salt and cumin seeds.
Add enough water and make it into a pliable dough. Do not make it too thick. You can not squeeze it, if it is thick.
Too much loose also will break the shape of the murukku.

I used the star achu. The single star one. You can use thenkuzhal achu or 3 star achu too.
I always wanted to make perfect round chakli aka mullu lurukku. Last time my mom got me a good one with perfect star achu. So it turned out well. As alawys cover the dough , else it will be dry and the colour of the murukku will also change. I squeezed on an aluminum foil. You can do it on the back of a ladle too.

Heat the oil for deep frying. Carefully flip the muruku from the foil and place it into the hot oil.

Cook till the shh sound subsides. Take it out from the oil and drain the excess oil in a kitchen tissue.

Store this in an airtight container. Thsi murukku stays crisp for 10 days if handled with dry hands.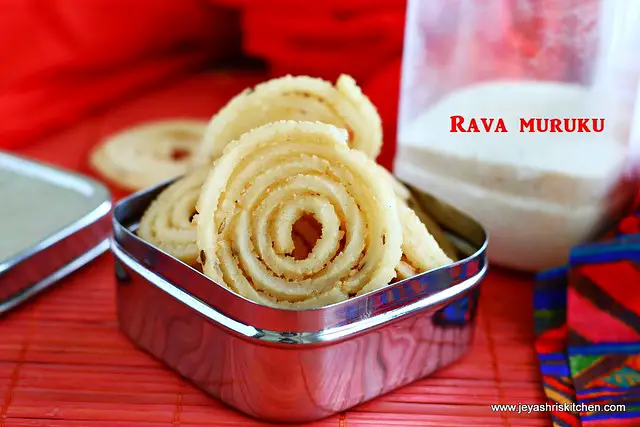 Notes:
Always start making the murukku once the rava is completely cooked and cooled.
If making in bulk make the dough little by little. If  make it in bulk then it will turn the murukku reddish colour.
I used the store bought rice flour. You can try with home made rice flour too.