Tamil new year is celebrated on 14th April every year. Generally we do raw mango pachadi, neem flower rasam for Tamil new year. While casually talking with my friend's mom few weeks back, she was telling about this ripe mango pachadi, and when she was telling about that itself i was so tempted to try it out. When i saw the ripe alphonso mangoes in the nearby Indian shop few days back, i immediately picked it up and tried it today at home. It tasted very well . For a change from the usual mango pachadi with raw maanga, try this ripe mango pachadi for this Tamil new year. Wishing all my readers a very Happy Tamil new year.  Check out my tamil new year recipes collection.

Ripe mango pachadi
  Preparation Time : 10 mins | Cooking Time : 20 Mins |Serves: 4
     Ripe mango (alphonso)    2
     Jaggery   1/2 cup*
     Coconut    3 tsp
     Green chili  1/2
     Rice flour    1 tsp
     Oil   1/2 tsp
     Mustard seeds  1/4 tsp
     Salt   2 pinches 
     
 *adjust the quantity of jaggery according to the sweetness of the mango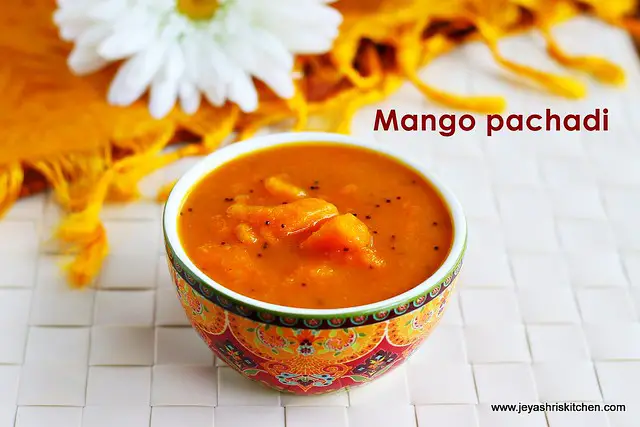 Method:
Peel the skin of the mango and chop it roughly.

In a pan add the chopped mangoes and add 1 cup of mangoes. The chopped mangoes came to 1 and 1/2 cup.
In a pan add jageery and add little water. Boil this till the jaggery melts. Once the jaggery melts switch off the flame.

Cook till the mangoes becomes soft. Filter the jaggery and pour it to the cooked mangoes.

Grind the coconut, green chili and rice flour into a fine paste. You can add little water while grinding. Actually later after tasting i felt, i should have tempered the green chili along with mustard seeds. Though i used half green chili , i felt it was bit spicy. So do not grind the green chili.

Add the ground mixture to the mango jaggery mixture.
Allow this to boil for 2 minutes. If you feel that it is bit watery, take out some mango pieces and grind into a smooth paste and add to it. Do not add more rice flour.
Temper with mustard seeds in oil and pour it on the mango pachadi.

Mango pachadi is ready to serve.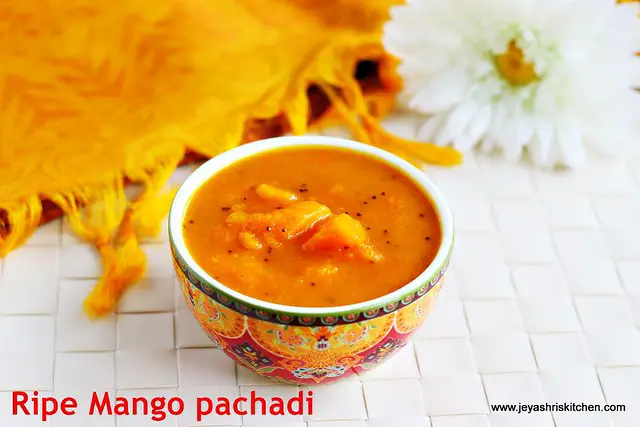 Notes:
Do not add more rice flour than mentioned.
Ensure the mangoes are ripe.
Adjust the quantity of jaggery according to the sweetness of the mango.
If you feel the jaggery is not enough add little more sugar to this and mix well.