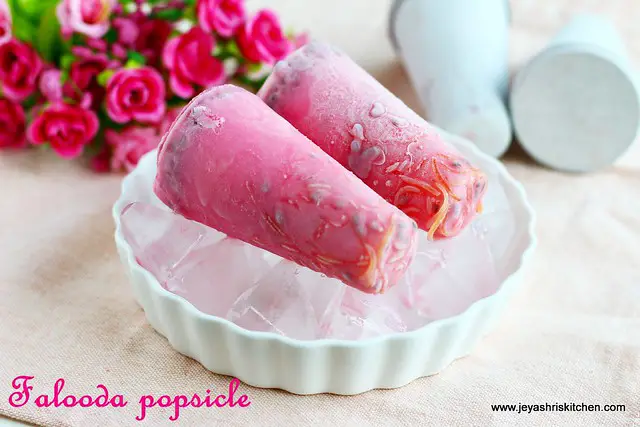 Rose falooda i wanted to post this in a tall glass like how it is served in restaurants. But twice while carefully bringing it from the kitchen to the clicking spot(living room) i spilled the ice cream on the top and so turned it into a popsicle. I wanted to post rose falooda in glass and kesar kulfi falooda in kulfi moulds, but it didn't work. Will post the kulfi falooda, also in sometime. I personally love that as it reminds of our Paal ice and semiya ice of our child hood days. While writing itself i am drooling. My daughter who is a big fan of rosemilk enjoyed this popsicle very much..
Falooda popsicle
Preparation Time : 15 mins + freezing time 6 hours | Cooking Time : 10 Mins |Serves: 5
Rose essence 1/4 cup
Milk 1 and 1/2 cup
Falooda sev little
Sabja seeds 3 tsp
Vanilla Ice cream 1 scoop (optional)
Sugar to taste (optional)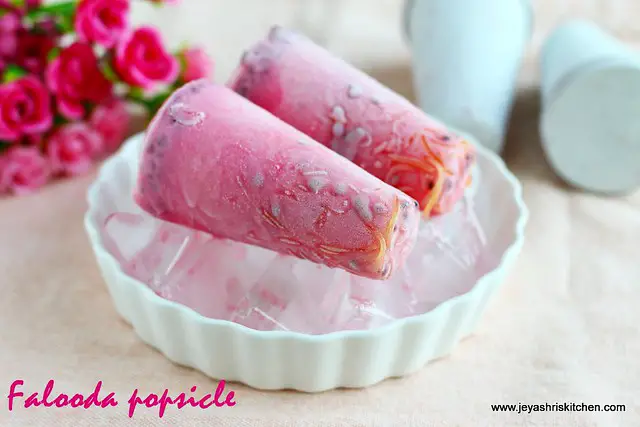 Method:
Soak the sabja seeds in water for 15 mins. It would have doubled the quantity .
Cook the falooda sev in water for 5 minutes and drain the water and wash it in a colander.

In a vessel add milk and add the rose essence. Add the soaked sabja seeds to this and mix well.

Add the falooda sev to this and and and mix well. If adding ice cream add it now and beat well.
If needed add sugar. Pour them over the moulds.

Pour this into moulds and freeze in the freezer for 6 hours or overnight.

Run into tap water and and take it out from moulds and enjoy the falooda kulfis.

The faloodas tasted awesome and was an awesome treat for the summer.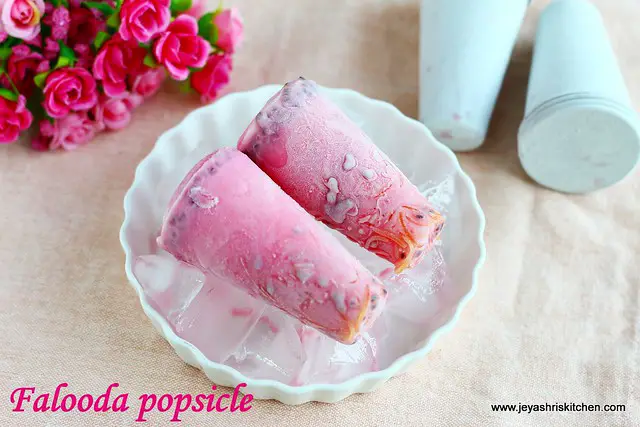 Notes:
You can use the rice vermicelli instead of falooda sev.
If you do not get sabja seeds just soak sago pearls | javvarisi for 30 minutes and cook that and add.
You can use any popsicle mould, i used the kulfi mould.
You can add some nuts to this if you want.
You can add some jelly too if you want.