South indian breakfast recipes
Saamai | Little Millet in English | Kutki in Hindi| Chama in malayalam| Sama in telugu, is a very healthy variety of millet. Samai arsi is is best for diabetic people and has high fibre content too. Samai upma i recently tried for breakfast and it was a super hit too. I made in the same style of semiya upma . This samai upma is ideal for breakfast and also for dinner too.
Check out my other millet recipes:
Samai upma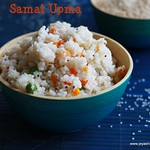 Preparation Time
:
10 +15 mins soaking
|
Cooking Time
: 15 Mins |
Serves
: 2
Samai arisi 1/2 cup
Small onions 8
Green chilli 1-2
Mustard seeds 1/4 tsp
Urad dal 1/4 tsp
Oil 1 tsp
Salt as needed
Water 1 and 1/2 cup
Carrot and peas 2 tblsp each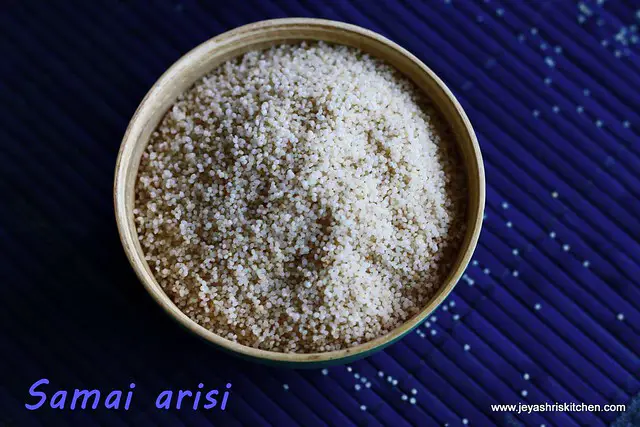 Method:
Wash the rice and soak it in water for 15 minutes. Chop the onions into round slices.
In a pan add oil and add in the mustard seeds, urad dal, green chilli (slit) and the onions.
Saute this in a medium low flame till the onions turn pink.
Add in the vegetables and add salt. You can add potato and beans too if you want.
Add 1 and 1/2 cup of water and allow this to boil.
Drain the water from the soaked samai and add it to the boiling water.
Keep the flame very low and if needed cover the pan with a lid. It took 7 to 8 minutes to get completely cooked.
Since we soaked it for 15 minutes, it reduces the cooking time.
Fluff it up with fork and serve it hot. .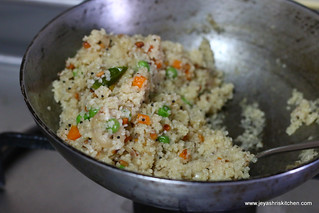 I personally loved it with sugar and you can have with pickle too.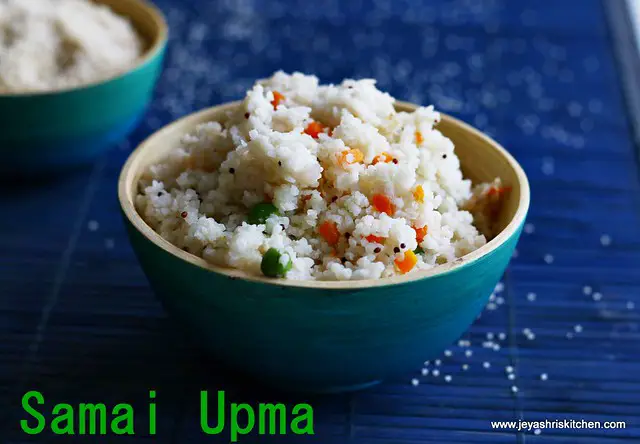 Notes:
Soaking reduces the cooking time. So soak the samai rice for 15 minutes.
If you are in a hurry and do not have time to soak, add 2 cups of water while cooking.
You can add any vegetables of your choice.
I added 1 green chili but felt 2 would have been ideal as i felt that it is slightly bland. I use the small chili.