Bajra also called as Pearl millet in English/ Kambu in Tamil, even available in USA in the name cattail millet. Millet recipes are getting very popular now a days. I have explored few recipes with millets and will be sharing here every week. Bajra, is a very old variety of millet used in Tamilnadu and Kambu khool is a popular one which is made with bajra. Rotis are made with bajra in the state of Gujarat, Rajasthan. I remember eating bajra roti, jowar roti when we visited Jaipur few years ago. I have tried both jowar roti and bajra roti at home. Will post jowar also soon.
This has so many health benefits.As bajra is rich in fibre, it helps in weight loss. Best suitable for Diabetic people. I personally felt the rotis are too bland in taste, but when i tried for the second time i had with proper side dish. It tasted very nice. Never serve this with simple raita or salads. Since it is a gluten free flour, i can't make it without the addition of wheat flour. So over to the recipe of bajra ki roti.
You can serve with
Ingredients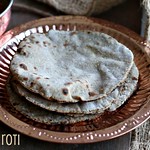 Preparation Time
: 10
mins
|
Cooking Time
: 2 Mins per roti |
Yields: 6
Bajra flour | Kambu maavu 1/2 cup
Wheat flour 3 tblsp
Salt to taste
Hot water to knead
Oil | Ghee to drizzle on the roti (optional)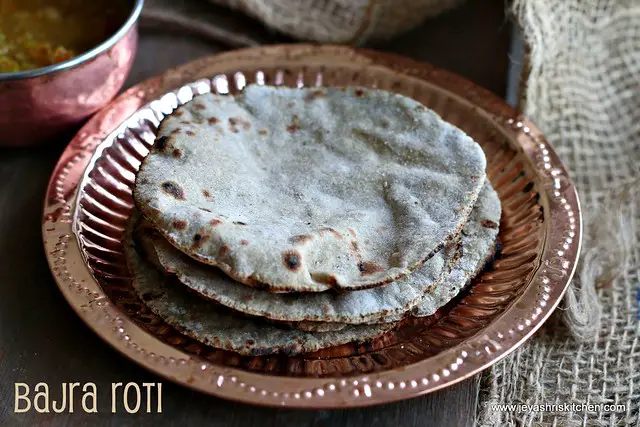 Method:
In a wide vessel add both the flours and add salt.
Add hot water little by little and make a soft dough. Do not add more water, it needs little only. I couldn't give proper measurement for water as it varies from flour to flour.
Divide the dough into equal sized balls.
Take one portion of the dough and roll it gently with rolling pin. Dust with flour while rolling.
Heat a tawa and cook the roti on one side and put it on the open flame as we do for phulkas. It won't puff up too much like wheat rotis.
Repeat this for the rest of the dough.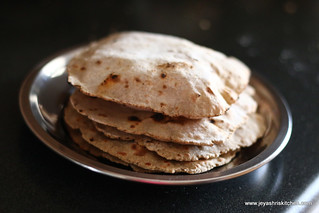 Hot bajra rotis are ready to serve.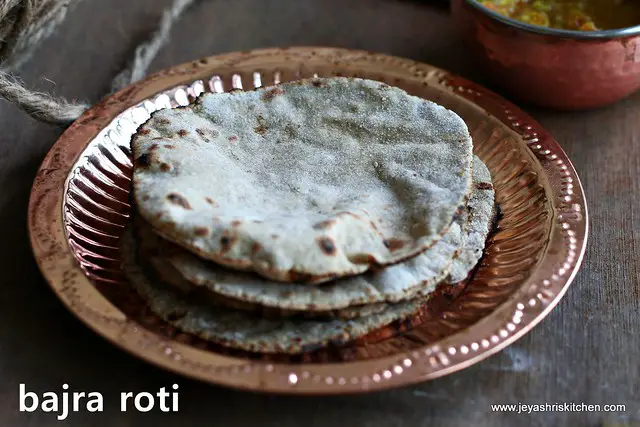 Notes:
Never make the dough too soft, else you can not roll it and too stiff also very difficult and rotis will end up very hard.
You can add masala powders like red chili powder, jeera powder and garam masala, finely chopped coriander to the flour while making the dough.