Sambar powder|Sambar podi  is generally made at our place in bulk by drying it under sun and grinding it in the mills where they grind the ingredients of sambar powder into a fine powder.
When i posted the recipe of
Rasam  Powder
, i got many emails to post the recipe for sambar powder. I use sambar powder in most of my recipes and i love the one which my mom makes in bulk and pack for me during our visit to India. She is very particular to use the best quality of the ingredients as it will give a nice flavor to the sambar.
For all those who asked for Sambar powder in Small quantity, please check this
Home made sambar masala post
INGREDIENTS:
| | |
| --- | --- |
| RED CHILLI (USE LONG VARIETY) | 1/2 KG |
| CORIANDER SEEDS(DHANIYA) | 3/4 KG |
| TOOR DAL | 100 GMS |
| BLACK PEPPER | 50 GMS |
| METHI SEEDS(VENDAYAM) | 1 TBLSP |
| TURMERIC * | 7-8 |
*We use the long variety turmeric for this(Varali majal).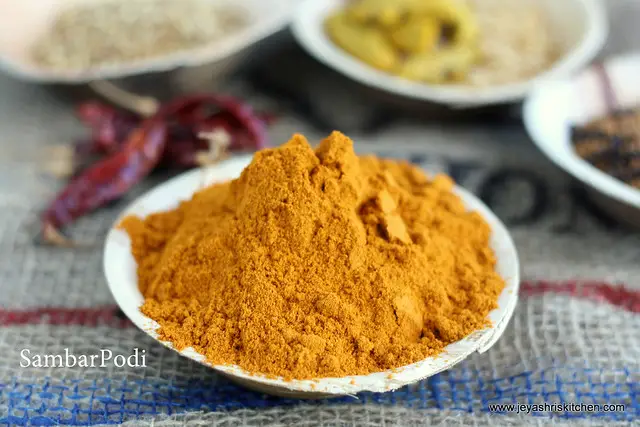 Dry all the ingredients separately in a wide plate or on a newspaper in the hot sun for 6-7 hours.
If you didn't get proper sun during rainy days, u can microwave the ingredients for few minutes without changing the color of the ingredients.
Give it to a mill (rice mill) and make it into a fine powder.
Once done, spread the Sambar powder on a wide plate in shade (inside the house) for 10 minutes and store them in a dry, clean container. This is to cool the sambar powder as the heat from the flour mill will change the color
Always handle this with a dry spoon.
You can keep this in the refrigerator for longer use.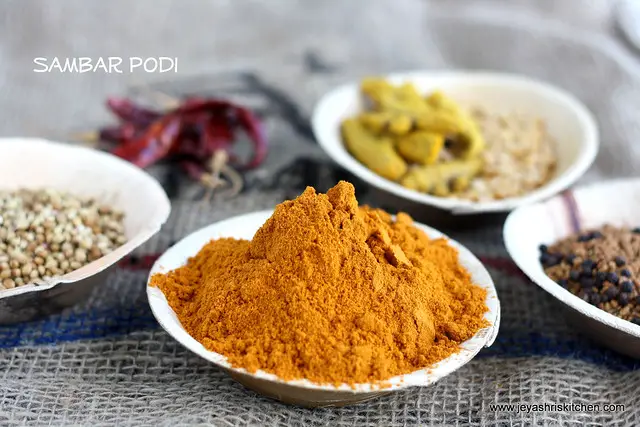 This is the usual procedure in which we make sambar method at our place.