Sathu maaavu kanji is one we used to have everyday during our childhood days. Amma used to make an awesome kanji maavu . Also she makes a semi solid khoozl out of it smeared with ghee ,and me and my sister sitting on the stair case used to lick this with this fingers. Whenever amma returns from office and was in a confusion on what to make for us to satisfy our hunger cravings, this will be the handy one for her. Also ragi puttu is one more which  she used to make for us and we love the most. Will blog that soon.
   This process of making kanji can be done in Microwave too. Use a wide microwave safe bowl for this.
  Preparation Time : 5 mins | Cooking Time : 15 Mins |Makes: 1 kg approx.
     Ragi | Finger millet     1/2 cup
     Potttukadalai | Chutney dal   1/2 cup
     Black channa | kondakadalai    1/2 cup
     Dried corn | makka cholam     1/2 cup
     Whole wheat | Godhumai      1/2 cup
     Kambu  | Pearl Millet         1/2 cup
     Green gram |pacha payaru   1/2 cup
     Peanuts (de skinned)          1/2 cup
     Badam | almonds         7   (optional)
     Cashew nuts                  7 (optional)
     Kasa kasa | poppy seeds   2 tsp 
To make porridge:
     Sathu maavu    2 tsp
     Milk       3/4 cup
     Water      1/2 cup
      Sugar      1 and 1/2 tsp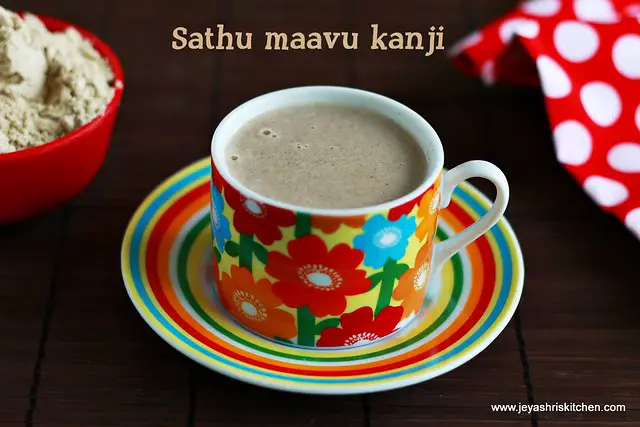 Method:
In a pan dry roast all the ingredients separately. Dry roast without getting it burnt.
Roast till it nicely pops up.

Allow this to cool and grind this in a mill. Grinding bulk at home will not be very smooth.
Once it is powdered , to make the porridge, for one person take 2 tsp of kanji maavu and dissolve it in 1/2 cup of water without any lumps.

Cook this in a low flame till it becomes semi solid consistency.

Add milk to this and and keep in a low flame . Add sugar and stir well. When it comes to boiling switch off the flame. Be careful at this stage, it will become burnt easily so soon.

Sathu maavu kanji is ready to serve.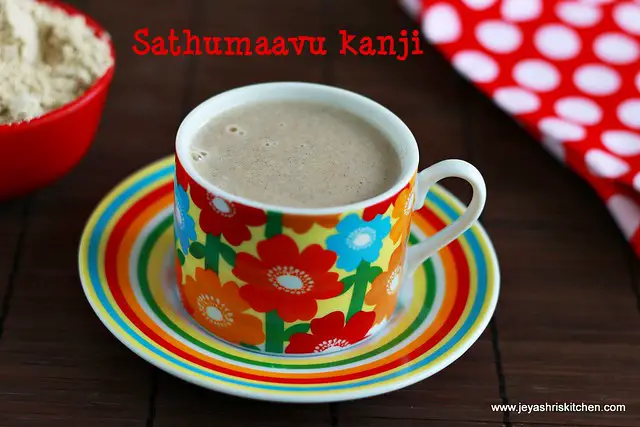 Notes:
Adding badam and cashew nuts are optional in the recipe. If you do not want just skip it.
My mom adds elachi powder and a pinch of edible camphor (pachakarpooram) to this while making . But since i don't like both the flavours i don't add it.
We can make a savoury version of this kanji maavu too. Will post that later.