Sukku malli coffee | sukku kaapi recipe with full video and step-by-step pictures.
I was first introduced to this coffee(kapi, to be more precise in Tamil) by our neighbor aunty. Sukku is dry ginger and malli means coriander seeds. I have told about her in the Kurunai vadai post too.
Almost every week aunty makes this and brings piping hot sukku kaapi in the evening for my mom and paati in a big vessel. Initially, my sister and I will not even taste this as we feel that it is not meant for us. But aunty and even their daughters who are of the same age always tell us to try this kaapi.
What are the benefits of Sukku malli coffee
Sukku malli kaapi drink has medicinal values too. Sukku malli kapi relieves headaches, aids in digestion, and keeps you energetic. This can be made with simple ingredients available at home. Slowly I and my sister started liking this and after that forgot about that. After so many years I made this today.
It was raining heavily for the past 3 days and thought this will be a perfect one to enjoy this weather. When I had the first sip, it gave me a lot of nostalgic memories of our childhood in our Madurai house.
This is a vegan coffee with simple ingredients like coriander seeds, sukku | dry ginger, pepper, and cardamom. Also, check out sulaimani tea, karupatti coffee

Sukku malli coffee
  Preparation Time : 5 mins | Cooking Time : 15 Mins |Serves: 2
     Sukku malli podi(recipe given below)      1 tblsp
     Palm sugar or jaggery    1 tblsp
     Water     2 and 1/4 cup
     To make the podi
  Dhaniya | coriander seeds      3 tblsp
  Dry ginger powder | sukku podi   1 tsp
  Whole black pepper    1/4 tsp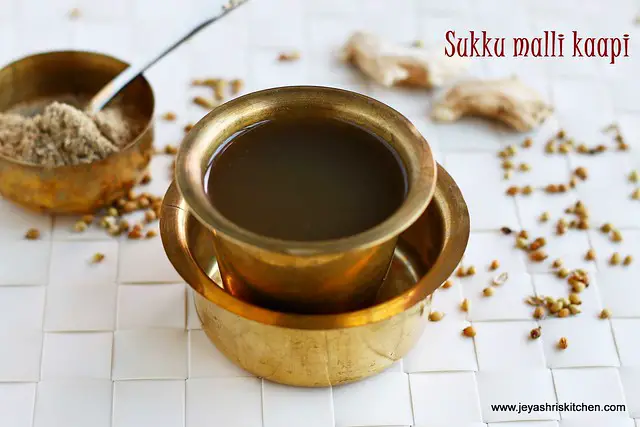 Method:
Dry roast the coriander seeds, pepper in a pan till slightly brown. Do not get it burnt.

I had whole dry ginger so i just powdered it using a mortar and pestel and took 1 tsp of this. If you have dry ginger powder you can use it.

Grind the roasted coriander seeds, pepper and dry ginger into a fine powder.

The podi is ready. Now let's see how to make the kaapi with this.
In a pan add water and add 1 tblsp of podi to it. Allow it to boil nicely for 2 minutes.
Add the pal sugar(panakalkandu) to this and boil for few seconds and put off the flame.

Filter this in a tea strainer. Kaapi is done.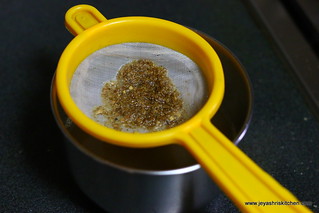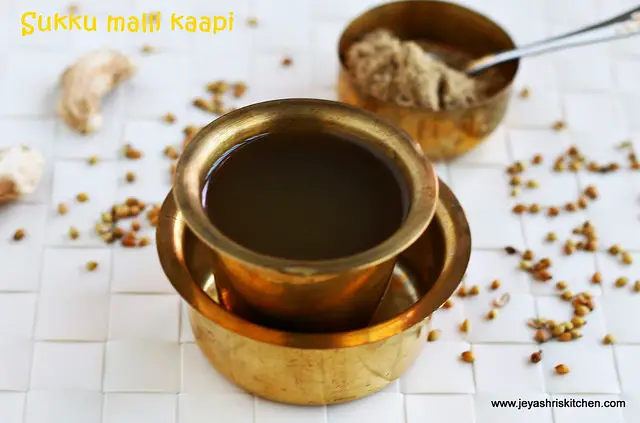 Notes:
Do not consume this so oftern. Sukku if consumed so often will cause stomach discomfort.
Even weekly once you can have this just to keep you fresh.