Tofu i rarely use in cooking, and even if i use i add it instead of paneer in gravies. Though i know it is a very good source of protein, i somehow didn't like to attempt it in any other form. When i gave the Singapore recipes for Aval Kitchen in Sept 2014, this sweet and sour tofu was one among them. I know few recipes with tofu which they deep fry too. When i tried this sweet and sour tofu, i liked it very much. I like the addition of pineapple in this. So i wanted to share the recipe too here. This can be had as an evening snack or can be served with vegetable fried rice. This dish is a mix of sweet and sourness and not being a lover of local Singapore veg food, personally i liked this very much. Will post the gravy recipe also soon.
Sweet and sour tofu
  Preparation Time : 10 mins | Cooking Time : 15 Mins |Serves: 3-4
      Tofu cubes      1/2 cup
      Broccoli florets    few
      Capsicum | Bell pepper    1
      Pineapple cubes    1/4 cup
      Garlic    3 pods
      Ginger     a small piece
      Oil      2 tblsp
      Corn flour    1 tblsp
      Honey      3/4 tsp
      Sugar     1/2 tsp
      Lemon juice    1/2 tblsp
      Pepper powder    1 tsp 
      Chilli sauce  (optional)    1/2 tsp 
      Salt      to taste  
      Spring onion   to garnish      
          
     

Method:
Squeeze the water from the tofu gently and cut them into cubes. Pat dry them in a kitchen towel
In a pan add the oil and add finely chopped ginger and garlic. When it turns brown, saute the tofu , till nice golden brown.
Mean while mix the corn flour, soya sauce, sugar, honey , chili sauce(if using) into a fine paste without any lumps.
Chop the bell pepper into cubes and keep the broccoli into medium sized florets. Let the tofu gets sauted in a medium flame. Stir gently.
| | |
| --- | --- |
| | |
Now add the broccoli, pineapple cubes, and the capsicum too. Cook for few minutes. Do not cook them too much, let them all be crunchy and ensure it should not lose their colour too. Add salt.
Add the prepared sauce and pepper powder. Mix well and let the sauce coat all the tofu and veggies.
| | |
| --- | --- |
| | |
Cook for 2-3 minutes in a low flame and switch off the flame.
Sweet and sour tofu with vegetables is ready to serve.
Squeeze lemon juice before serving. Garnish with spring onions.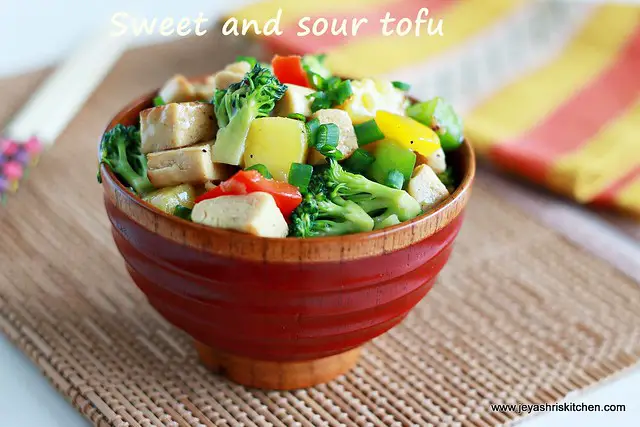 Notes:
You can add bean sprouts and bok choy to this , if adding add while adding the veggies.
Adjust sweet and sourness according to your taste buds, i have given the measurements according to my own taste.
If you do not like the pineapple chunks you can grind it and add in the corn flour mixture. This will give the taste but you won't get to bite the pineapple.