Sweet Lassi has wonderful child hood memories in me. We have a shop in my native place where we get Samosa, lassi , badam milk and few other north indian sweets. Those days it is very difficult to find these items in all shops. So whenever we go out for shopping with my mom, before taking the bus back to home, we go to this shop and have a samosa and a tall glass of Lassi. Wow, while writing this , i could feel the taste of the sweet lassi.
Last week Raks visited my house, almost it was 4-5 months , since we met. I called her for lunch but as she is bit busy she just came for  half an hour only. She loves chilled juices and instead of buying a juice from shop, i thought i will make this sweet lassi for her . That day i could't take the clicks but yesterday when i was craving for lassi again i made it , clicked and enjoyed it a lot.

Ingredients

  Preparation Time
:
5 mins
|
Cooking Time
: No Cooking |
  Serves
: 3-4
    Yogurt |Curd    2 cups
    Milk     1/2 cup
    Cardamom powder 2 pinches 
    Rose water 2-3 drops
    Sugar   4 tblsp
    Fresh Cream   3 tblsp (optional but highly recommended)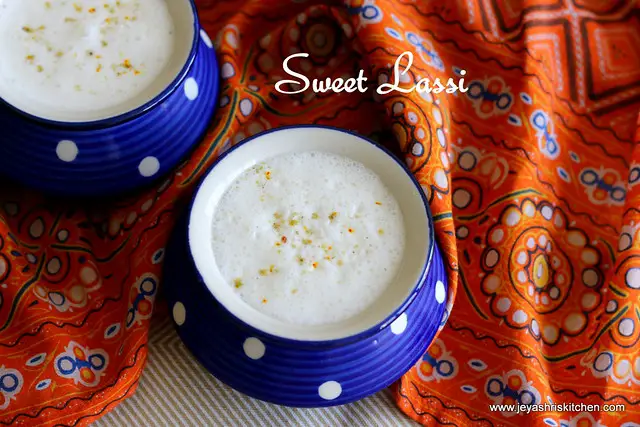 Method:
Put all the ingredients except rose water in the mixer.
Blend this for 2 minutes . Use the tall jar to avoid the yogurt splashing out.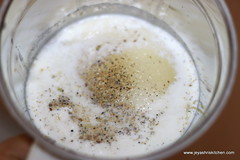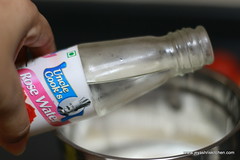 Add rose water and mix well with a spoon.
Lassi is ready to serve. Serve the lassi chilled.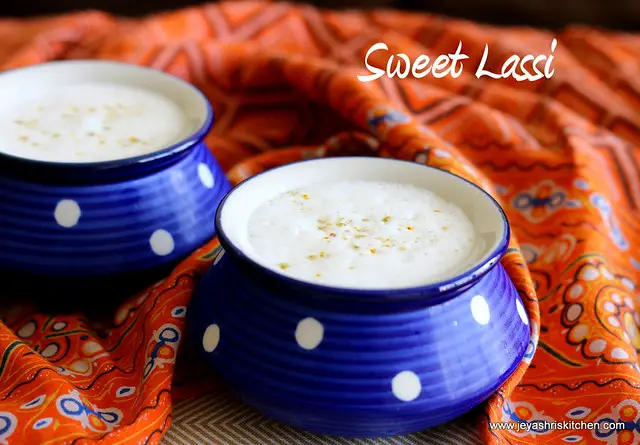 Note:
You can add little saffron to the lassi while blending. Just 2-3 strands will do.
You can soak 5-6 almonds in water and take out the skin and add it to the lassi while blending. This will give a creamy texture.
I garnished with little Everest Milk Masala.
I used Amul fresh cream. You can use the malai collected from the milk too.
Ensure that the milk is completely cooled if using boiled milk. Else it will curdle.
I generally don't add water to lassi as i like it thick. If you want you can add 1/4 cup of water. Don't add more than that.