Valentines Day is more special to me, as our son Varun was born on the same day. He is turning 8 this year and he wanted me to make Chocolate ice cream for his birthday. I made it yesterday evening and it turned out very well . I have tried mango ice cream , strawberry ice cream but this is the first one i have tried without condensed milk. But to my surprise it was very creamy. I adapted the recipe from
here,
which i bookmarked a long back.
Try this chocolate ice cream this Valentine's day and surprise your spouse. This ice cream requires no cooking. Even you can engage your kids in making this ice cream too.
Ingredients

Preparation Time
: 15
mins
|
Standing Time
: 6-8 Hours |
Serves
: 4-5
Cocoa Powder 1/2 cup
White Sugar 1/2 cup
Brown Sugar 1/4 cup
Milk 1/2 cup
Cream 1 cup
Vanilla essence 1 tsp
Chocolate chip cookies (Chopped) 1/2 cup (optional)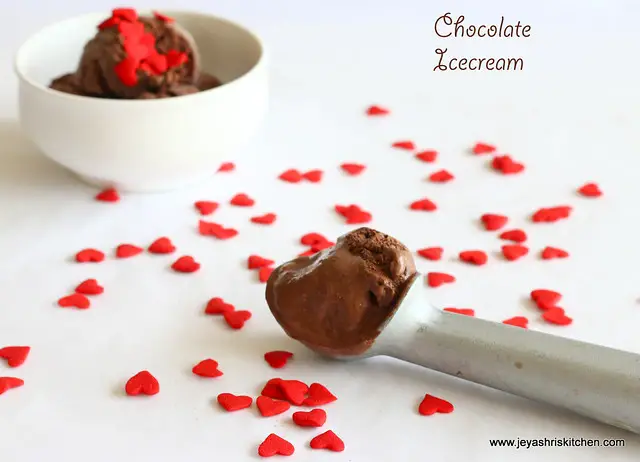 Method:
In a wide bowl add the cocoa powder, both the sugar and vanilla essence .
Add milk to this.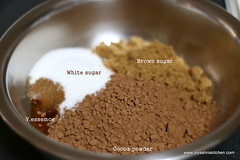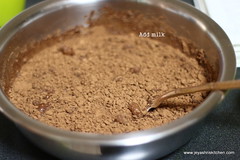 Mix well without any lumps.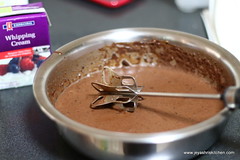 Whip the cream using an electric beater. As i don't have it i poured the whipping cream in a mixer and whipped it for few seconds. It turned out fantastic.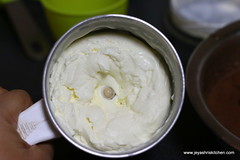 Add this to the chocolate mix and fold it gently and evenly.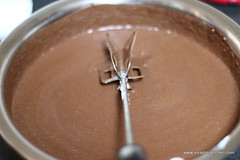 Transfer it to a container . Freeze it for an hour and take out and blend this in a mixer for 2 minutes and put it back to freezer again.
After an hour , if using chocolate chip cookies, pulse 4-5 cookies (i used store bought cookies) in a mixer and add it to the ice cream mix. Mix well and set it to freeze for 5-6 hours or over night.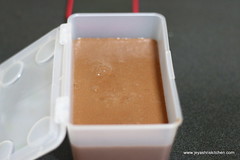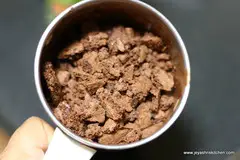 The ice cream will be set and you will get creamy chocolate ice cream .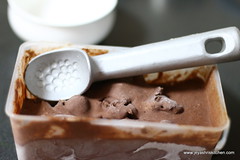 You can add chocolate chips instead of the cookies.
Even finely chopped nuts (any nuts of your choice) can be added before you set it for freezing.
I added both brown sugar and white sugar but you can add only white sugar. In that case add 3/4 cup of white sugar.