Potatoes are always find place in all parties and this tandoori aloo recipe is a wonderful starter for a party and can be had as an accompaniment to rice| puloas too. I saw this recipe of tandoori aloo in
Laskhmi's
place and i bookmarked this and waiting to try this. Last week i got cute baby potatoes from the market and tried this yesterday morning . Tandoori aloo turned out so crisp and yum.
I tried this recipe both in oven and stove top and i was pretty happy with both the results.. Couldn't take step wise pictures as i was in a hurry and it was a weekday morning. But will update soon with stepwise pictures.
Lakshmi made the tandoori masala by herself and me being a lazy person didn't do this and used store bought tandoori masala.
This recipe can be made with normal big potatoes too .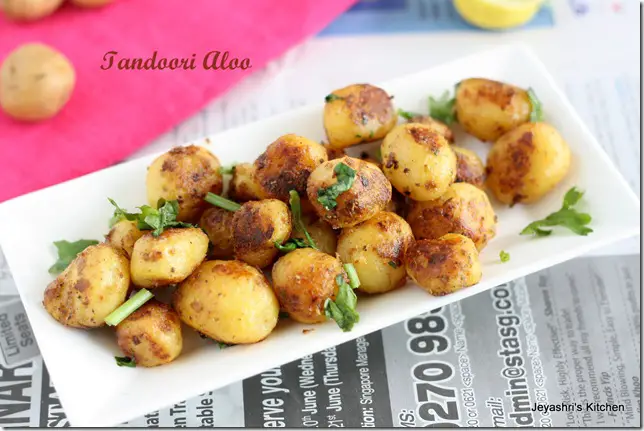 INGREDIENTS:
| | |
| --- | --- |
| BABY POTATOES | 25 NO |
| GINGER GARLIC PASTE | 1/2 TSP |
| YOGURT | 2 TBLSP |
| TANDOORI MASALA POWDER | 1 TSP |
| RED CHILLI POWDER | 1/2 TSP |
| SALT | 1/4 TSP |
| OIL | 1 TSP |
| CORINADER LEAVES | FEW |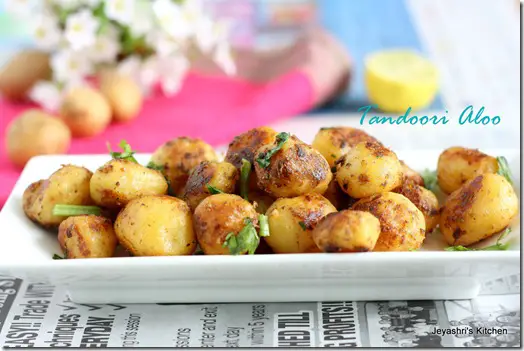 METHOD:
Par boil the potatoes and when done peel off the skin.
In a bowl mix the yogurt , tandoori masala powder,ginger garlic paste, redchilli powder and salt.
Pour this over the parboiled potatoes and marinate for 8-10 hours, preferably overnight.
This is very important so that the masala will get into potatoes.
Grease your baking tray or line in the tray with aluminum foil.
Bake for 5 to 7 minutes in a preheated oven at 180 degrees C.
Turn the potatoes and bake for another 5 minutes.
ATERNATIVELY you can make this on stove top too .
In a non stick pan add a tsp of oil and throw in the marinated potatoes.
Cook for 5 minutes in medium flame and carefully turn over this without mashing the potatoes.
Cook till you find golden spots on all sides.
Garnish with chopped coriander leaves if you want.
Enjoy as a starter with Dip of your choice.