Masala peanuts or masala kadalai we call in tamil is a basically a deep fried snack and i still remember during our childhood days whenever my dad buys masala peanuts from office me , my sister and my grandma used to finish this on the same day itself. Yes my grandma is also a big fan of these masala peanuts. Though my mom and grandma makes all the sweets and snacks at home and i still remember we never buy any store bought snacks but somehow these masala peanuts we always buy from a particular shop from my home town. Suddenly i got a craving for these masala peanuts and my friend who makes this often guided me with few tips and the recipe for masala peanut is here:
Also check out my
(The peanuts which we get will be slightly bigger. I used the raw peanuts without skin and you can use the raw peanuts with skin too.)
INGREDIENTS:
| | |
| --- | --- |
| RAW PEANUTS | 1 CUP |
| BESAN | CHICKPEA FLOUR|KADALAI MAAVU | 3 TSBLP |
| RICE FLOUR | 2 TBLSP |
| SALT | TO TASTE |
| RED CHILLI POWDER | 1/2 TSP |
| OIL | FOR DEEP FRYING |
| GHEE | 1/2 TSP |
| CHAAT MASALA | 2 PINCHES(OPTIONAL) |
| GARLIC | 2 PODS(OPTIONAL) |
| WATER | 1-2 TBSLP |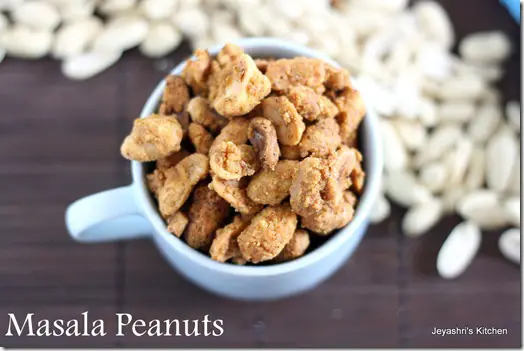 METHOD:
In a wide bowl add the peanuts and wash it nicely.
Drain the water completely.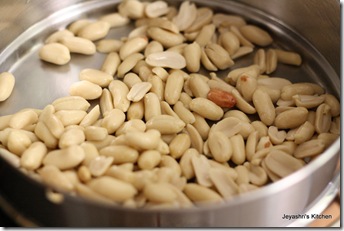 Add the besan, rice flour, chilli powder, salt, chaat masala(if using), crushed garlic pods(if using) and mix thoroughly.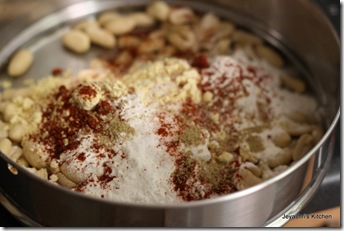 I didn't add garlic.
Add few drops of water and ghee to make it into a tight mixture.
Never add excess water and make the mixture loose.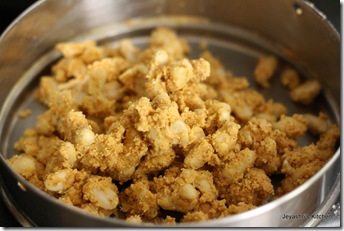 Ghee is added to give more crispiness and to retain that too.
Heat oil in a pan for deep frying.
Sprinkle this peanut mix in oil.
do not add too much in a batch.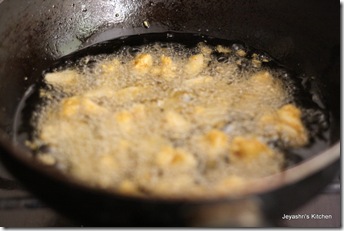 When the sizzle sound of the oil lessens take out the peanuts from the flame and drain them in the kitchen towel.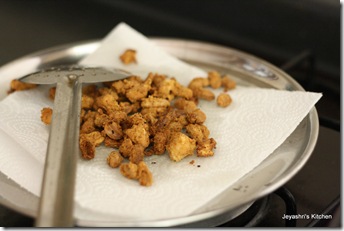 This peanuts will be done very fast and be careful while frying this as this will get burnt easily.
Store this in a air tight container and enjoy with tea.
I love to have with curd rice too.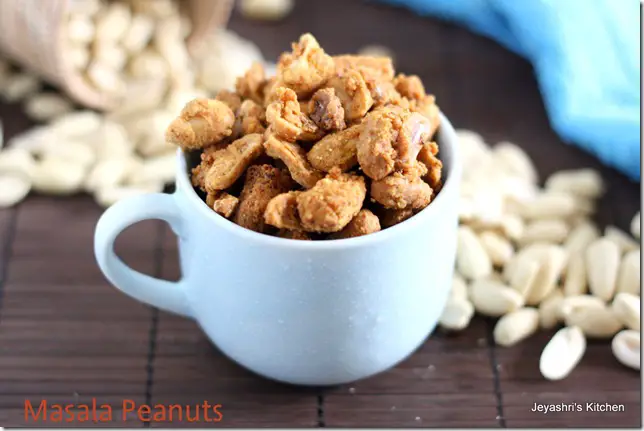 Note:
If using skinned peanuts just continue with the same procedure or if you don't want the skin just roast them in a pan for few minutes and rub it.
Alternatively you can microwave it for a few minutes and take the skin out.
The entire recipe cane be done  without deep frying. You canbake it in an oven or microwave it too.
I added crushed garlic in the last batch and i loved the flavor in that masala peanuts.