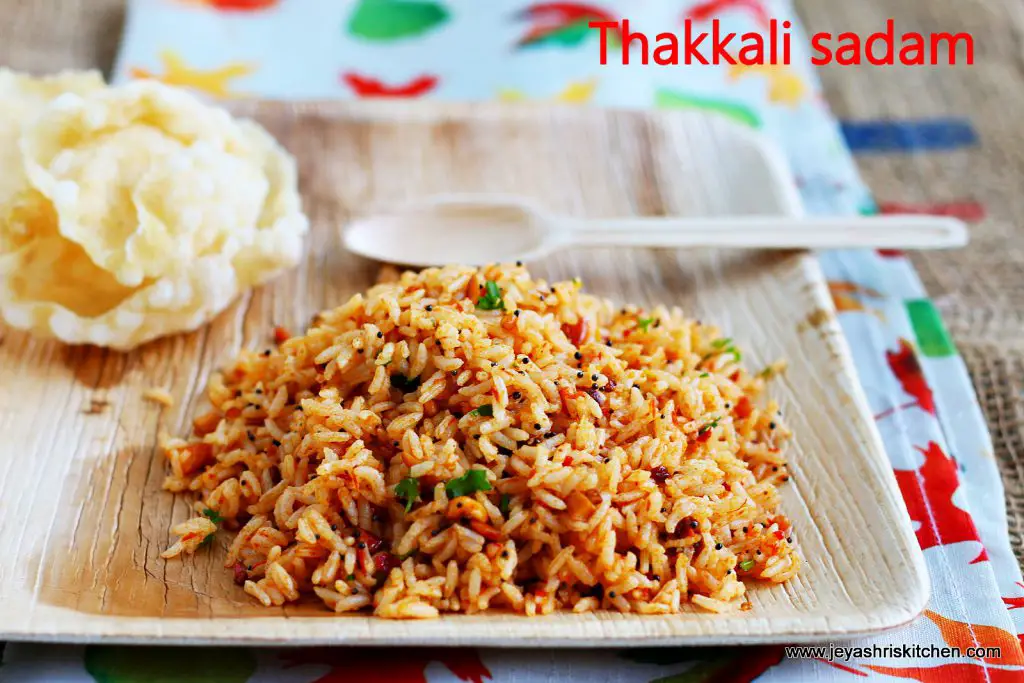 Navaratri 2016 is keeping me quite busy, though we don't keep Golu at home, i am visiting my friends here almost everyday. Thakkali sadam | south indian style tomato rice is a recipe without onion garlic, recently i tasted in one of the friend's house during a navaratri brunch. I first thought this as puliyodarai and then she told it is tomato rice. So i noted down the recipe of thakkali sadam and tried it home the very next day. I packed it for Suresh's lunch box and got good feedback too. Also many readers of Jeyashri's kitchen who are residing in Singapore, are inviting me to their house for Navaratri. As for as possible i am going but too far places i couldn't make it. One among them told me to post few more recipe ideas to serve for guests during Navaratri. This thakkali sadam is a fantastic recipe and you can replace the rice with sevai too. Also this is a perfect travel food and stay good for a day. Check out my other Navaratri recipes too.

Thakkali sadam
Preparation Time : 10 mins | Cooking Time : 25 Mins |Serves: 2
Rice 1 cup (cooked)
Tomato 1
Tamarind a small piece
Red chili 2
Sesame oil 2 tsp
Salt to taste
Mustard seeds 1/4 tsp
Methi seeds | vendayam 1/8 tsp
Turmeric powder 1/4 tsp
Coriander leaves few
For rice
Cooking oil 2 tsp
Mustard seeds 1/8 tsp
Cashew nuts few
Urad dal 1/4 tsp
To roast and grind
Dhaniya | coriander seeds 1 tsp
Channa dal 1 tsp
Sesame seeds 1 tsp
Red chili 1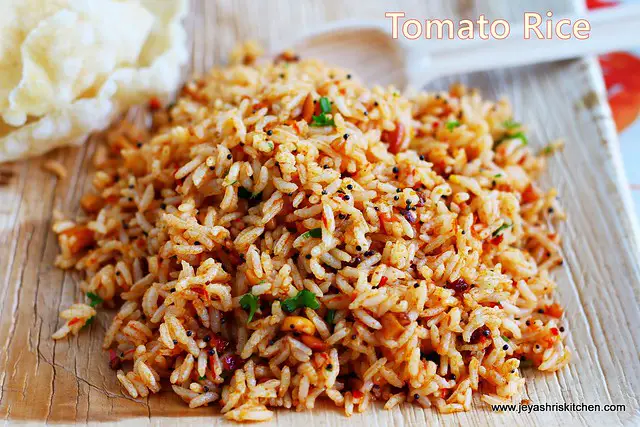 Method:
Chop the tomato into 4 and soak the tomato, red chili (2), tamarind in 1/4 cup of water for 10 minutes.
Grind this into a smooth paste.

Dry roast the coriander seeds, channa dal, sesame seeds and red chili till golden brown and powder it.

In a pan add the sesame oil and add mustard seeds and methi seeds. Add the ground tomato to this and cook.
Add salt and turmeric powder to this.

Let this boil in a low flame till it comes to a thick paste.
Add 1 tsp of the ground powder to this. You can use the remaining while making sambar, sundal or any curry.
Once the tomato mixture thickens, switch off the flame.

In a pan add cooking oil, and add in the mustard seeds, cashew nuts, urad dal. Once the dal turns golden brown switch off the flame and keep it in a wide bowl.

Add the cooked rice to this.
The tomato paste yielded around 2 to 2.5 tblsp.
Add 1 tblp to the rice and mix well with a spoon.
If you want little more you can add too.
Check for salt.
Garnish with coriander leaves.

Serve with vadam | appalam.
Thakkali sadam is ready.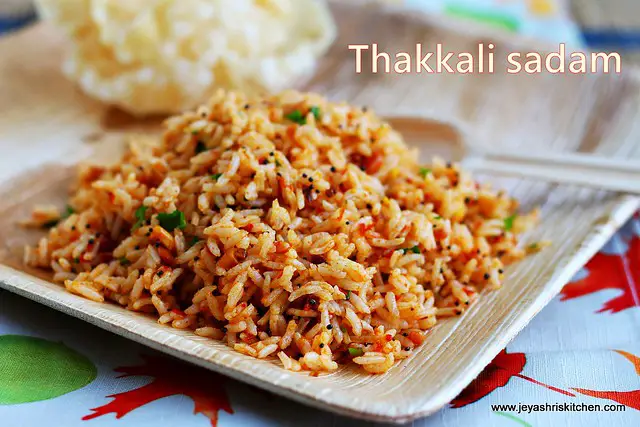 Notes:
You can add peanuts to the rice instead of cashew nuts.
If your tomatoes are sour reduce the quantity of tamarind or increase the spice level.
Always ensure that the rice is not mashed while cooking.