Tomato Chutney | Thakkali chutney is a simple and easy side dish for idli | dosa . This recipe of tomato chutney is without coconut. Two weeks back i was invited to my friend's place for a  small family function. She served idli and vadas with this thakkali chutney. I liked the taste of the chutney and asked her the recipe of the chutney. The recipe is so simple and i tried it yesterday and had it with dosas.  Let me share with you the recipe of
easy tomato chutney:
Recipe updated with video
Ingredients

  Preparation Time
:
5 mins
|
Cooking Time
: 10 Mins |
  Serves
: 2-3
    Tomato   3
    Garlic  4-5
    Red Chilli 3-4
    Salt  As needed
    Oil    2 tsp + 1 tsp sesame oil
    Mustard seeds 1/4 tsp
   Curry leaves   Few(Optional)
             Video of how to make tomato chutney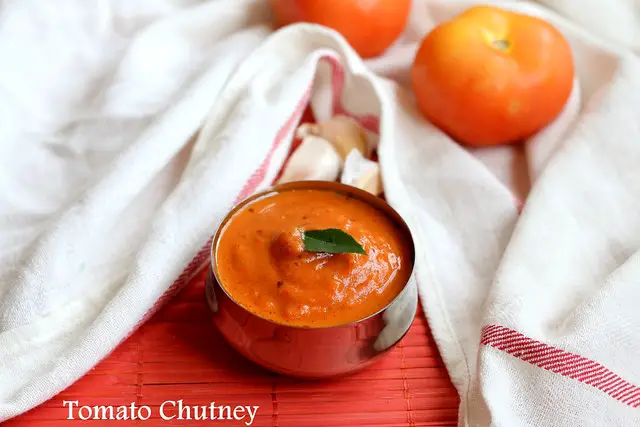 Method:
In a pan add oil and throw in the red chilli and garlic pods. Saute them in a low flame till the garlic becomes roasted.
Take it out and keep aside.
Cut the tomatoes roughly. In the same pan add it and saute them till mushy. Be careful not to burn it. Add salt to this.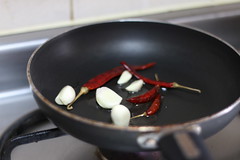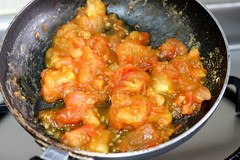 When cool grind them in a mixer into a fine paste.
Temper with mustard seeds and curry leaves in sesame oil.  Add little water to bring to a right consistency.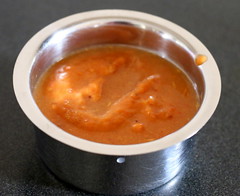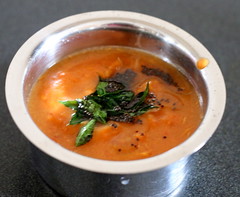 Serve this tomato chutney with hot idlis | dosas.