Kuzhi paniyarams we generally make with left over
Idli| dosa batter
. I have already posted the recipe of
Chettinad kuzhi paniyaram
. Very recently my mom was telling me to try the Thakkali dosai | tomato dosai and with the same recipe given by her i just made thakkali kuzhi paniyaram instead of thakkali dosai. It turned out super soft and you can even try out with the left over idli |dosa batter too.
PREPARATION TIME: 10 MINUTES. COOKING TIME: 30 MINUTES. MAKES: 40-45 PANIYARAMS
| | |
| --- | --- |
| IDLI RICE | 1 CUP |
| WHOLE URAD DAL | 1/4 CUP |
| VENDAYAM| METHI SEEDS | 1 TSP |
| SHALLOTS|SMALL ONION | 10 |
| RED CHILLI POWDER | 1 TSP |
| TOMATO | 2 |
| GARLIC | 2 PODS |
| MUSTARD SEEDS | 1/4 TSP |
| SALT | AS NEEDED |
| CURRY LEAVES | FEW |
| CHANNA DAL | 2 TBLSP(OPTIONAL) |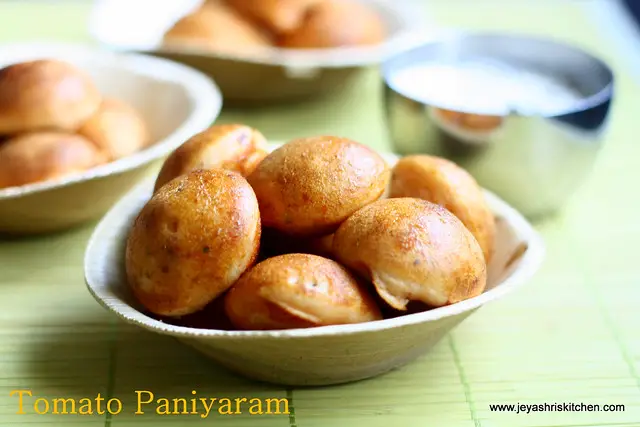 METHOD:
If using leftover idli dosa batter skip the first 2 steps.
Soak the rice, dal and methi seeds together for 4 to 5 hours.
Drain the water and grind this into a very smooth paste by adding water little by little in between. When done, add salt and mix well. Ferment it for 6-7 hours. Batter is ready.
Grind the tomato and garlic into a fine paste and add this to the batter.
Finley chop the onions and in a pan add oil and add in the mustard seeds. Add in the onions and chopped curry leaves. Add red chilli powder and salt and saute for a minute. Switch off the flame.
Add the onions to the batter and mix well. If using channa dal soak it for 10 minutes and drain the water and add to this.
Heat the paniyaram pan and add little oil in each hole. Spoon in the batter and cook on both sides in a medium low flame , till it becomes golden brown.
Serve them hot. This paniyaram pairs very well with coconut chutney. Note:
Let the consistency of the batter be not too thick or nor too watery. If thick the paniyarams will be dry and hard.
You can add finely chopped carrots and coconuts to the batter.
Green chillis can be replaced with red chilli powder. In that case, pulse the ginger and green chilli the mixer once and add, so that it will come while eating.