Udippi sambar|udupi style sambar is a new sambar recipe without the use of
homemade sambar powder.
I recently tasted this sambar in a friend's house who is a native of bangalore. The sambar was very different, aromatic and yum. when i asked her any special sambar powder you make for this , she said that this udipi sambar is without sambar powder . She told me the ingredients to roast and grind to make the fresh masala for sambar, just roughly without any measurements. I just tried it at home few days back and it was a super hit. A very aromatic sambar recipe which is a must try recipe from jeyashri's kitchen.
Preparation Time : 10 mins | Cooking Time : 30 Mins |Serves: 4
Toor dal 1/4 cup
Drumstick 1
Yellow Pumpkin few cubes
Tamarind a small gooseberry sized
Coriander seeds |Dhaniya 1 tblsp
Channa dal 1 tblsp
Urad dal 2 tsp
Red chilli 5-6
Sesame seeds 1 tsp
Coconut (preferably koprai) 1 tblsp
Oil 2 tsp
Curry leaves few
Turmeric powder 1/2 tsp
Jaggery | Vellam 1 tsp
Asafoetida 2 pinches
Salt as needed
Mustard seeds 1/4 tsp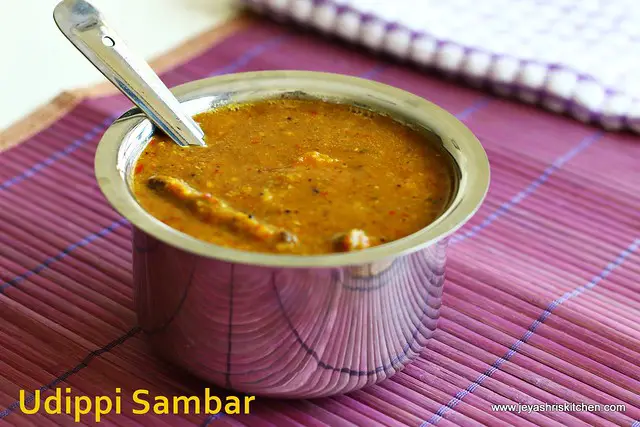 Method:
Soak the tamarind in water and take extract with 1 and half cup of water. Cook the toor dal with enough water and little turmeric powder.
Cut the veggies in to desired shapes.
In a pan add a few drops of oil and add in the coriander seeds, channa dal, urad dal, sesame seeds, red chilli and curry leaves. roast in low flame till it becomes nice golden brown. Switch off the flame and add the coconut. Roast this in the hot pan. I used fresh coconut. Koprai | dry coconut enhances the taste more.
Allow this to cool and make grind this into a powder. Even if it is slightly coarse its ok.
In a pan add oil and add mustard seeds.
Add the veggies and saute for a minute and add the tamarind water. Add salt and turmeric powder.
Boil this for 5 minutes and add the ground masala. After adding the masala the mixture will get thicken. So add little water to adjust the consistency.
Allow this to boil for 5 to 7 minutes in a low flame.
Once the veggies are cooked and become soft, add the cooked dal and jaggery.
Mix it well and add little water to adjust the consistency.
Boil in low flame for 3 minutes and switch off the flame.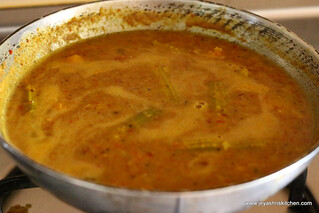 Sambar is ready. This can be served with idli | dosa and also with rice too. We had with rice and a simple fried papad. It tasted awesome with the fresh aroma of spices.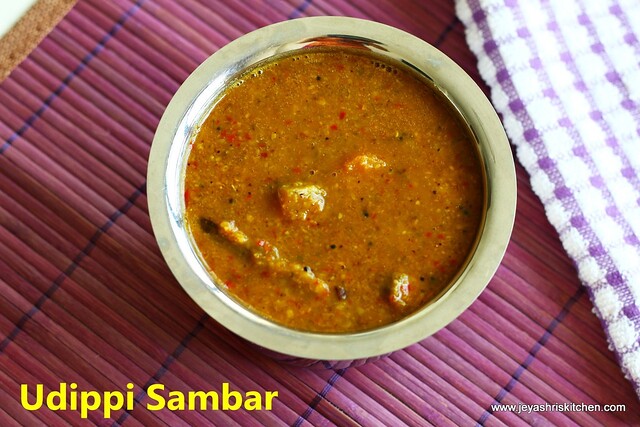 Notes:
The sambar will be thick after adding the spices so add little water to bring it to a thin consistency.
Do not add toor dal than the quantity mentioned. As the fresh masala gives consistency, adding more toor dal will make it very thick.
Do not add sesame seeds more than the quantity mentioned.
Adding koparai will make it more yum but if not having koprai can replace with freshly ground coconut.
If you are very particular to add sambar podi, add 1 tsp and reduce the chili to 1-2