Murungai keerai |drumstick leaves is a very good for health but due to laziness to clean the leaves i buy this rarely. Also whenever i visit little india only especially if in the evenings only i get fresh leaves. Recently i made frequent trips to the Indian store i bought this murungai keerai. I love this in adai and also the curry|poriyal. During our child hood days we used to have the drumstick tree at home and whenever we want just pluck the leaves from it and make fresh curry. The fresh murungai ilai amma used to put in the home made ghee, wow i could recollect the smell still now.
Childhood days stories are never ending. Let me continue to the post. How to make drumstick leaves poriyal | murungai keerai poriyal. This is best for lactating mothers.
Murungai keerai poriyal
Preparation Time
:
30 mins
|
Cooking Time
: 10 Mins |
Serves
: 3-4
Drumstick leaves 3 cups
Small onion 10
Red chili 1
Yellow moong dal 2 tblsp (optional)
Salt to taste
Sugar 1/4 tsp
Oil 1 tsp
Coconut 2 tblsp
Mustard seeds 1/4 tsp
Urad dal 1/4 tsp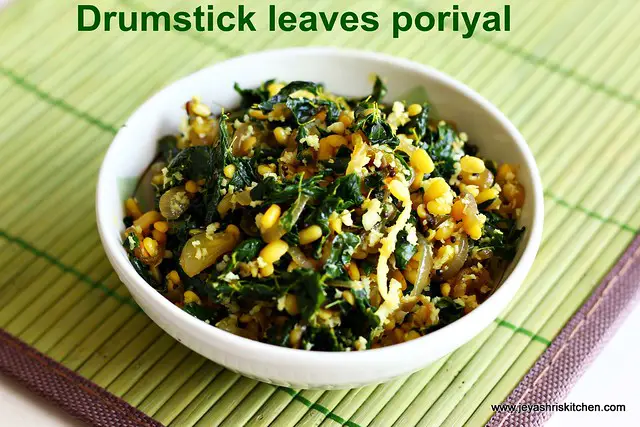 Method:
Wash the murungai keerai and take out the leaves one by one without any sticks or yellow leaves. Both are not good for tummy.
Slice the small onion into round slices. You can use big onions to. But small onions give awesome taste to the poriyal. Soak the moong dal in water for 15 minutes.
Heat a pan and add oil. Add the mustard seeds,urad dal and red chili. Add in the onions and cook till they turn pink.
Add the drumstick leaves and add salt and sugar. Adding sugar retains color and also balance the bitterness of the drumstick leaves.
Cook for 2 minutes and add the soaked moong dal. Drain the water and add.
Mix well and cook for 3-5 minutes. Sprinkle little water.
Add the coconut and mix well. Switch off the flame.
Transfer it to a serving bowl.
Murungai keerai poriyal is ready to serve. This can be had with hot rice and also rasam and sambar are a good combo for this poriyal.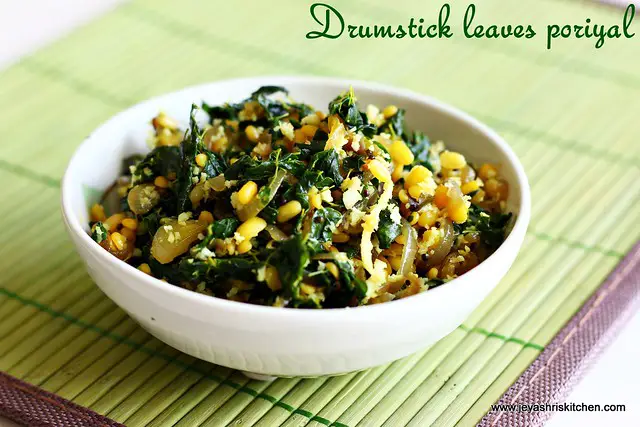 Notes:
Small onions|shallots enhance the taste of the poriyal.
Adding moong dal is optional but gives volume and taste to the poriyal.
Addition of sugar retains the colour and balances the bitterness of the keerai.