Vazhathandhu or banana stem or plantain stem is a very healthy veggie which my mom used to make very often and even at my mil's place too. I still remember the way my husband's Grandma used to chop the Vazhaithandhu using the traditional veggie cutter, also called as "Arivalmanai"in Tamil. Me and my fil love to see the way she cuts the vazhaithandhu as the veggie contains fibre and we have to take it out without leaving anything. But after coming here, getting this vazhaithandhu is a rare thing and whenever i see this i will buy and make morkootu. We also make simple curry with vazhaithandhu too. Let me share the recipe of Vazhaithandhu Morkootu.INGREDIENTS: SERVES 3-4
| | |
| --- | --- |
| VAZHAITHANDHU|BANANA STEM| PLANTAIN STEM | 1 MEDIUM SIZE PIECE |
| COCONUT | 3-4 TBLSP |
| CUMIN SEEDS | 1/4 TSP |
| GREEN CHILLI | 3-4 |
| YOGURT | 2-3 TBLSP |
| SALT | TO TASTE |
| SUGAR | 1/4 TSP |
| COCONUT OIL | 1/2 TSP |
| MUSTARD SEEDS | 1/4 TSP |
| URAD DAL | 1/4 TSP |
| RED CHILLI | 1 |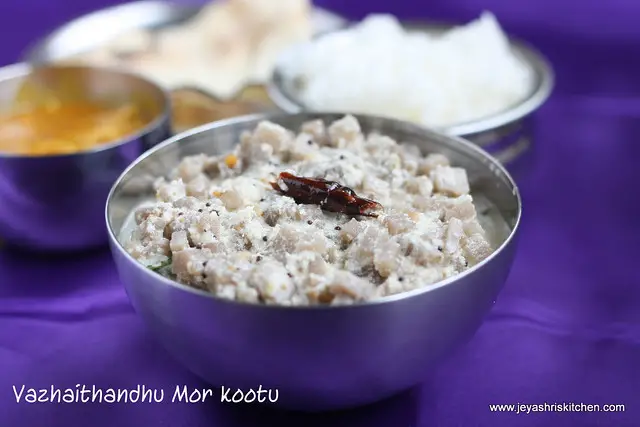 METHOD:
Cut the banana stem into roundels and take out the fibre.
Cut them into cubes. and put the chopped vazhaithandhu into water. Add 1 tblsp of butter milk to this water. this is to avoid the change of colour the veggie.
Mine was slightly dark as the vazhaithandhu was like that only.
I chopped it previous night and kept in the refrigerator.
Before making, drain out the water and add the chopped vazhaithandhu to the pan.
Add salt to this and cook in a medium flame. do not add water. If u need, just sprinkle 1 tblsp of water. This will get cooked soon.
Meanwhile, grind the coconut, green chilli and jeera into a fine paste. If needed add little water to this.
Add this ground paste to the cooked vazhaithandhu. Mix well.
Just let it boil for a minute.
Temper with mustard seeds , urad dal and red chilli.
Just before serving beat the yogurt and add it to the morkootu. Garnish with fresh curry leaves.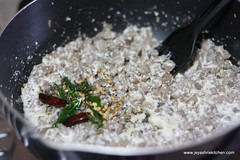 Note:
If you feel the gravy is thin before adding yogurt, add 1/2 tsp of rice flour to the water and mix without any lumps. Add to the gravy and let it come to a boil.
Do not add sour yogurt| curd.