Veg sagu is a kannadiga special recipe made with lots of vegetables in aromatic gravy with Indian spices. Though i have never tasted Veg sagu in MTR restaurant here, i have tasted this in my friend's place long back but couldn't remember the taste. A reader and good friend of mine shared her traditional recipe of making Veg saagu with me. I tried it yesterday and we all loved it. This veg sagu pairs well with
set dosa
and
poori. 
Veg saagu recipe
  Preparation Time : 15 mins | Cooking Time : 25 Mins |Serves: 6
     Mixed Vegetables*    2 cups
     Onion  1
     Oil   3 tsp
     Mustard seeds  1/4 tsp
     Urad dal   1/4 tsp
     Curry leaves     few
Lemon juice  1 tsp
Red chili  1
  To grind into paste
     Coriander seeds   2 tsp
     Cumin seeds  1 tsp
     Cashew nuts  6
     Garlic  6 cloves
     Ginger   a small piece
     Coriander leaves   few
     Mint leaves   few
     Coconut  3 tblsp
     Cinnamon   a small piece
     Cardamom  2-3
     Whole black pepper  1 tsp
     Khus khus |khasa khasa  2 tsp **
*Veggies is used carrot, beans, potato,green peas and chow chow. You can add cauliflower, turnip too.
**Since we don't khus khus in Singapore, i replaced with cashew. But if you get khus khus in your place please add it to get the authentic Karnataka Veg saagu.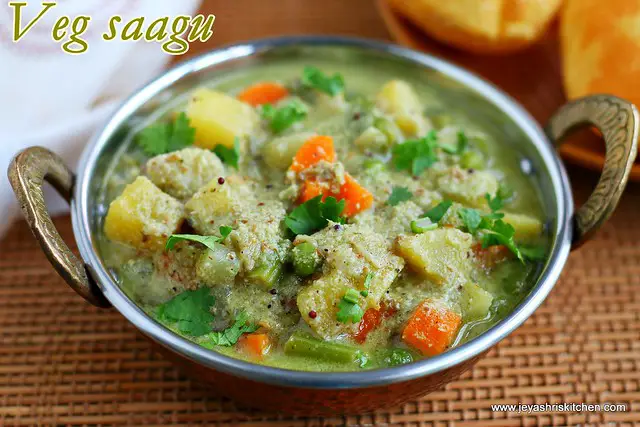 Method:
Chop the veggies into cubes. Slice the onions into small. Slit the green chilies.
Grind all the ingredients under the head "to grind into paste". No need to roast this. If adding khus khus skip the cashew nuts. You can add 1 tsp of chutney dal|pottukadalai to this while grinding.
Grind this into a fine paste using little water.
In a pan add oil and add mustard seeds, red chili (i forgot) urad dal, curry leaves and green chili.
Once the mustard seeds splutter, add the chopped onions.

Let this cook for a while. Saute in a low flame till the onions become pink.
Add the ground masala to this. Cook for 2 minutes in a low flame.

Add the cut veggies to this.
Add 1 cup of water to this.
Add salt to this and cover it and cook for 15 minutes or till the veggies get cooked.
Stir in between.
Alternatively you can do the entire process in a pressure cooker. If using that method, after this stage cover the cooker and pressure cook for 1-2 whistles.

Once done switch off the flame. Add finely chopped coriander leaves.
Add the lemon juice and mix well.

Veg sagu is ready to serve. You can serve this with set dosa or poori or chapathi too.
Rava idli also goes well with sagu, but generally for rava idli they make potato sagu only.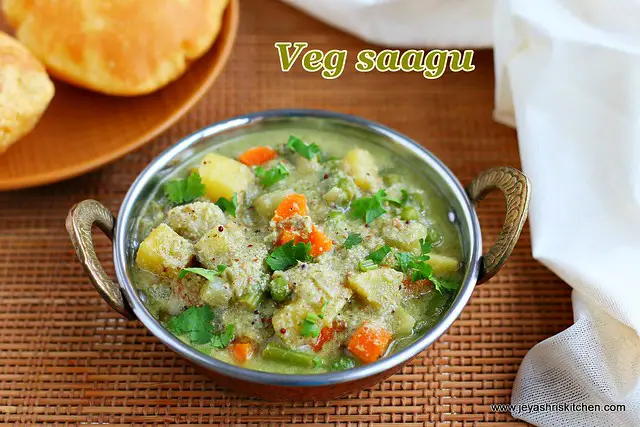 Notes:
Khasa khasa | poppy seeds is widely used by all in veg sagu, if you get access to that, use it.
If you do not want to add more coconut reduce the quantity little bit.
Adding mint and coriander leaves enhances the taste of the sagu.
The spices like coriander seeds, cinnamon, cardamom, cloves, khus khus can be made into a dry powder in bulk, and use it in desirable quantity while making sagu.