HOME MADE VEGETABLE STOCK
Vegetable stock | broth which i wanted to try at home for a long time. When i wanted to make a Mexican Rice at home influenced by the one which we had restaurant here , the google search for most of the Vegetarian  Mexican rice includes Vegetarian broth | Stock. So i wanted to try this at home. I made this with the regular veggies which we use at home.
Before making this ensure that the vegetables should be fresh. Because i have seen in many cook books they use the left over veggies which will not give a nice flavor to the stock. When i made vegetable stock yesterday my house was filled with fantastic aroma and here comes the recipe of how to make vegetable stock at home.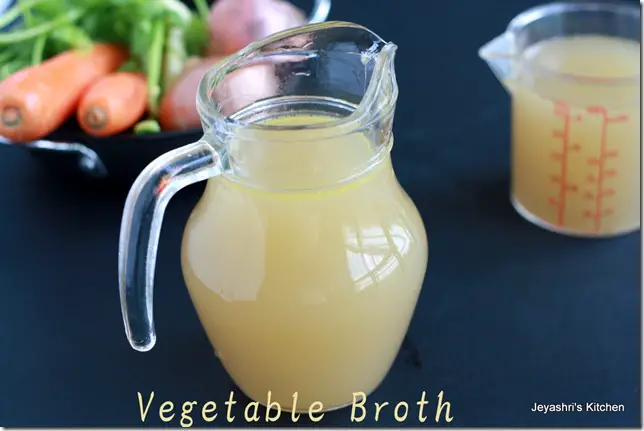 INGREDIENTS:(YIELDS 5 CUPS OF BROTH)
| | |
| --- | --- |
| ONION | 2 NO |
| GARLIC | 1 BULD WHOLE |
| CABBAGE | A SMALL PIECE |
| CARROT | 2 NO |
| CORIANDER | PARSLEY | A SMALL BUNCH |
| WHOLE PEPPER | 12- 15 NO |
| WATER | 10 CUPS |
| GINGER | A SMALL PIECE |
| OIL | 2 TSP |
| SALT | AS NEEDED |
METHOD:
Wash the veggies and chop them roughly.
Peel the skin of the garlic and ginger and just crush them once with the mortar and pestle.
In a heavy bottomed wide vessel, add oil and throw in the garlic and onions.
Saute them in medium flame for 2 minutes.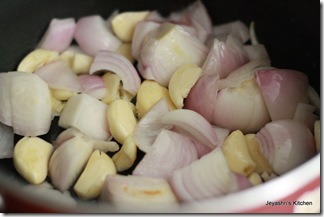 Now add all the veggies and mix well.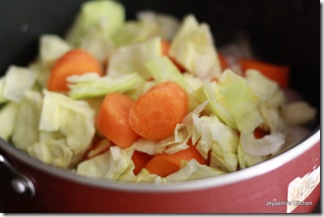 Now add the water and add the whole black pepper and ginger to this.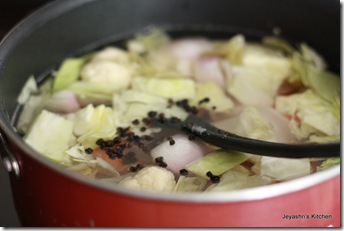 Now add the coriander leaves | parsley to this and add salt.
Let this come to a boil.
Cover this and keep the flame low.
After 45 minutes to 1 hour switch off the flame and when it slightly cooks down and you can handle the stock pot, strain the mixture and keep the water aside.
Discard the veggies as all the goodness of the veggies are trasferred to the water.
If you are using them immediately continue else you can completely cool this and  freeze the stock and use when needed.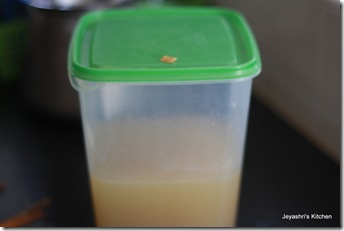 For  3 – 4 days you can store it in a clean box and keep it in the refrigerator.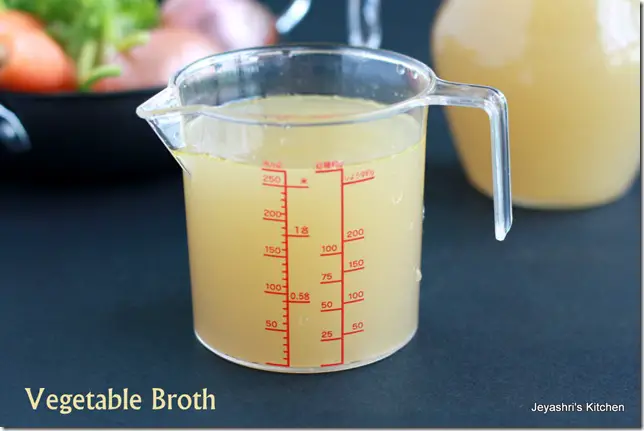 Notes:
Normally celery, spring onions, leak are added to the stock. though i get these easily here i wanted to try out with the veggies which we use on daily basis.
A bay leaf can be added to the stock while boiling to enhance the flavor.
Do not boil the vegetables for more than an hour else the stock will not be flavorful.
Freeze it once it is completely cool.
While freezing the cubes, pour the stock in ice cube tray and once it is set, take out and put them in zip lock cover and freeze them.
Take out the required portion when you want. Do not re freeze once defrosted.