Vella puttu we generally make during navaratri fridays, but i remember my grandmother makes this vella puttu when the girl kid at homes attains puberty or the coconut tree starts giving flowers. This puttu can be done with rice flour| idiyappam flour too. Try out this easy Navaratri recipe . Check out my other navaratri recipes too.

Vella puttu recipe
Preparation Time : 10 mins + soaking time 1 hour | Cooking Time : 35 Mins |Serves: 2
Raw rice 1/4 cup
Jaggery 1/4 cup
Ghee 1/2 tsp
Cashew nuts few
Cardamom powder a pinch
Turmeric powder a pinch
Salt a pinch
Coconut 2 tblsp
Edible camphor | pacha karpooram a pinch Optional
Video of vella puttu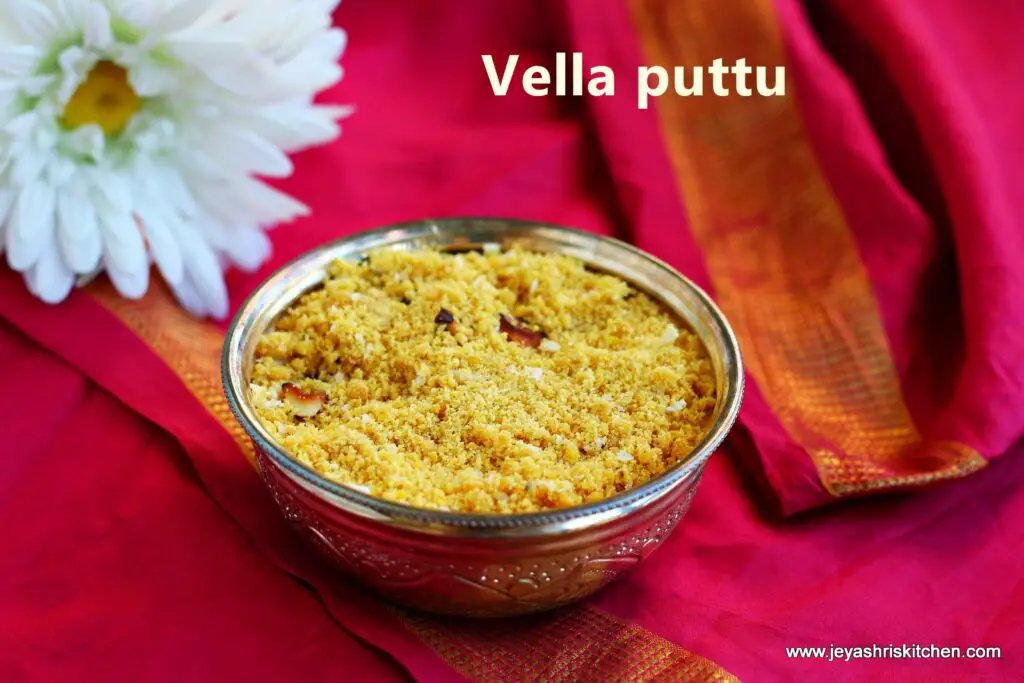 Method
Soak the rice in water for 30 minutes. Later drain the water and spread this in a towel. I spread in a thick kitchen towel, for 15 minutes.
The cloth will absorb all the water and the rice will be dry.
Grind this into a fine powder in mixer.
Sieve it nicely and grind it again. Alternatively you can use store bought rice flour.
Dry roast this rice flour in low flame till it changes into light brown colour.

Mix the turmeric and salt and little water and sprinkle on the roasted flour.

Mix it well. The consistency should be if you hold it tightly it should hold, and if you break it it should break like a sand.

Steam this rice flour mix by tying it in a cloth for 10 to 12 minutes.

With a back of a ladle break the lumps and make it into very smooth and soft.
My mom gave a short cut for this, asked me to grind the steamed flour in a dry mixer. I did the same and it was perfect.

Heat jaggery in a pan by adding 1/4 cup of water.
Let this boil in a medium flame.
Take a little water in a small bowl. This is to check the consistency of the jaggery.
Just add a few drops of nicely boiling jaggery into the water.
If you could able to make it a hard ball,then switch off the stove.
Otherwise allow it to boil till u reach the consistency.
Transfer the steamed rice flour to a wide bowl. Add the jaggery syrup to this and mix well nicely with the back of a ladle. Fry cashew in ghee till golden brown and add it to the vella puttu and mix well.

Roast the cashew nuts in ghee and add to this . Add cardamom powder to this. Add the edible camphor if adding. Add the grated coconut to this . Mix well.

Super soft puttu is ready for neivedyam.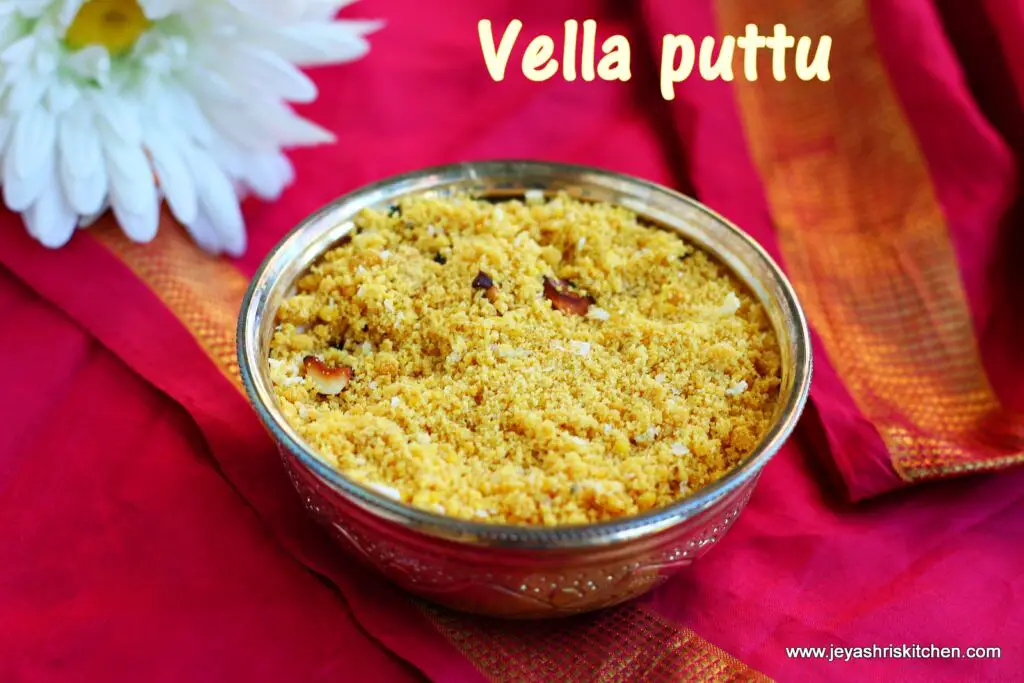 Notes:
The steaming is more important. Do not take it before 15 minutes. Else it won't be perfect.
Also the mixing of the roasted with water to make it crumbs should also be perfect. That sand texture should be maintained, else puttu will be hard and dry.
The consistency of the jaggery is more important too as it makes the puttu fluffy .
Instead of making rice flour you can soak the rice and home dry it for 15 minutes and roast the rice nicely till golden reddish brown. Then powder it and continue with sprinkling of water and steam.