Pumpkin thogayal| Parangikkai thogaiyal is a simple recipe which we generally mix with hot rice smeared with ghee. I love all types of Thogayal we make at home,this pumpkin Thogayal i learnt from my athai and my cousins will have this thogayal as a spread on the bread too. Even you can have this with Chapathi, idli or dosa too.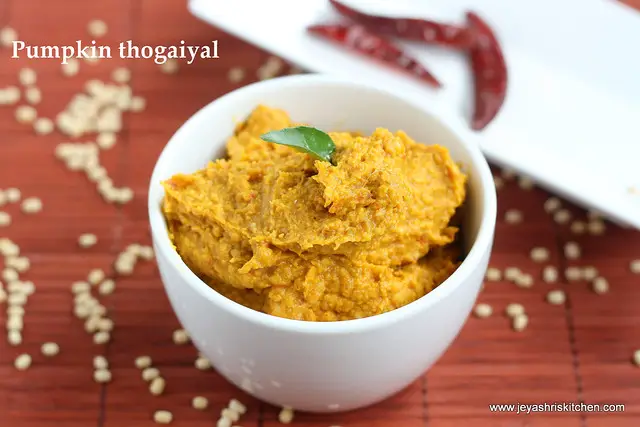 INGREDIENTS:
| | |
| --- | --- |
| PUMPKIN | PARANGIKKAI(CUBED) | 3/4 CUP |
| URAD DAL | 2 TBLSP |
| RED CHILLI | 7-8 |
| ASAFOETIDA | 2 PINCHES |
| SALT | AS NEEDED |
| TAMARIND | A SMALL PIECE |
| OIL | 1 TSP |
| COCONUT(SCRAPPED) | 1-2 TBLSP (OPTIONAL) |

METHOD:
Take out the hard skin of the pumpkin and chop them into small cubes.
In a pan add oil and saute the urad dal, red chilli and tamarind, till the dal turns golden brown.
Keep it aside and saute the cubed pumpkin and saute in a low flame for 10 minutes till the pumpkin shrinks.
When done, allow this to cool and grind it to a smooth paste along with roasted urad dal, red chilli, salt, asafoetida, tamarind and coconut.
Do no add water while grinding. The pumpkin will ooze out water.
If needed sprinkle little water.
Pumpkin thogayal is ready to serve. You can keep it the refrigerator for 2-3 days.
Always handle with a clean spoon.