"Ven Pongal recipe with video and step by step pictures, A popular South Indian breakfast made by cooking rice and lentils, garnished with cumin, whole pepper and cashews topped with ghee. Ven Pongal or Khara Pongal is a popular South Indian breakfast recipe made with raw rice and yellow moong lentils. In Tamil Brahmin households, we make this Ven Pongal in the month of
Margazhi, also called as Dhanur maasam. Nothing like savouring this delicious
Pongal with chutney and sambar along with a piping hot cup of filter coffee. I
sometimes also make Ven Pongal for dinner. Nowadays, many of us refrain from
eating white rice due to health reasons. Hence, I have also tried making Ven Pongal
Ven pongal recipe
  Preparation Time : 10 mins | Cooking Time : 30 Mins |Serves: 4-5
     Raw rice | sona masoori  1 cup
     Yellow moong dal  1/2 cup
     Asafoetida  2 pinches
     Ghee  2 tblsp + 1 tsp
     Oil   1 tblsp
     Cumin seeds  1 tsp
     Pepper  1 tsp
     Ginger grated  1 tblsp
     Cashew nuts  8-10
     Salt   as needed 
     Milk   1/4 cup (optional)
     Curry leaves   few
                                                 Video of how to make ven pongal
Method:
I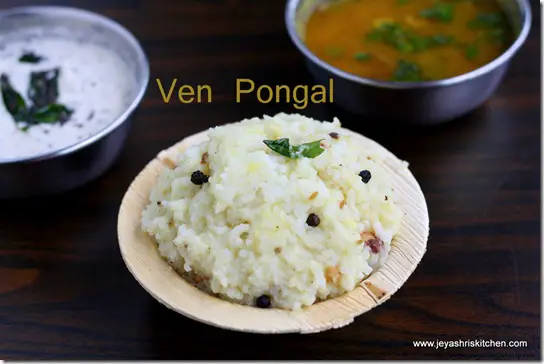 Roast the rice and dal in a pressure cooker for 5 minutes. Let it be just hot enough. Do not burnt.
Add 5 cups of water and asafoetida and 1 tsp ghee to this.
Ghee gives a soft texture to the ven pongal, you can add oil also.
Pressure cook till 4-5 whistles.
When it is done, add salt and mash this nicely with the back of the ladle.

Add milk to this and mash it well. Adding milk gives a creamy texture. If you do not want skip it. You can add 1/4 cup of hot water.

In a pan, add the ghee and oil and throw in the black pepper, cumin seeds,ginger and  curry leaves  when it crackles add the cashew nuts and saute in a low flame till it becomes golden brown colour.

Switch off the flame.
Mix the spices to the cooked rice and dal.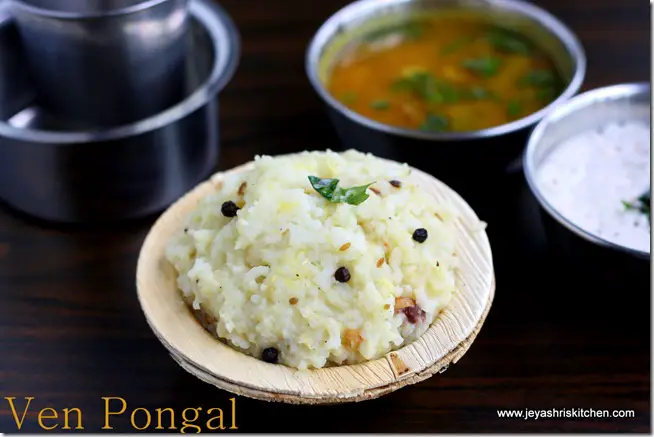 Note:
Many times I have tried ven pongal with parboiled rice also and that turned out well.
Pepper, cumin seeds, curry leaves can be crushed coarsely and added to this.
You can add a pinch of turmeric powder while cooking the pongal. If adding add it while pressure cooking it.
Adding asafoetida while cooking the ven pongal gives a wonderful flavor, so do not skip this step.
Adding ghee or oil before cooking the rice, gives a nice texture and softness to the Ven pongal.
Check out my Tiffin Sambar recipe
Check out my Sakkarai Pongal | Sweet Pongal Recipe.