SOOJI PONGAL
Rava Pongal- A healthy breakfast or dinner recipe of pongal made using yellow
moong dal and rava (semolina or sooji). Few years back, I tried making Rava
Pongal, when I wanted to make something different for breakfast at my in law's
place. I remembered a friend mentioning about this dish to me. After this incident, I
completely forgot about this dish. It did not strike me in those days that we could
recipes of different dishes from the internet. Yesterday, when I suddenly
remembered Rava Pongal, I tried making it the second time using my own discretion
with the recipe. I must say, we were quite happy the results, in terms of the texture
and taste of the pongal. Hence, I decided to document this recipe.
Also check out my Collection of South Indian breakfast recipes

Rava pongal recipe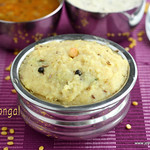 Recipe Cusine: Indian
Prep Time: 10 Minutes
Cook time: 25 Minutes
Serves: 1-2
Author: Jeyashri
Recipe Category: Lunch | Dinner
Description: Rava Pongal- A healthy breakfast or dinner recipe of pongal made using yellow
moong dal and rava (semolina or sooji)
Sooji 1/2 cup
Yellow moong dal 1/2 cup (cooked)
Ghee 2 tblsp
Black pepper 1/4 tsp
umin seeds 1/4 tsp
Cashew nuts few
Curry leaves few
Ginger a small piece
Water 3 cups
Oil 3 tsp
Oil 1 tblsp
Method with step by step pictures :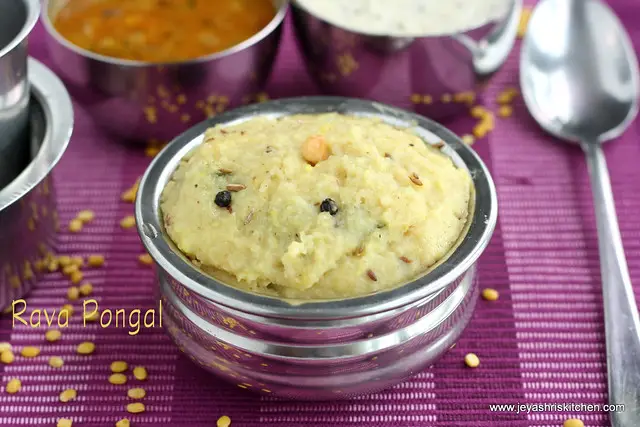 METHOD:
Roast the rava finely in a pan without getting it burnt.
Pressure cook the moong dal till it becomes mushy.
In a pan, add ghee and oil, add black whole pepper, ginger and cashew nuts.
Fry in a medium flame till the cashew nuts turn golden brown. Add the cumin seeds now and immediately add water. Do not allow the cumin to roast for a long time as it will spoil the taste.
Add 3 cups of water and bring it to a nice boil. Add salt.
Once the water starts boiling, add the roasted rava to this. Keep it in a low medium flame. Once it starts cooking add the cooked moong dal. Mix well and let it sit for a while till the pongal consistency reaches.
Garnish with curry leaves and if you want add a tsp of ghee to this you can add now.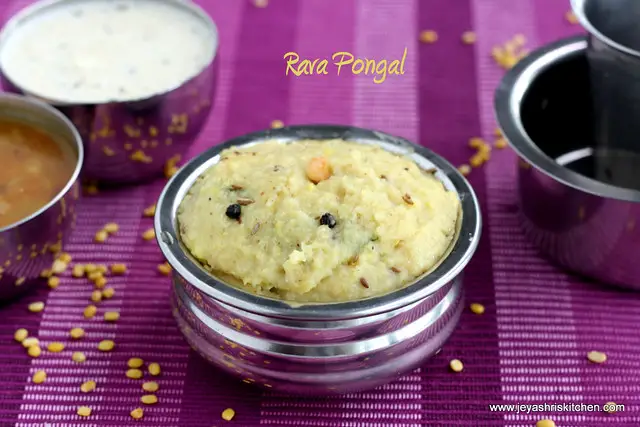 *The water measurement is for cooking the rava not included for cooking moong dal.
NOTES:
You can roast the moong dal for 2 minutes and then pressure cook if you wish.
Never roast the cumin seeds for a long time as it will give a medicinal smell.
I added whole black pepper, you can even coarsely crush and add to the Rava Pongal.
I have kept my coffee tumbler empty. It is just used as a prop for the photo.