Vendhaya kali | வெந்தய களி in tamil is a popular recipe made generally when a girl attains puberty or else if she is pregnant. Even in many south Indian  houses they make it as a breakfast as it very healthy. Especially in summer to make the body cool, the vendhaya kali is made. Vendhayam in tamil means methi seeds | fenugreek seeds which is a natural coolant for the body and very good for mensurating women. Though i have heard about this bu never tasted or tried at home. One of my friend who makes it regularly used to share in our friend's what's app group that she makes vendhaya kali every weekend. When a reader asked me to post vendhaya kali recipe, i asked my friend the recipe and she elaborately explained me with perfect measurements. Try this healthy venthaya kali at home and let me know how it turned out.

Vendhaya kali recipe
  Preparation Time : 5 mins + 3 hours soaking | Cooking Time : 30 Mins |Serves: 3-4
     Idli  rice  1/4 cup
     Raw rice | sona masoori  1 tblsp
     Vendhayam | methi seeds   2 tblsp
     Urad dal| ulundu   1 tblsp
     Sesame oil | nallenai  2 tblsp
     Ghee  1 tblsp
     Vellam | jaggery  3/4 cup
     Cardamom powder  a pinch (optional)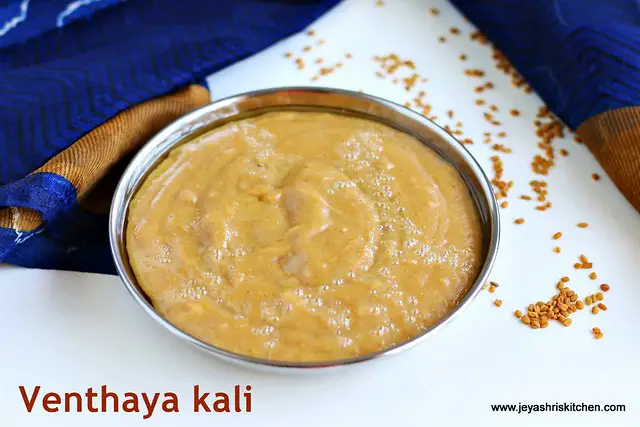 Method:
Wash and soak the idli rice, vendhayam, raw rice, urad dal in a bowl for 3 hours.

Grind this in a mixie or grinder. Do not grind this into a very smooth paste. Slightly coarse is fine. But many people grind this into smooth paste too. My friend told me to grind slightly coarse.

The batter will give good volume after griding and will be fluffy too.
Add the batter to the pan and add 1 cup of water. Bring the mixture to a watery consistency as like a rava dosa batter. Keep this in a low flame and start stirring.

In another pan add the jaggery and add little water, melt the jaggery and filter it.

Keep cooking the ground rice mixture. Slowly add the filtered jaggery water

Mix well and cook in a slow flame without getting lumps.

Add little by little sesame oil while stirring.
Cook till the mixture leaves the sides and comes to halwa consistency.
Lastly add the ghee and the cardamom powder (if adding) and switch off the flame.
Serve this hot, once it is cooled it tends to harden , so switch it off when it reaches the halwa consistency.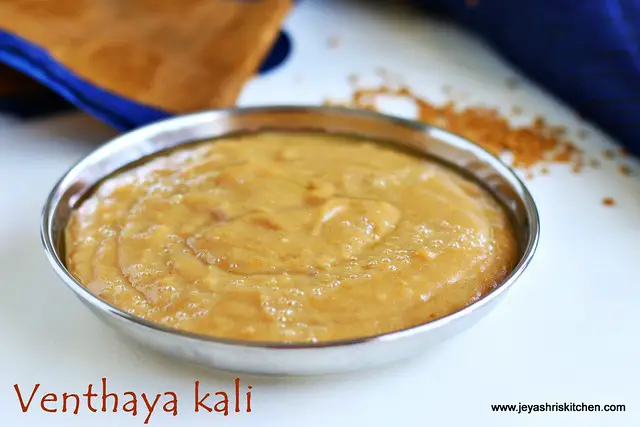 Notes:
Traditionally karupatti (palm jaggery) is used instead of jaggery. You can use karupatti as it is the best coolant for the body.
The jaggery measure i have given is for 1 cup of ground batter it is 1 cup of vellam, but if the jaggery is very sweet reduce it to 3/4 cup. Mine was too sweet , so i used 3/4 cup.
Ensure that the entire process is done in low flame else the mixture will form lumps.
To check whether it is cooked or not, just wet your hands and touch the cooked mixture, if it does not stick to your hands, it is cooked. If it sticks then cook for few more minutes.
Some people will cook the rice mixture first and while serving, make a dent and pour the jaggery | palm jaggery syrup in the center.