Mor koozh | Morkali is a authentic , traditional recipe which is one of my favourite from my childhood. Whenever my mom asks me what to make for breakfast, the entire family's voice will be either mor koozh or puli upma or rava upma. How simple it will be for my mom with such non fussy kids !!. Even whenever we go out and watch a movie or come home late after a trip we demand amma to make this for us. Even for my dad who is diabetic she makes the same by replacing rice flour with wheat flour. Try this authentic delicacy this summer and enjoy your breakfast| dinner.

Mor koozh recipe
  Preparation Time : 10 mins | Cooking Time : 20 Mins |Serves: 2
     Rice flour      1/2 cup
     Thin buttermilk  2 and 1/2 cup
     Mor milagai   4
     Sesame oil| nallennai  2 tblsp
     Mustard seeds   1/4 tsp
Salt  as needed
     Asafoetida   2 pinches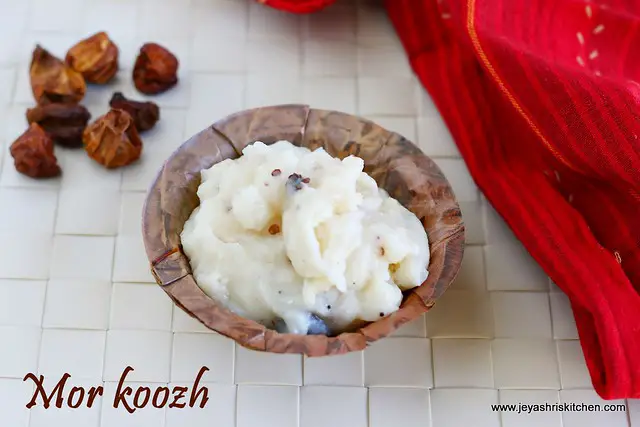 Method:
Whisk the buttermilk nicely without any lumps. Add salt to this and mix well.  Add rice flour to this. You can use store bought rice flour or idiyappam flour.

Whisk this nicely without any lumps.
Add 1 tblsp of sesame oil to the pan and add mustard seeds and mor milagaai.

When the mustard starts splutters, keep the flame low and add the buttermilk flour mixture.

Keep the flame low and cook this till the mixture becomes glossy. While it is cooking add 1 tblsp of oil in between to get the glossy texture.

To check whether it is cooked or not, wet your hands with water and touch the mor khoozl in the pan, if your hands are clean after touching that, then it is cooked. But if it is sticky then cook for few more minutes in a low flame.
Mor koozhl is ready to serve.
I always love to eat this hot but if you have patience to wait, grease a plate with sesame oil and spread the cooked mor koozh on it and allow it to cool. And cut it into big cubes as we do for cakes.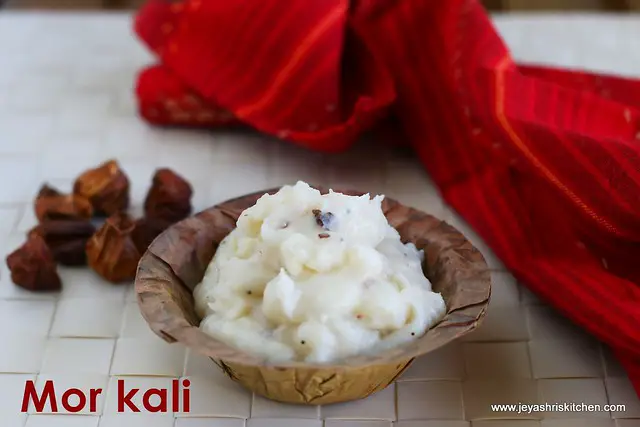 Notes:
The same can be made using wheat flour instead of rice flour.
Use a iron pan or indolium pan to get the kaandal | aadai in the bottom.
Some people add coconut oil instead of sesame oil but i prefer sesame oil.