Zucchini Masala rice is similar to the vaangi bath recipe. I used the same masala which i used for stuffed brinjal recipe. I have 2 cups of left over rice from last night dinner. Usually i make curd rice out of this the next day but i have a small box of
onion raita
also, so wanted to make a variety rice. I bought zucchini to try out an interesting recipe (stay tuned) but took a portion of it and made this zucchini masala rice. It tasted so nice and paired well with onion raita. Try this for kids lunch box and i am sure they will love this rice.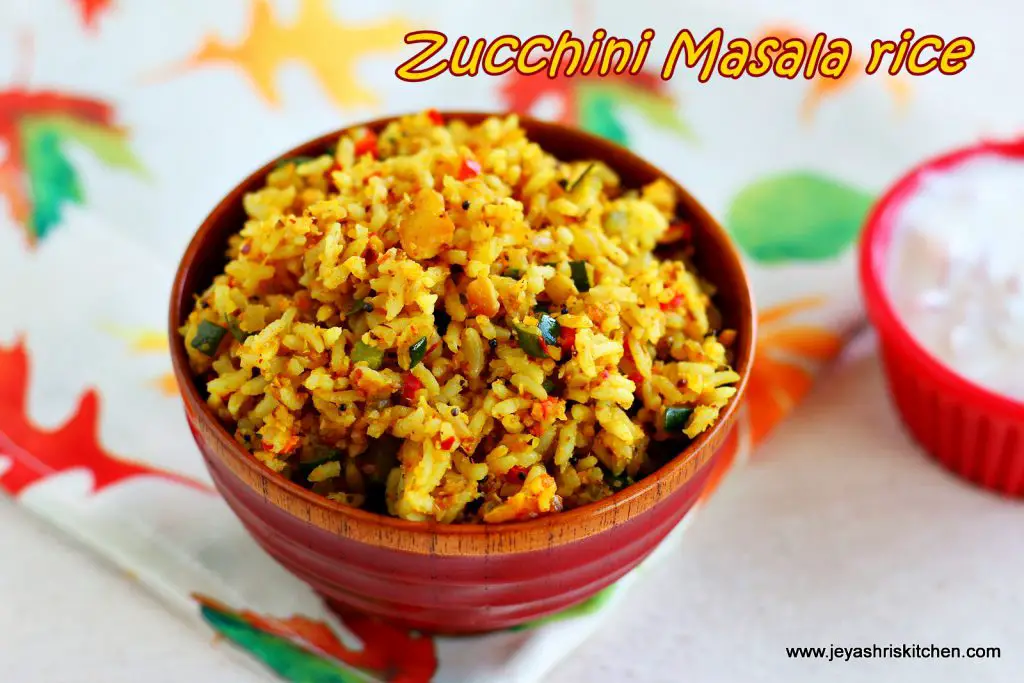 Zucchini Masala rice
  Preparation Time : 10 mins | Cooking Time : 20 Mins |Serves: 2-3
     Cooked rice   2 cups
     Zucchini    1/4 cup (finely chopped)
     Capsicum    2 tblsp (optional)
     Onion   1
     Coriander seeds| dhaniya   1 tblsp
     Peanuts   2 tsp (optional)
     White sesame seeds    1 tsp
     Channa dal   1 tblsp
     Urad dal   2 tsp
     Red chili   3-4
     Dry coconut | kopra   1 tblsp
     Garlic    1 clove (optional)
     Oil    1 tblsp 
     Mustard seeds   1/2 tsp
     Turmeric powder   1/4 tsp
     Cashew nuts   few (optional)
     Ghee   1 tsp (optional)
     Salt  as needed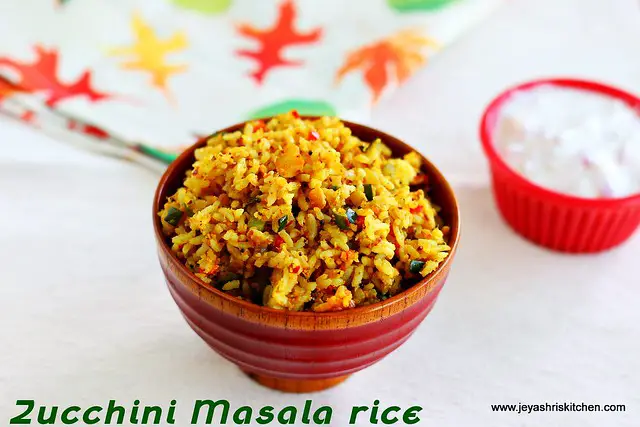 Method:
In a pan dry roast the coriander seeds, channa dal , sesame seeds, urad dal, red chili and garlic.
Roast till golden brown.
Switch off the flame and add the dry coconut. You can use fresh coconut too but if using it roast it also nicely without any moisture.

Allow this to cool completely and grind this into a powder.

Since we have added peanuts and sesame seeds, the powder will be slightly coarse. When we pulse more it will start releasing oil and make the mixture oily. So slightly coarse is fine.
This powder can be stored in the refrigerator for 4-5 days in an airtight container.
In the pan oil and ghee(if using). Add in the mustard seeds .
When it splutters add in the cashew nuts, if adding. Cook till golden brown.
Add the chopped onions.

When the onions turn pink add the chopped zucchini, turmeric powder and salt.
Zucchini tends to cook so soon. So cook them for 5-6 minutes and add the chopped capsicum.

Add in the ground masala powder to this. The recipe yielded around 4 tblsp of the masala and i added everything as i used 2 cups of cooked rice.

Mix well and cook for few minutes.
Switch off the flame and serve with raita or vadam.

You can pack for lunch box too.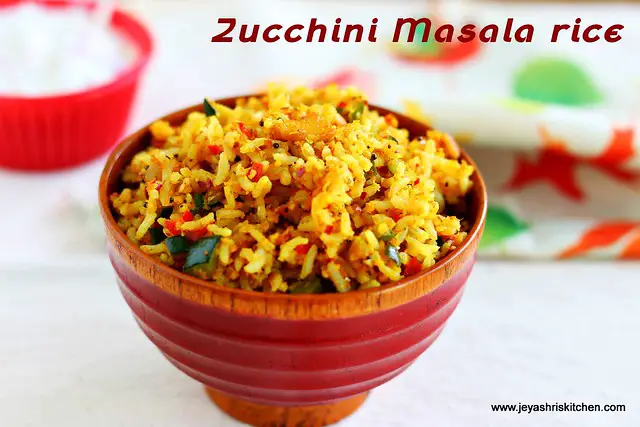 Notes:
Skip the onion and garlic in this recipe and make this a no onion no garlic zucchini masala rice.
Adding capsicum is optional, you can skip that and add green peas if you like.
You can temper with some peanuts too if you want an extra dose of peanuts.
Ensure that the rice is cooked into separate grains and not mushy.