Aloo bhujia is an easy and quick snack which you can try it at home for this Diwali. For a change to the usual omapodi we make this Aloo bhujia is definitely a hit among your family for sure. Without much write up let me move on the recipe of Aloo bhujia.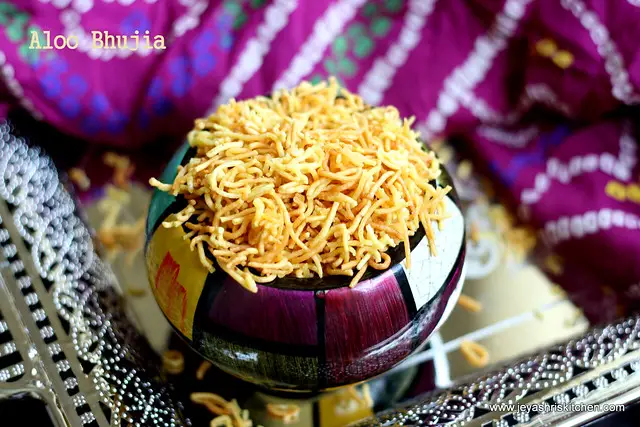 PREPATION TIME:30 MINUTES . COOKING TIME: 30 MINUTES .MAKES: 2 CUPS INGREDIENTS:
| | |
| --- | --- |
| POTATO | ALOO | 2 |
| BESAN |KADALAI MAAVU | 1 CUP |
| GARAM MASALA | 1/2 TSP |
| LEMON JUICE | 1 TSP |
| RED CHILLI POWDER | 1 TSP |
| SALT | AS NEEDED |
| OIL | FOR DEEP FRYING |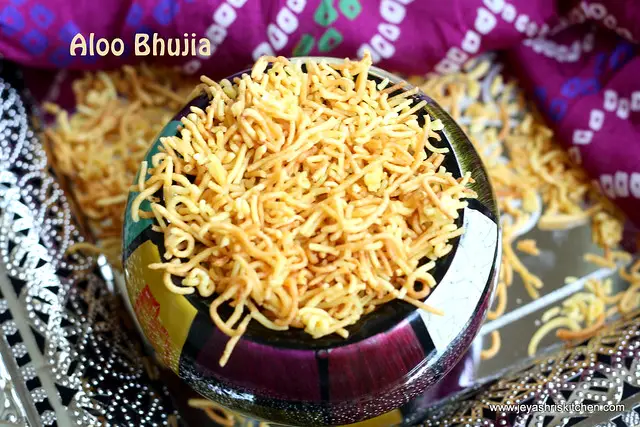 METHOD:
Boil the potatoes or pressure cook till it becomes soft.
When cool peel the skin and very nicely mash it without any lumps.
In a wide bowl, add besan, red chilli powder, garam masala, salt and lemon juice. I grated the potato but it got struck while pressing in oil. so nicely mash it without lumps.
Mix it well. Sprinkle little water and knead this into a pliable dough. do not worry if it is sticky.
Using the Omapodi | Sev achu put the dough inside the murukku presser, and start squeezing in hot oil.
This gets cooked very fast, so take it out as soon as it is done. the sizzle sound will subside once it is cooked.
Be careful not to get it too brown.
Repeat the same process for the rest of the dough.      
NOTE:
Since potato gives a soft texture , no need to add oil or butter to the dough.
Adjust red chilli powder according to the taste.
Chaat masala can be added to the dough while making.