Dal namkeen
Mixture, is a very popular Diwali snack. Most of the houses they make Mixture for diwali. I have posted South Indian mixture few years back. Last time itself for diwali i wanted to post this bombay Dal mixture, but i was not sure of the recipe though. After asking many of my friends here, finally got the idea for this dal moth mixture and till i was about to try it i am bit scared about the outcome. But it turned out very nice and was a super hit at home. For those who find it difficult to make karaboondi, which is the most important one in Madras mixture, can make this mixture. Check out my Diwali snacks collections.

Bombay dal mixture
  Preparation Time : 15 mins+ soaking time 4 hrs | Cooking Time : 25 Mins |Yields: 2 & 1/2 cups
     Moth Dal| whole masoor dal     1/2 cup
     Green moong dal   1/4 cup
     Almonds| Badam    2 tblsp
     Peanut      1/4 cup
     Cashew nut     2 tblsp
     Chaat masala     1/4 tsp
     Amchoor powder    1/2 tsp
     Red chili powder      3/4 tsp
     Black Salt       1/4 tsp
     Oil      for deep fryng
   For plain Sev
    Besan| kadalai maavu    1/2 cup
    Rice flour      1/4 cup
    Salt    as needed
    Hot  Oil       1/2    tblsp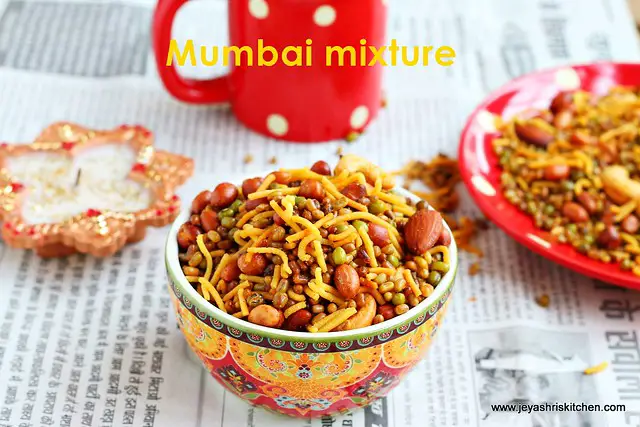 Method:
Soak the dal moth and green gram in water for 4 hours. You can soak both together. You can skip the green gram and use 3/4 cup of dal moth only. If using whole masoor dal also folow the same procedure.

After 4 hours, drain the water completely and in a clean dry cloth  spread the soaked dal nicely.
Let this dry nicely. If needed change the cloth as it wil be wet soon. Kitchen tissue will also do.

Put the badam| almonds in a ladle and fry it till golden brown.

Drain it in a kitchen towel.

Next add the peanuts and fry them too.

Drain it in a kitchen towel.

Fry the cashew nuts too in the same way.

Drain the excess oil in a kitchen towel.

Now let's make the sev.
Mix the rice flour, besan, salt, asafoetida and hot oil in a wide bowl.
Add little water and make it into a soft dough.

Using the omapodi achu squeeze the dough into the oil.

Fry till the oil subsides.

Drain the sev in a kitchen towel. Break it into small pieces.
By this time the dal must be dried. Ensure it is completely dry, else it will pop up when you fry in the oil.

Fry in batches.  Drain excess oil in a kitchen towel.

Mix everything we fried with a clean dry hands. Transfer it to a wide bowl.
Add the black salt, amchoor powder, chaat masala, red chilli powder.

Mix well and and store it in an airtight container.

Bombay Dal mixture is ready.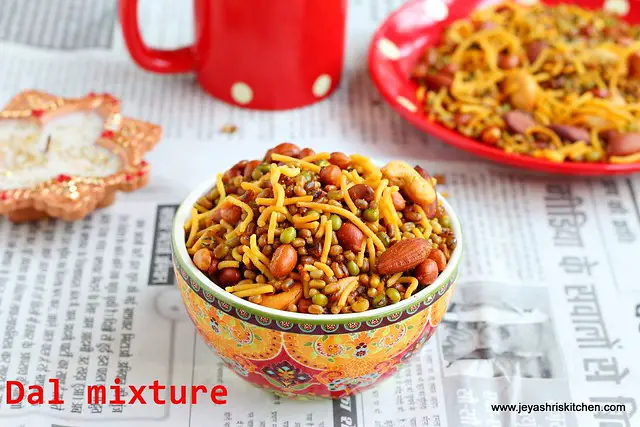 Notes:
Do not increase the soaking time as the dals amy be too soggy and double in size too.
You can fry raisins too and add to this mixture.
Adding amchoor and chaat masala gives a tangy flavour to the mixture.
If you do not have black salt add normal salt, But black salt gives a nice taste to this.
Even if you do not get dal moth or masoor dal in your place, you can replace it with channa dal or moong dal too.
Follow the same procedure.