Aloo channa chaat is a very popular chaat recipe. Few weeks back when we went out for shopping, i saw this Baguette bread i thought i will buy this bread and  make Bruschetta. When i was thinking what topping to make for this bruschetta , this idea of Aloo channa chaat flashed my mind. Even if you don't get French baguette bread at your place, just serve this on any plain biscuits. the 50 50 biscuits will work out well. This is a best party starter recipe. Even kids when they come back from school, you can serve this as a snack. Add your touch and customise the recipe according to your taste.
Ingredients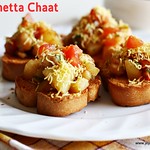 Preparation Time
: 20
 mins
|
Cooking Time
:15 mins |
  Serves
: 3-4
     Baguette Bread      1 loaf
     Butter    to spread on the bread 
     Potato    1
     White channa  1/4 cup
     Chaat masala    2 pinches
     Tomato        1 small
     Red chilli powder  as needed
     Salt     a pinch
     Sweet chutney   1 tsp
     Coriander leaves   few
     Sev     as needed(to garnish)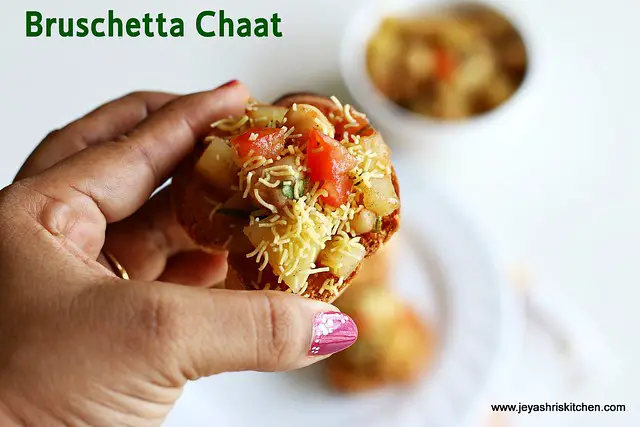 Method:
Soak the channa over night. Pressure cook the potato and the soaked channa. Cut the potatoes into cubes after it is cooked. take out the seeds of the tomato and chop them into small pieces.
Cut the baguette loaf and spread butter on the top portion.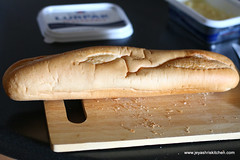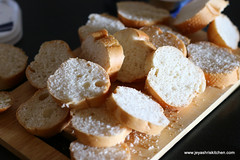 Bake the bread for 7 to 10 minutes at 150 degrees till it becomes crisp.
Mix the cubed aloo, tomato, cooked channa, chaat masala, red chilli powder, sweet chutney and chopped coriander leaves. Aloo channa chaat is ready.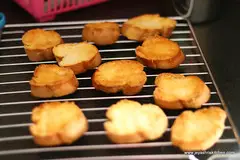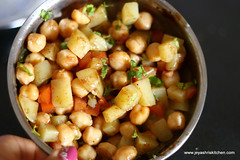 Now it is the time to assemble the aloo channa chaat on the bread. Always do this just before serving.
Place the baked baugette on a plate.
Spoon in the aloo channa chaat on the  bread.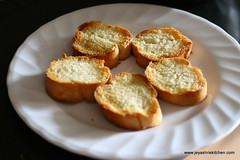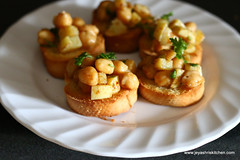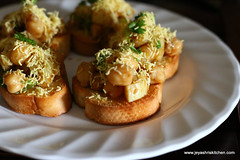 Serve immediately. If you want you can add little red chutney or green chutney on the top while serving.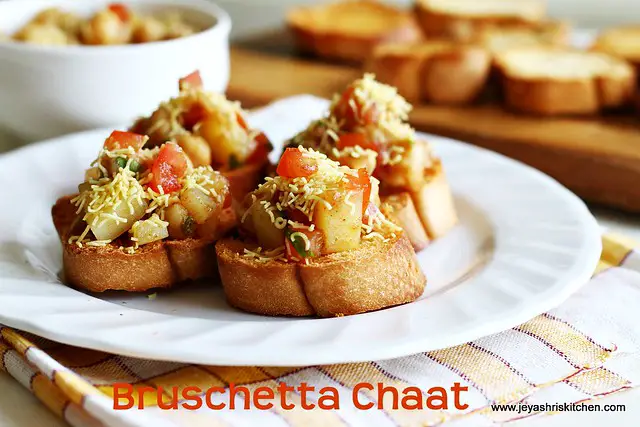 Note:
You can add green chutney to the aloo channa chaat.
You can add grated carrots, capsicum if you want.