Banana almond milkshake is a very healthy breakfast smoothie for kids. The best way to make them eat nuts and fruits is by making a milkshake and giving it for breakfast or once they come back from school. Especially, during the exam time and summer also at it s peak, this is the best one to have for breakfast. Also if your kids are fussy to eat breakfast in the morning, make this smoothie and give, it will be quite filing too. Scroll down to the notes section for more variations. Stay tuned for more juices and smoothies coming up in jeyashris kitchen.

Banana Milkshake
Preparation Time : 15 mins | Cooking Time : Nil |Serves: 2
Banana 1 (long variety)
Almond | badam 8
Chilled Milk 2 cups
Honey 2 tsp
Vanilla essence 1 tsp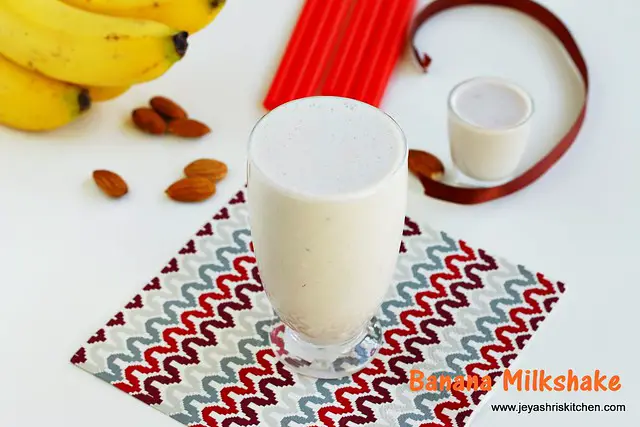 Method:
Soak the almond in hot water for 15 minutes. Take out the skin. In a mixie add the peeled banana, almonds and honey.
Grind this into a smooth paste.
Add milk and vanilla essence and pulse once till frothy.

Banana almond milkshake is ready. Serve immediately.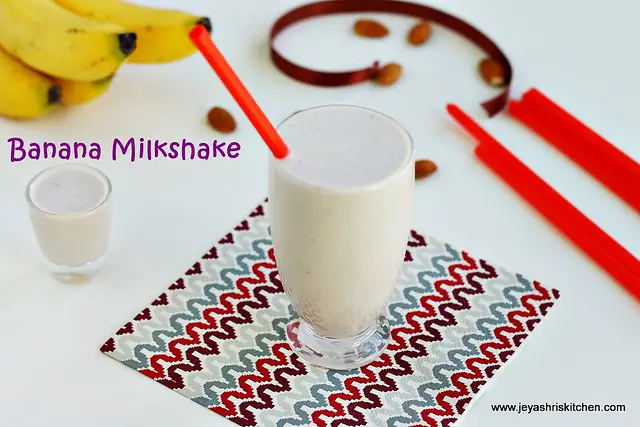 Notes:
Always use chilled milkshake for the milkshake.
Do not use hot or warm milk. It will curdle the milkshake.
For variations, you can add a tsp of milo, horlicks or bournvitta to this and give for kids.
Adding vanilla essence enhances the taste, so do not omit.
Serve the milkshake immediately, else the freshness and taste will change. If serving after sometime, keep it in the refrigerator.
A handful of cornflakes or chocos can be added to this while grinding.
A scoop of vanilla ice cream can be added to this while grinding. In that case omit the vanilla essence.