Beetroot chaas|Chukandar chaas is a healthy summer cooler recipe. It is similar to the
masala chaas
but the addition of beetroot makes it more healthy. Beetroot, yogurt and few spices, just mix everything and consume on hot sunny day. We south Indians make neer mor during summer. My mom used to make
neer mor
in the morning, during summer days and keep it in a big jug in the refrigerator. We have to finish that by evening. Those days we are never exposed to any aerated or bottle juices. Also we have 4 coconut trees in the house and we used to get fresh organic ilaneer from the home grown trees. Stay hydrated in the summer by taking home made
summer coolers.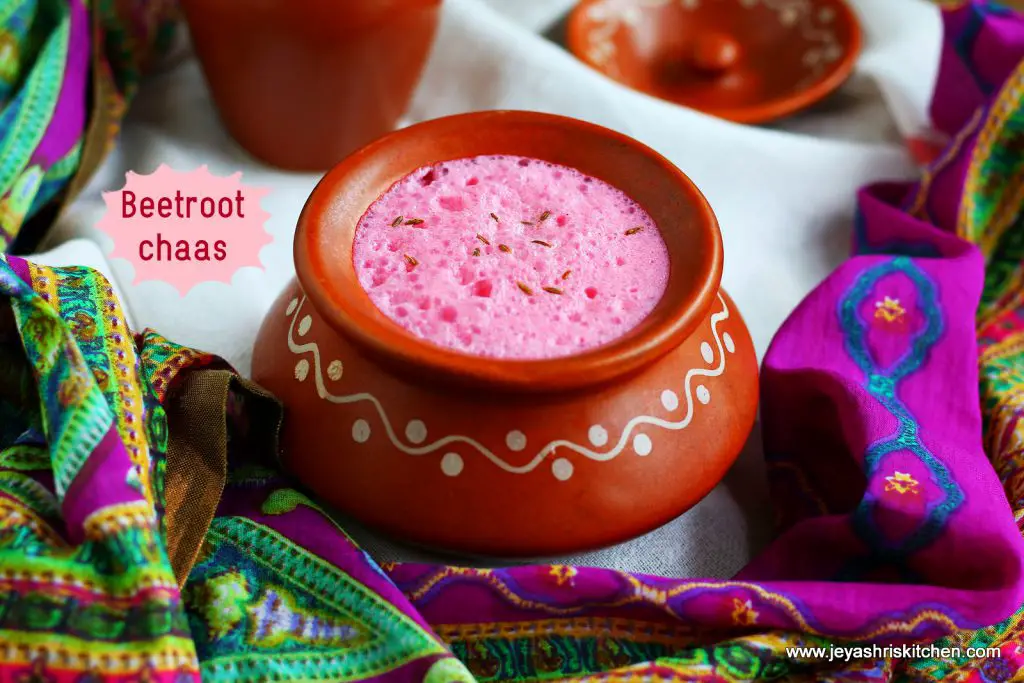 Beetroot chaas
  Preparation Time : 15 mins | Cooking Time : 5 Mins |Serves: 3
    Beetroot  1/2
    Green chili  1/2
    Ginger  a small piece
    Cumin seeds  1/2 tsp
    Yogurt   1 and 1/2 cup
     Water  1 cup
     Chaat masala 1/4 tsp
     Salt  as needed
     
     

Method:
Chop the beetroot into cubes and cook in little water for 5 minutes. You can skip this step and straight away proceed to grind the ingredients.
You can roast the beetroot in the oven too.
Allow this to completely cool. No need to drain the water.

Grind the beetroot, yogurt, green chili,ginger,cumin seeds along with salt.
Grind into a smooth paste.

You can straight away serve this but i wanted to filter it.
Filter the chaas and add chaat masala to this.

Add 1 cup of water to bring it to a right consistency.
Serve chilled.
Notes:
You can temper the chaas with mustard seeds and hing as we do for south Indian neer mor.
Roasted cumin powder can be added in the last while serving.
You can also add few mint leaves or coriander leaves while grinding.