Beetroot halwa, i never realised that i didn't have this recipe simple and easy sweet in my website. During this Navaratri, i happened to visit many of friends and among them few i don't know personally and they are my readers. When one among them told me that she searched for beetroot halwa in my website and it was not there, i realised i didn't post this recipe. So made this yesterday and clicked the pictures. I have already posted
Gajar ka halwa| carrot halwa
with condensed milk. So i wanted to make this beetroot halwa with khoya. You can even make the beetroot halwa with condensed milk too. Or make it plain only with milk and sugar. Adding khoya or condensed milk gives richness to the halwa. Check out my other halwa recipes too.
Click here for full diwali collection recipes .
Beetroot Halwa
  Preparation Time : 10 mins | Cooking Time : 25 Mins |Yields: 1 and 1/2 cup appox.
     Beetroot grated     1 and 1/2 cup (350gm beetroot)
     Sugar     3/4 cup
     Khoya    1/2 cup (optional)
     Milk       1 and 1/2 cup
     Cardamom powder    a pinch
     Ghee    4 tsp
     Cashew nut    few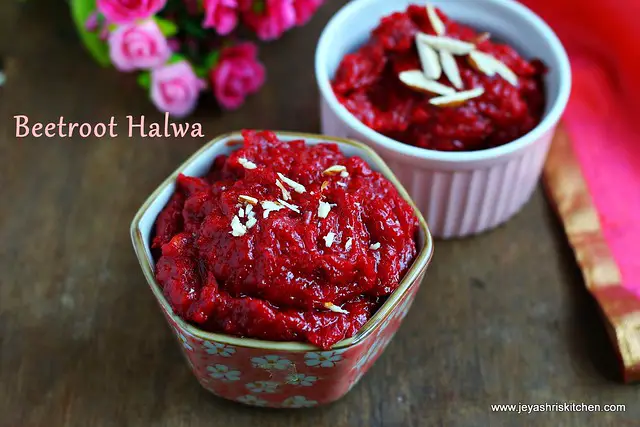 Method:
Peel the skin of the beetroot and grate the beetroot in a small grater.

In a heavy bottomed pan add 2 tsp of ghee and slightly roast the grated beetroot for 2-3 minutes.
Add milk to this and cook the beetroot. Stir it often.

Bring the khoya to room temperature. Crumble it nicely and add it to the pan.

Stir well and cook it continuously. Add sugar to this. 1/2 cup of sugar will also be perfect but i felt it is less sweeter so added 3/4 cup. After adding sugar, the mixture will turn little watery. Do no panic. It will come to thick halwa in some time.

Add the cardamom powder to this and mix well.

Cook till the milk evaporates and the halwa turns to a glossy texture. Add 1 tsp of ghee to this. Roast the cashews with 1 tsp of ghee and add it to the halwa.
When everything comes to a whole mass, switch off the flame.

Switch off the flame. Transfer it to a bowl and serve warm.
This stays well in the refrigerator for 2-3 days. Warm it and serve.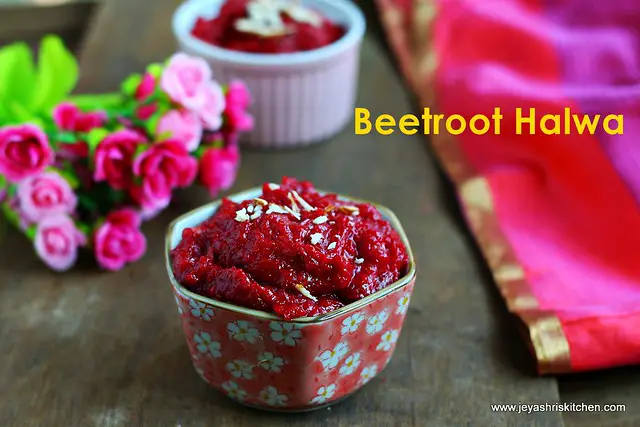 Notes:
Adding khoya is optional. It gives a rich texture to the sweet.
Instead of khoya you can add 4 tblsp of condensed milk also. If adding add once the halwa is 3/4th done.
If adding condensed milk reduce the sugar . 2-3 tblsp of sugar will be enough.