Kasi halwa | Poosanikai halwa is generally served in our weddings. It is  either served for the breakfast on the wedding day morning or for the evening tiffin the before day. Though i am not a big fan of sweets, this kasi halwa always impressed me and i love it a lot. I remember those days sitting next to  my grandma, who is  a huge fan of Kasi halwa. The idea of sitting next to her is she will call the server uncle to put some more halwa for me(as i feel shy) and also she will have one more serving for herself. Few months back, when we have a small get together at our home my friend's mom brought this poosanikai halwa and it was very nice.  Later i asked my friend to pass the recipe from her mom and i made it accordingly and it turned out perfect. Let me share the recipe of Kasi halwa | poosanikai halwa.
Ingredients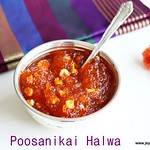 Preparation Time
:10
mins
|
Cooking Time
: 25 Mins |
  Yields: 1 and 1/4 cup
     Poosanikai | White pumpkin     2 Cups
     Sugar     3/4 cup
     Ghee       3 tblsp
     Cashew nuts     5-6
     Cardamom powder   a pinch ( optional)
     Orange food colur   a pinch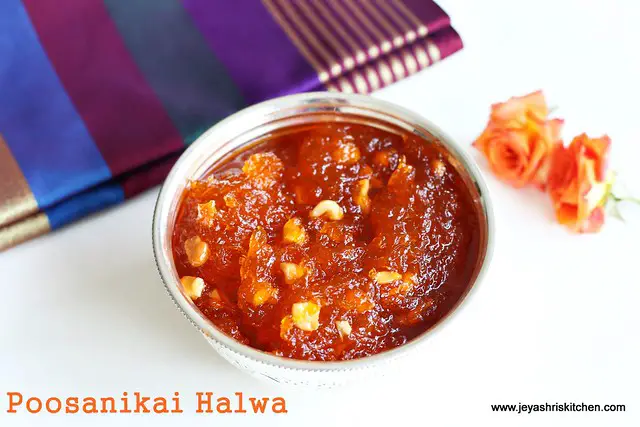 Method:
Take out the skin and the seeds from the pumpkin. Grate the flesh of the pumpkin in a small grater.
In a pan add little ghee and fry the cashew nuts till golden brown.
Keep it aside. In the same pan add the grated pumpkin and cook in a low flame . If the pumpkin has lot of water, just slightly squeeze the water. No need to fully squeeze the water. It is ok if the pumpkin has water in it.

Cook the poosanikai in a low flame till it becomes soft.  It took 10 to 15 minutes to get the pumpkin cooked. Do not proceed if the pumpkin is under cooked.
Add sugar and the orange food colour.
After adding sugar the mixture will turn watery. Do not worry, after cooking it will come the right consistency. Keep in a medium flame and add the remaining ghee and stir continuously till you get a glossy texture .
Cook for few more minutes to get it into halwa consistency and the mixture leaves the sides of the pan. Add cashew nuts and cardamom powder(if adding). Mix well.
Halwa is ready to serve. You can store it at room temperature for a day and can be stored in the refrigerator for 4-5 days.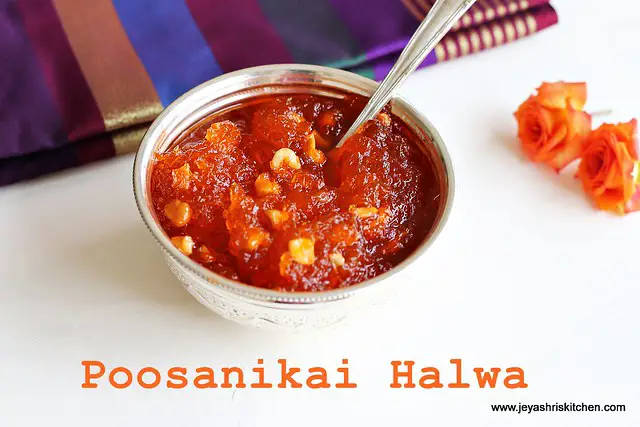 Notes:
If stored in the refrigerator you take it out and before serving place in hot water for few minutes and serve. Else the sugar must have crystallised and the ghee must be frozen.
If the pumpkin has lot of water in it gently take the extra water by very slightly squeezing it. Let the moisture be there. Do not squeeze too much.
My pumpkin was normal and i didn't squeeze the water.