Carrot halwa | Gajar halwa recipe, a popular Indian sweet, made using Carrot, milk and sugar. Many people make carrot halwa using Khoya, to enhance the richness. Some people make carrot halwa with condensed milk by replacing sugar with condensed milk. I have tried this few times when i had guests at home. I am yet to try Gajar halwa with khoya. This time we have a reason to make a sweet. since the entire family is a so happy as my brother-in-law got married last week. Let's see how to make gajar ka halwa.
UPDATE: SCROLL DOWN TO SEE THE ALTERNATE EASY METHOD OF MAKING CARROT HALWA. Check out my beetroot halwa recipe.

Carrot halwa recipe
  Preparation Time : 15 mins | Cooking Time : 40 Mins |makes:1 and 1/2 cup halwa
     Carrot grated  2 cups
     Full cream milk   2 cups
     Sugar or condensed milk   3/4 cup
     Milk Masala  1/4 tsp or Cardamom powder  
     Cashew or badam  few (finely chopped)
     Ghee   1 tblsp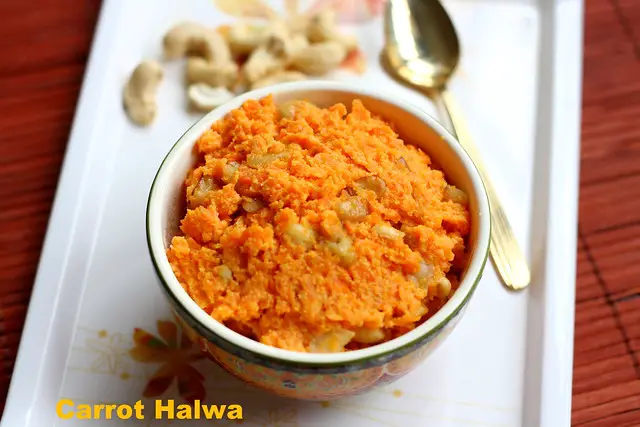 Method:
Grate the carrots in a grater which has medium sized holes.
In a heavy bottomed pan, add the grated carrots and milk.

Boil it in a medium flame stirring in between.
Boil till the carrots are cooked and all the milk get absorbed.
If you are using sugar, don't add condensed milk
Add sugar at this stage and stir well.
Add the milk masala. If not you can add cardamom powder.

Switch off the flame and golden fry the nuts in ghee.
Add to the carrot halwa.

If you are using condensed milk, add at the final stage and stir till the mixture gets thicken.
If you are making in large quantity or lazy in grating carrots you can follow this method:
Peel the skin of the carrots and wash them . Chop them roughly into pieces.
Pulse this in a mixer.Add milk to this and pressure cook this for 2 whistles.
Once done, add the cooked mixture to a pan and ad condensed milk. Boil till the rest of the milk gets absorbed. This will take 10 minutes approximately.
Serve hot .
I served with vanilla ice cream, since we all love this combo a lot.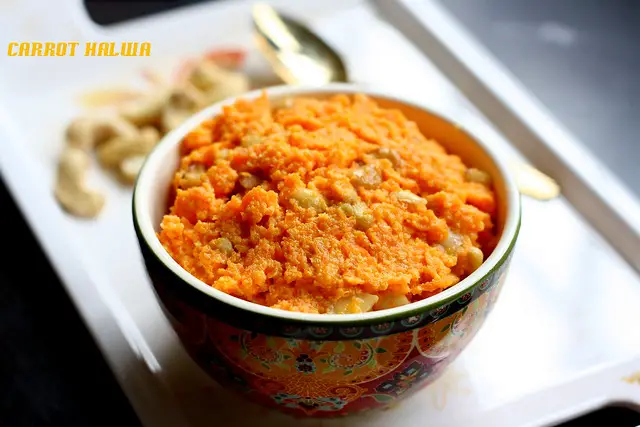 For 2 cups of grated carrots, we will get 1 and 1/2 cups of halwa.
You  can keep Gajar ka halwa the fridge and can consume within 2 days from the day of preparation.