(KADALAI MAAVU URUNDAI)- Recipe updated with video
Till date i have i have never tasted or made besan ladoo, but when a reader asked me the recipe for this few days back, I thought i will learn and post the recipe of besan ladoo before diwali. But, she again insisted me to post before Ganesha Chaturthi, I tried this two days back. When i asked my mom about the recipe for Besan ladoo, though she never made this, but makes a yummy ladoo with green gram flour(Payatham urundai) ,didn't say the exact measurements for this besan ladoo. So i called up my friend's MIL, who stays in our apartment,and asked her for the recipe. Aunty is an expert in making sweets and she told the recipe and the way to make the besan ladoo too.  It came out extremely well and super perfect and we all enjoyed it a lot.
Check out my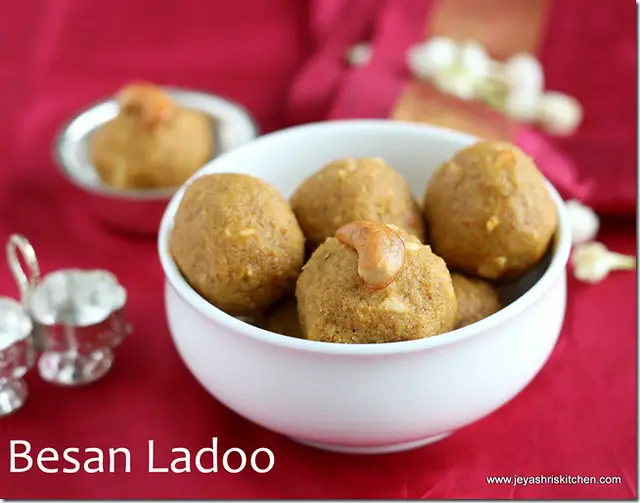 Though i packed few ladoos for my friend too but here is a visual treat for her MIL (who taught me the recipe) who is celebrating her birthday tomorrow.
Video of how to make besan ladoo
INGREDIENTS: (YIELDS 10 LADOOS)
| | |
| --- | --- |
| BESAN |KADALAI MAAVU | 1 CUP |
| SUGAR | 3/4 CUP |
| GHEE(CLARIFIED BUTTER) | 1/4 CUP |
| CASHEWNUTS | 8-10 |
| CARDAMOM POWDER(optional) | A PINCH |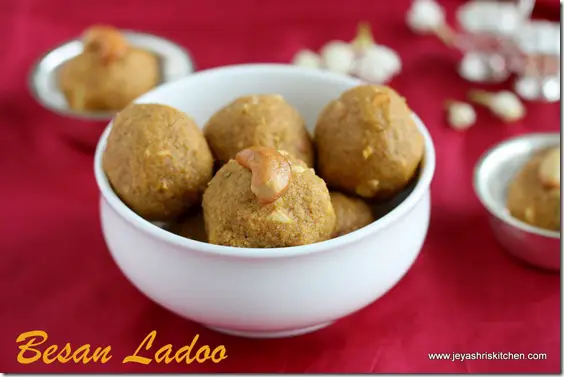 METHOD:
In a heavy bottomed pan, add a spoon of ghee . Chop the cashew nuts into small pieces. Fry them in the ghee till golden brown and keep it aside.
In the same add the besan and roast it in a medium low flame till it emits a nice aroma and the colour of the besan must have changed by now.This took approximately 20 minutes.
Be careful not to get it burnt.
Melt the ghee in a separate pan .
Transfer the roasted cashew nuts and besan to a wide bowl .
Powder the sugar finely and add it to the bowl.
Add the ghee slowly. The ghee should be hot.
Mix everything well with a spoon. When it becomes warm, make medium sized balls with your hands.
The ladoos were moist in the beginning but after an hour it was perfect.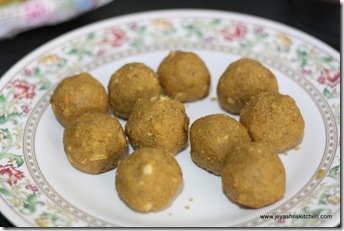 If by any chance you can not make ladoos  just melt a tblsp of ghee and try making ladoos.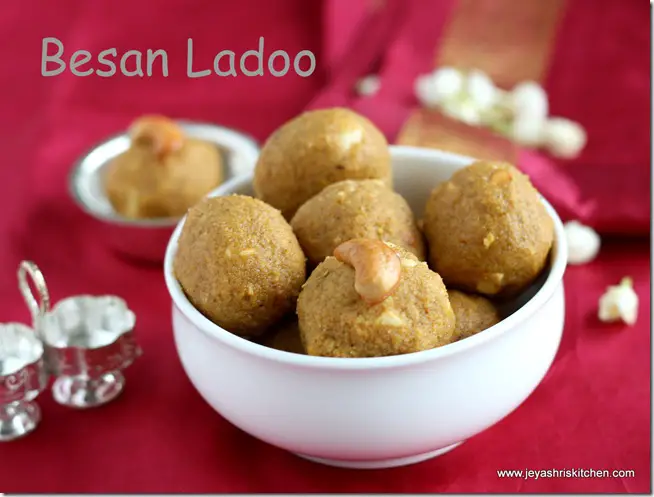 Note:
Always roast the besan nicely else it will give a raw taste to the ladoos.
Do not add too much ghee ,else you will get  very soft  ladoos instead of a firm one.
Do not lessen the quantity of ghee too as the mixture will be dry and you cannot make balls.
You can sprinkle few drops of milk to bind the mixture, but this will lessen the shelf life of the ladoos.
This tasted super yum on the next day.
The quantity of ghee depends on the texture of the besan. when i made it again it took 2 tblsp more ghee.