Restaurant style poori kilanghu with video
Potato masala for poori| Poori Kizhangu, a popular South Indian restaurant style gravy, pairs well with poori, dosai and also Rava idli. The Poori masala which they normally serve in restaurants especially in Saravana Bhavan is one of my most favorite. Whenever Varun order Poori in Saravana bhavan here, he will just dip the masala and eat the poori, so me a big fan of Poori masala will eat it as it is and Varsha will sometimes share with me too. Though i tried Poori masala | Poori kizhanghu at home many times , but mostly i will be making for kids lunch box only and i never had a chance to click the pictures. Yesterday i made poori and kizhangu for evening tiffin and i made this before the kids are back from school and clicked the pictures too.
Check out my
Potato masala for poori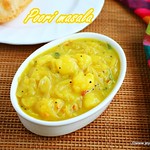 Recipe Cusine: South Indian
Prep Time: 10 Minutes
Cook time: 30 Minutes
Serves: 4-5
Author: Jeyashri
Recipe Category: Lunch | Dinner | Breakfast
Description: Potato masala for poori| Poori Kizhangu, a popular South Indian restaurant style gravy, pairs well with poori, dosai and also Rava idli.
Potato 2
Onions 3
Oil 3 tsp
Urad dal 1 tsp
Mustard seeds 1/2 tsp
Green chili 2
Curry leaves few
Ginger 1 tsp (grated)
Turmeric powder 1/4 tsp + 1/4 tsp
Garam masala 1/2 tsp
Besan | kadalai maavu 1 tblsp
Video of how to make poori kizhangu
Method with step by step pictures :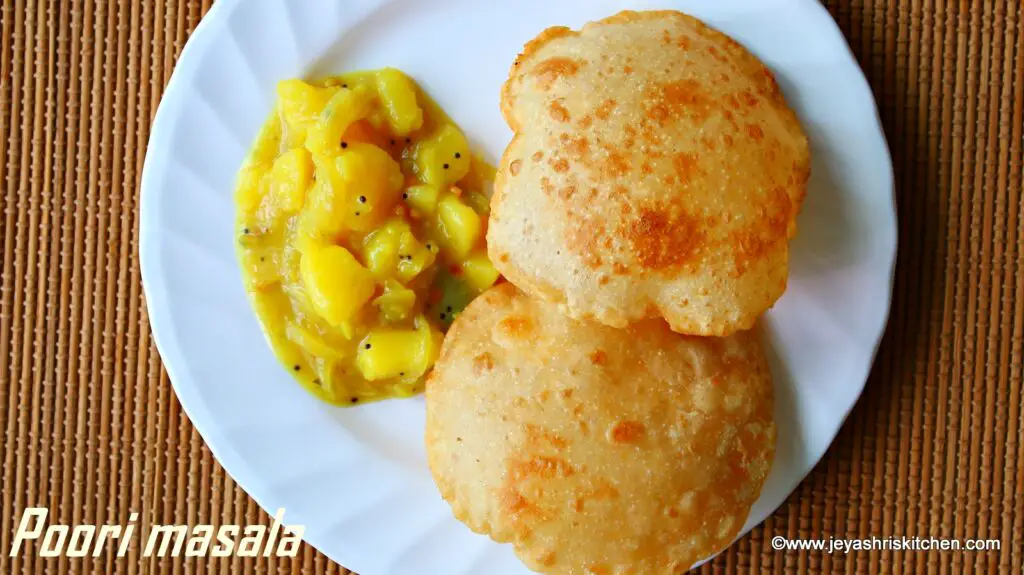 Boil the potatoes by adding little turmeric. This gives a nice bright yellow color to the poori kizhangu.
Peel the skin of the boiled potatoes. Mash one potato with your palm and cut one potato into cubes.
Thinly slice the onions and slit green chilli.
Grate the ginger. I used a very small piece.
In a pan, add oil and throw in the mustard seeds, urad dal, ginger,green chilli and curry leaves.
When the urad turns golden brown, add the sliced onions.

Saute for few minutes till the onions becomes translucent.

When done, add the mashed and cubed potatoes.

Add 1 cup of water to this.
Mix well and add 1/4 tsp of turmeric powder. Add salt.

Add Garam masala.
Mix the besan | kadalai maavu in 2 tblsp of water and mix well without any lumps.

This masala will absorb water once it comes to boil, so don't worry if it is thin.

Switch off the flame.
Add lemon juice (if using)
Serve hot with pooris.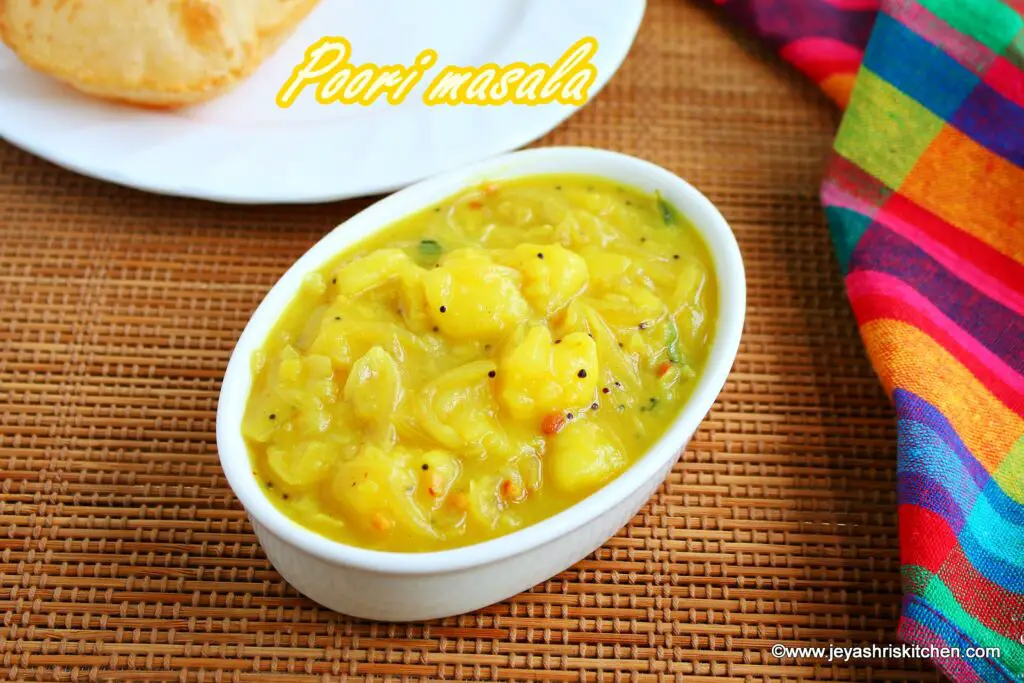 NOTES:
Few bits of cashew nuts can be added while tempering mustard seeds, to make it rich.
Finely chopped tomato can be added after sauting the onions.
I have seen in many restaurants they ad green peas or finely chopped carrots to this poori kizhangu. If adding any one of this add after sauting onions.
If made little thick, this can be used as a spread for dosa too.
Poori Kizhangu can be eaten with rava idli and chapathis too