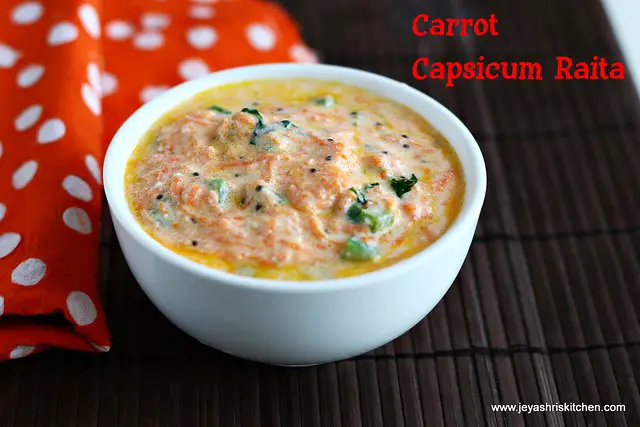 Capsicum when added in most of the food will give aromatic and flavourful.  We generally add capsicum|bell pepper in sambar, fried rice, paratha and some times in raita too. This south indian style of carrot capsicum thayir pachadi will be a perfect combo vatha kuzhambu or sambar rice too. Instead of making some fried accompaniments for sambar, this raita| thayir pachadi will be a perfect accompaniment, especially for this summer.
Carrot capsicum raita
  Preparation Time : 10 mins | Cooking Time : 2 Mins |Serves: 2-3
     Carrot  (grated)   1/4 cup
     Capsicum   (cubes)     1/4 cup
     Oil       1/2 tsp
     Thick yogurt | curd     1/2 cup
     Mustard seeds     1/8 tsp
     Salt    to taste
     Green chili     1/2 (optional)  
     Coriander leaves    few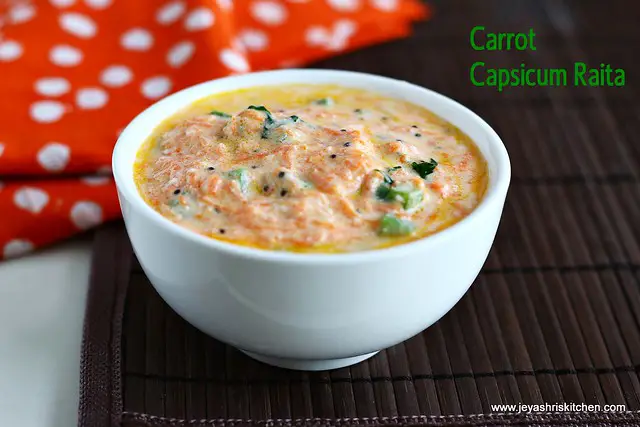 Method:
In a small pan just add few drops of oil and add the capsicum cubes and saute for a minute. This step is just to bring out the aroma of capsicum.
Add the grated carrot in a bowl. Add this capsicum to it.
In the same pan add remaining oil and temper with mustard seeds. Add the chopped coriander leaves to this. If adding green chili add this now.

Add this to the carrot coriander mixture.
Churn the yogurt, do not add water.
Add this to the carrot capsicum mixture.

Carrot capsicum thayir pachadi is ready.