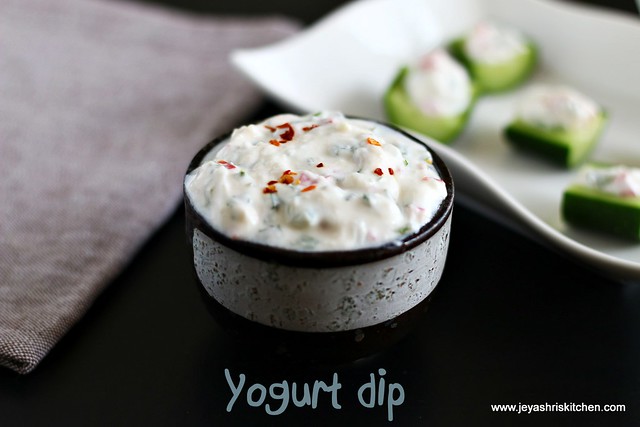 Generally yogurt dip will be made with greek yogurt. But in normal Indian homes buying greek yogurt and making it at home will be bit out of question of turns out expensive too. Greek yogurt dip will be very thick and creamy and will be perfect for dips. I have already posted a
sour cream dip recipe.
While some part of the world is experiencing heavy snow till now, here Summer already started and to beat the heat we are taking loads of water, cucumber, coconut water, oranges and all. Some times get bored with eating the cucumbers or salads as such. So to make it interesting and cool, i am sharing you the recipe of yogurt dip . Just try with any salads or even for tikkas. I will be sharing some summer cooler recipe here often. Stay tuned.
Yogurt Dip
Preparation Time : 30 mins | Cooking Time : Nil |Makes : 1 cup
Yogurt | Curd 1 cup
Bell pepper | Capsicum 2 tbslp (finely chopped)
Mint leaves and Coriander leaves 1 tblsp (finely chopped)
Chili flakes or pepper powder to taste
Salt to taste
Garlic 1/8 tsp (finely chopped) Optional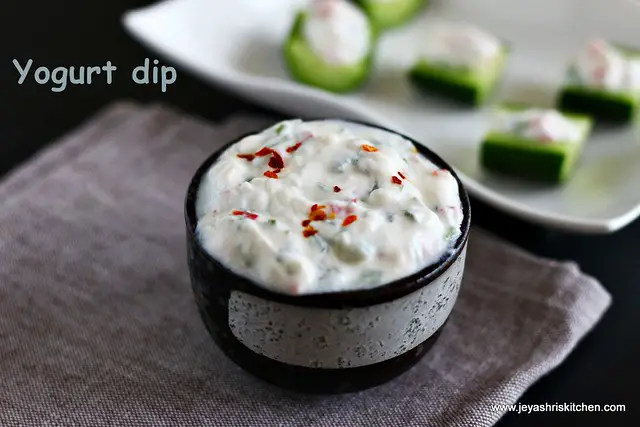 Method:
In a tea strainer put the yogurt and keep a bowl below it. Keep it inside the refrigerator for 30 minutes. The extra water in the yogurt will be collected and you will get thick fresh creamy yogurt.
In the mean time keep the bell pepper, coriander leaves, mint leaves and garlic ready in a wide bowl. Add the creamy yogurt to this and add salt and chili flakes | pepper powder.
| | |
| --- | --- |
| | |
Mix well. Serve with cucumber | carrot or mix this with any salads and serve chilled.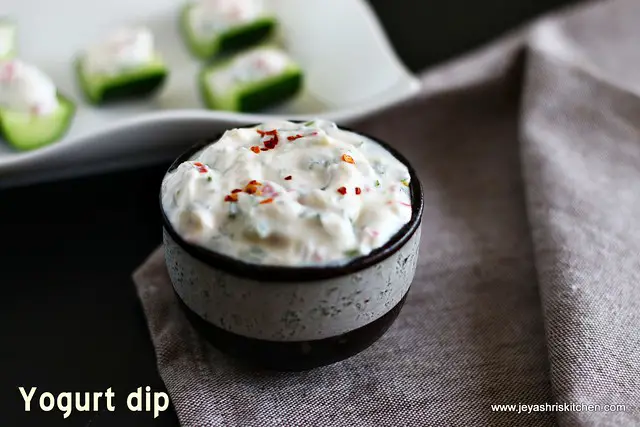 Notes:
Garlic can be avoided if you do not like the raw smell.
Herbs like parsely, basil, dill leaves can also be added to this to make it flavourful. But do not add too much. Just add little.